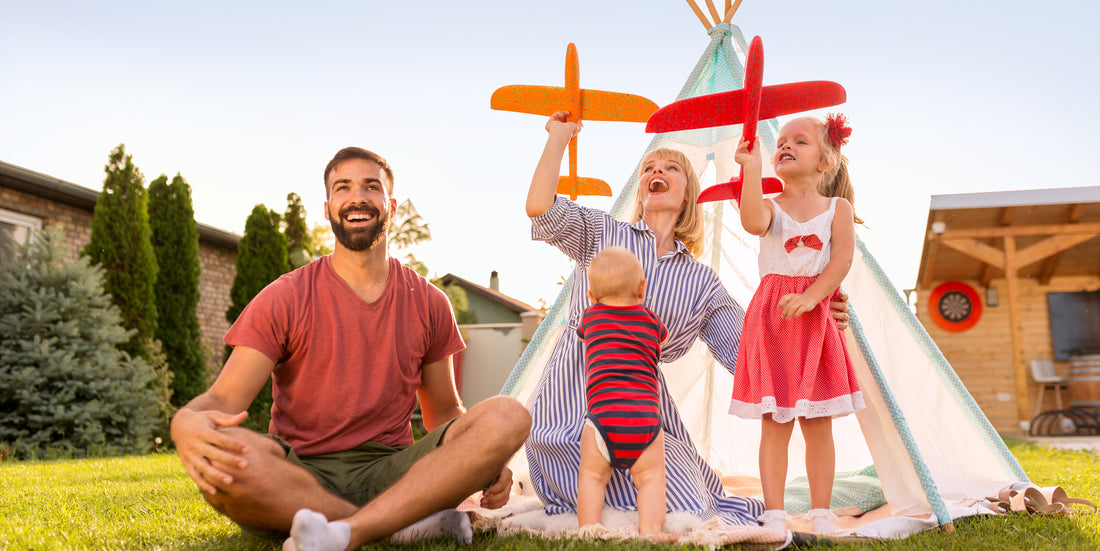 The Busy Parent's Guide to a Magical Summer for Kiddos
To whoever created Pinterest, we have a bone to pick with you.
Don't get us wrong, we love all your cute ideas for parties, decor, and vacations. But OMG. . . 
Who has the time! And, if we're honest, the patience?
But this summer, instead of looking at "50 Vacation Ideas for Kids," or "80 Musts for your Summer Bucket List," we're keeping it simple for the busy parents out there. 
Aka, all of us. 
Here's how to give your kiddos a magical summer when you're busier than a full-time working-parent. 
1. Identify priorities
We hear it all the time (but do we listen. . . now, that's another story). But anyway, it's worth repeating:
YOU CAN'T DO IT ALL.
And honestly, you shouldn't even try! 'Cause to give your kiddo:
the best birthday party ever. . .
that once-in-a-lifetime-vacation. . .
that perfect treehouse you saw on a DIY video. . .
while also working, keeping them fed, and taking care of responsibilities life throws at us. . .
Now that's a homemade recipe for burnout with a hand-picked cherry on top.
That's why this summer, rather than trying to do "all the things," instead: 
write out a list of your favorites

cross out those that are out of the budget or unrealistic for your schedule

Include ideas that are both tried-and-true along with new adventures

Show your family your list and let them pick a few out
Not only do you have your family's input, but letting your kiddos know ahead of time gives them something to look forward to. 
2. Schedule It
Now that you have your list, schedule it!
Write the activities in your planner

Set aside a budget

Request time off work

Buy the tickets

Make reservations
We like to believe that epic summers magically unfold, but more often than not, life gets in the way. 
The laundry needs to get done, the car needs an inspection, the kiddos have dentists appointments – these deceivingly small things fill up any schedule quick! 
So if you really want to take the kiddos to a lakehouse, go backyard camping, or simply have a movie night. . . schedule it in! (and buy the popcorn in advance)
And while you're at it, don't forget to schedule in lazy summer weekends – we all need them:)
3. Lean on your "village"
For an amazing summer vacation, feel free to tag in friends and family. A weekend at grandma's is a fun vacation for the kiddos and a much-needed break for you. 
Not only will you get the privacy you've craved (like finally going to the bathroom alone) but your kiddos could experience new adventures. 
For example, maybe mom and dad aren't much for camping, but their favorite aunt and uncle love exploring the great outdoors. 
Or, maybe you can't take time off for a summer trip, but your best friend and her family are headed to Disney.
Remember, you don't need to do this alone. And when the time comes around, you'll be happy to return the favor!
4. Turn Off Screens
Technology has a great way of connecting us. . . while also disconnecting us. So although it can seem impossible, consider turning off screens this summer. 
You can start off small by limiting screen time 2 hours before bedtime, and work your way up to Screen-Free Sundays. Add in a fun screen-free activity and it'll be a day your kiddos will look forward to!
Busy parents don't have a ton of free time. But with the little time we do have, let's soak up every ounce of it. 
5. Stay Healthy
When life is hectic, health, unfortunately, gets tossed to the bottom of our to-do lists. But sacrificing sleep, health, and well being affects every aspect of our life. Something as simple as cooking a meal becomes a battle after a long workday on a few hours of sleep.
The same is true of our kiddos. 
Neglecting sleep, exercise, and nutrition can lead to crankiness, upset tummies, and long-term health conditions down the road. 
So, this summer let's keep our energy levels up and our health in tip-top shape! Here are a few tips for a healthy summer:
Stick to a routine (even if it gets pushed back a couple hours)

Eat plenty of healthy fruits and veggies

Fill in nutrition gaps with a

healthy kid's multivitamin

Practice summer safety
You may be a busy parent, but you can still give your kiddos an amazing summer break. 
Happy Summering! :)