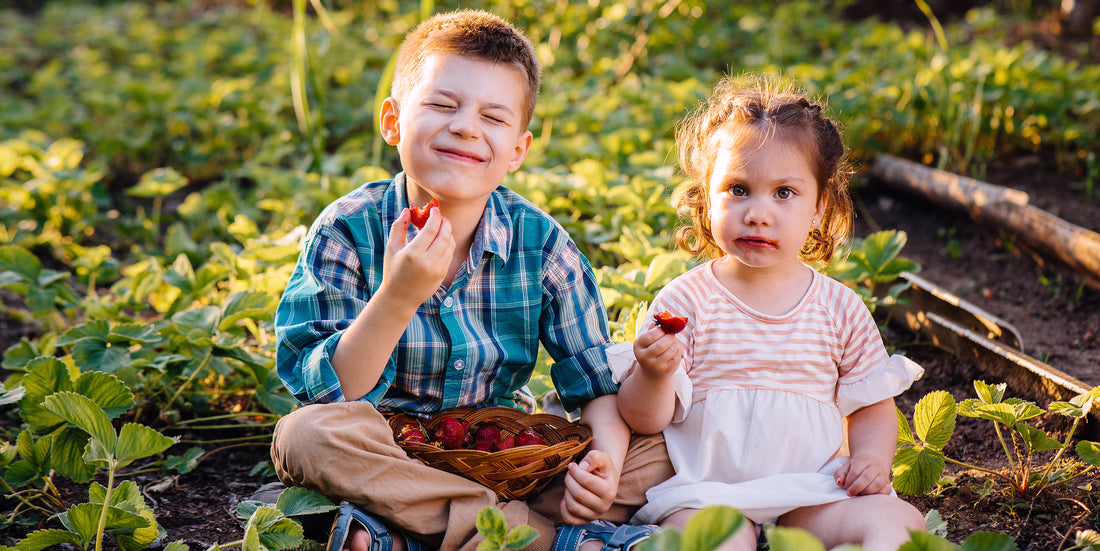 10 Screen-Free Summer Activities for Kids
Ever checked the screen time on your phone? Yea, shocked us too! There's no denying that we spend a LOT of time on screens. And our kiddos. . . well, let's just say tablets are a mom's best friend. 
That's why this summer we're putting a red light on the blue light and finding new ways to have fun with these 10 Screen-Free Activities. Let's dive in!
1. Go on a Family Bike Ride
Whether it's around your neighborhood or a local trail, a family bike ride is a fun way to get our exercise and boost Vitamin D – a common deficiency in kiddos. 
And, as if bike riding wasn't beneficial enough, according to the CDC, kids who are physically active tend to have better grades, school attendance, memory, and classroom behaviors. Which makes bike riding a great way to set our kiddos up for success next school year!
2. Visit a National Park
National parks make great trips for families. They're affordable, educational, and filled with natural wonders. But if a road trip is out of the question, a local park is a great alternative. Head out on a nature scavenger hunt and watch your kiddo explore as they search for leaves, rocks, sticks, and bugs. 
3. Backyard Camping
Camping is always a family favorite! But for those of us who'd rather not set out in the wilderness, backyard camping is the perfect alternative. Pitch a tent, toast s'mores, and teach your kiddos about constellations. Make it a magical night of starlights and storytelling as you recount adventures of sailors who navigated the seas in search of treasure. 
4. Swim at the Lake
It doesn't get more summer than spending the day on the lake. Pack a lunch, bring plenty of water, and remember to practice summer safety. For an extra dose of summer fun, rent a kayak or canoe and head down river.
Kiddos don't know how to swim yet? Maybe this is the summer they learn. Without screens, they have plenty of time to get lots of practice – with floaties of course!
5. Build a Treehouse
Spark your kiddo's imagination with their very own treehouse! With step-by-step tutorials and your hard-working little helper, you'll have a treehouse before you know it. Involve your little ones as much as you safely can, and it'll be a summer project they won't forget. 
Treehouse a little too advanced? A birdhouse is a cute summer project. . . and much easier. 
6. Learn to Garden
Teach your kids the beauty of gardening by starting a butterfly garden. Or, even a simple herb garden. Your kiddos can pick fresh herbs they planted themselves and spend the summer watching butterflies flutter around.
7. Make Extra Cash
Is there anything cuter than a Lemonade Stand?! Or a children's Bake Sale? Teach your kiddo the skill of entrepreneurship and hard work by creating fun ways to earn money. Here are a few ideas:
Bake Sale

Lemonade Stand

Dog Walking

Write a book – grandparents make perfect buyers!

Make beaded bracelets

Yard Sale
8. Try a Summer Reading Challenge
A great way to avoid summer learning loss! This Summer Reading Challenge makes reading fun by letting kids choose where, what, and how to read. Kids explore different genres such as poetry and comic books. It also helps kids understand that reading isn't just for classrooms and libraries.  
9. Go Berry Picking
Summer is the perfect time for picking strawberries. Then, with a basket of fresh berries, whip up this Strawberry Shortcake kids can make. Pair it with Homemade Vanilla Ice Cream for the perfect summer treat.
10. Explore Summer Camp
Whether it's a couple hours or a few weeks, a kid's summer camp is a great opportunity to learn life skills, build friendships, and make memories. Find out everything you need to know with the 4 C's to choosing the right camp for your kiddo. 
We hope you have a spectacular, screen-free summer!