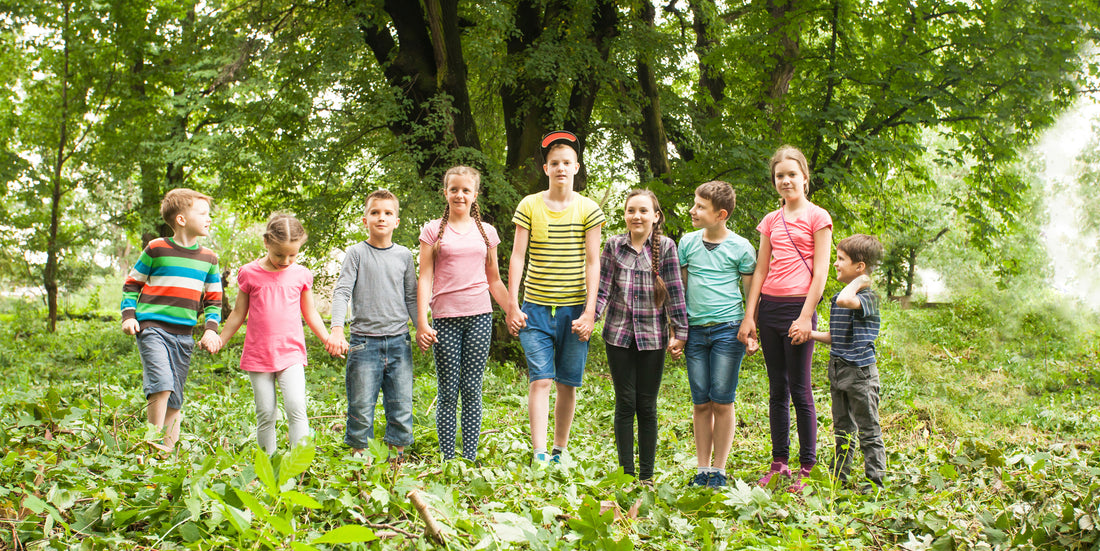 The 4 C's to Choosing the Right Summer Camp for Kids
School is almost out and you're probably wondering…
Should I put my kiddo in summer camp?
Summer camp is a great opportunity to learn life skills, build friendships, and make memories. Plus, your kiddo will have a blast!
Buuuuuuuut. . . it may also be the first time they're away from mama. And that can be super hard!
So to make it a teensy bit easier, we're giving you the right tools (and C's) to help you pick the perfect summer camp for your kiddo.
Okay, let's grab our canteens and get started!
1.Camp Experience
To ensure a great camp experience, we'll need to define what that is. What kind of activities are you looking for? Would you prefer an adventure camp where your kiddo is catching bugs, exploring trails, and toasting smores by the campfire? Or, are you looking for an academic experience such as STEM, robotics, or space camp?
You'll also want to think about the competitive nature of summer camp. Contests encourage teamwork, inspire motivation, and can be super fun! But they can also be stressful. So think about your child's personality and level of development when deciding. The level of competitive versus cooperative activities is worth considering for your ideal camp.
Camps also differ in structure. There are Day Camps where campers are dropped off in the morning and home by evening. Or, a Recreational Camp, also known as "sleepaway camps." These campers stay overnight for a few days, a week, or up to a month. Day Camps are a good starting point, especially for younger kids. They experience community while also coping with separation – for both little ones and parents. Plus, they're a great way to avoid summer learning loss. 
While you're researching, also remember to include your child into the decision-making process. Ask them what they'd prefer – you may be surprised with the answers!
2.Communication 
For any camp, there's bound to be a little (or a lot) of homesickness. And although summer camp is meant to help your little one build social skills and develop new friendships, a communication plan is a must. Ask about the camp's communication protocol and how you can contact your child if necessary. But don't stop at emails and phone numbers. Find out if the camp has a social media platform and what types of content and images they post. 
Also, remember that camps will likely prohibit or restrict cell phone use, so it's important to find out ahead of time. 
3.Camp Safety
Safety should be the number one priority at summer camp. And one that's on your mind for sure. You'll want to choose a camp with a solid reputation that's accredited and licensed. Look online for reviews, talk to the camp director, and ask for references. Getting first hand knowledge from a former camper's family will help you make your decision.
Here are a few more things to keep in mind: 
Accreditation
Emergencies
What are the procedures for handling medical emergencies?

What training do the camp counselors have? 
Counselor to Child Ratio
For Day Camps, the The American Academy of Pediatrics recommends a child-to-counselor ratio of: 
5:1 for toddlers

7:1 for 3-year-olds

8:1 for ages 4 - 5
And according to the American Camping Association, the child-to-counselor ratio should be:
6:1 campers for ages 7 - 8

8:1 for ages 9 - 14
Additional Questions
Do counselors undergo additional screenings beyond background checks ?

Are counselors trained to identify and prevent abuse? What policies are in place?
Camp personnel should be able to answer all these questions. But don't hesitate to ask more! You'll want to know their policies for sun safety, water safety, illness, and more.
4. Cost
The cost of summer camp varies depending on the type and length of camp. But don't let that deter you from choosing a great summer camp for your kiddo. Day Camps can fall under the same tax guidelines for daycare. Meaning you may use an FSA for related costs. 
But if you're considering an overnight camp, you have options too. Reputable camps often offer scholarships to help cover the costs. 
Have an Amazing Summer!
Whether you choose a Day Camp or a Sleepaway Camp, a nature adventure or space exploration, we hope your little one has an amazing summer camp experience.