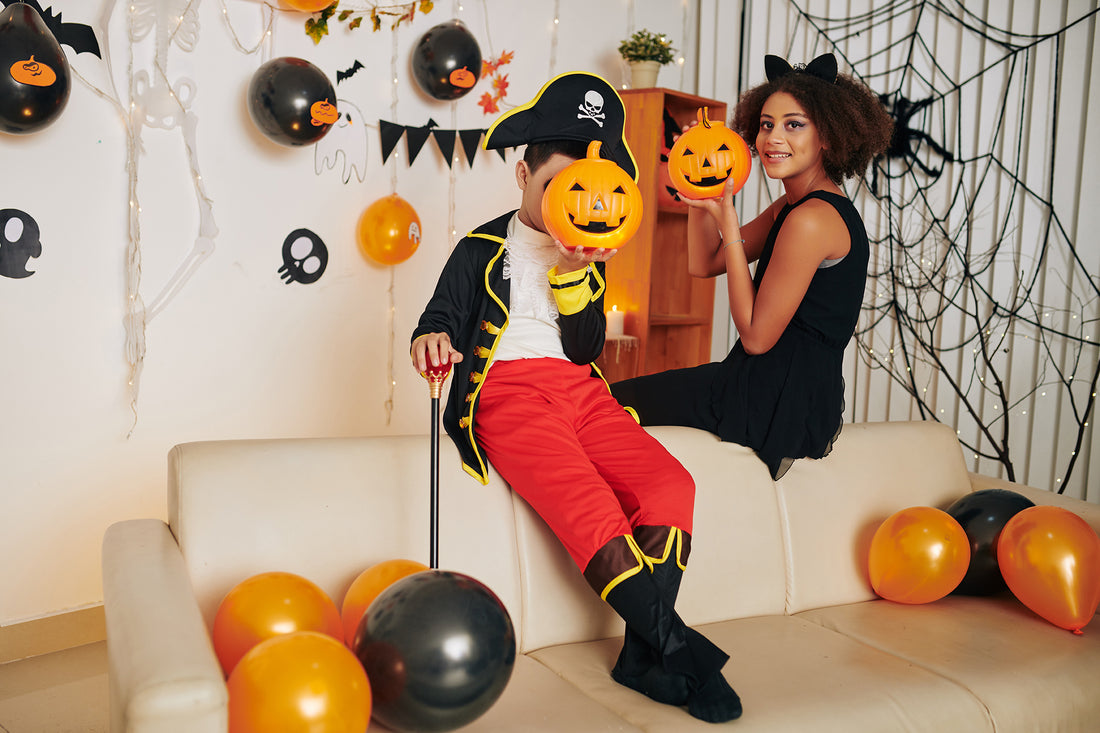 5 Ways To Have a Spook-tacular & Safe Halloween
Whether it's learning how to make masks or how to homeschool, us mommas have been putting our creative powers to work this year. And this creativity is about to shine on Halloween!
Because since this pandemic still has a spell on us, traditional trick-or-treating might look a little different this year. So we put our thinking caps on and got to brainstorming on how to make this Halloween extra awesome for your little one.
Here are 5 ways to have a fun, safe, & Spook-tacular Halloween:
1. Halloween Costume Parade 
Halloween is already a neighborhood holiday, so why not take it up a notch? Arranging a Costume Parade will be a major hit not only for your kiddos, but for all the neighbors! You can even make it extra fun for the whole family by getting everyone to dress up and join in on the parade.
But why stop there? Do you know anyone who owns a trailer? Or maybe you do? Load it up with hay bales while blasting spooky Halloween music for a good ol' fashioned hayride.
2. Spooky Pumpkin Hunt
Does your kiddo love easter egg hunting? We're going to take a not-so-wild guess and say, of course! Try mixing it up this Halloween with a Spooky Pumpkin Hunt.
Just swap easter baskets for trick-or-treat buckets and eggs for mini pumpkins! You can even have your little one paint and decorate them before the hunt. For more activities your little one will love, pick your pumpkins from a local pumpkin patch. 
And for a little extra spookiness, decorate your backyard with ghouls, spider webs, Jack-o-lanterns, and a fog machine.
3. Halloween Movie Night
Spooky Halloween movies are a perfect way to get into the Halloween spirit. So what about a Halloween Movie Marathon with all your kiddos' favorites! Dress your little one up, pop the popcorn, and make their favorite treat this Halloween.
Wanna take your Movie Marathon outside? With the Full Moon falling on Halloween this year (because 2020 right), you'll have the perfect spooky setting. Make sure to bring plenty of blankets to cuddle up. And for extra fun, set up a s'mores station for your kiddos!
4. Zoom-o-ween Party
This Halloween is the perfect time for your very first Zoom-o-ween. Basically, a virtual party without all the cleaning! You can invite all your family and friends for trivia, games, and contests.
Here are some ideas for throwing a Spook-tacular Zoom-o-ween:
Costume contests

Halloween Movie Trivia

Pumpkin Carving Contests

And of course. . . spooky ghost stories!
And make sure to get your little ones in on all the fun. They'll love helping you decorate the house and cook up Halloween - themed foods for the party.
Or you can have your kiddos make party bags with homemade treats, trivia printables, etc. Then head out to deliver them to your Zoom-o-ween guests before the party.
5. Safe House
Want to stick to trick-or-treating? No problem! :)
We can have a safe Halloween as long as we all do our part. Let the neighbors know that your kiddos will be trick-or-treating at "Safe Houses" this year. These are homes that are passing out candy with masks and gloves.
Nextdoor is the perfect place to get the word out to the neighborhood and get other Picky Eater moms involved.
Halloween might look a little different this year, but that doesn't mean we can't make it fun. Share with us on Instagram @RenzosVitamins how you and your little one used your creative powers to have a safe, alternative Halloween!
P.S. Our treat this year: use code SPOOKY for 20% off your favorite Melty Tabs!*