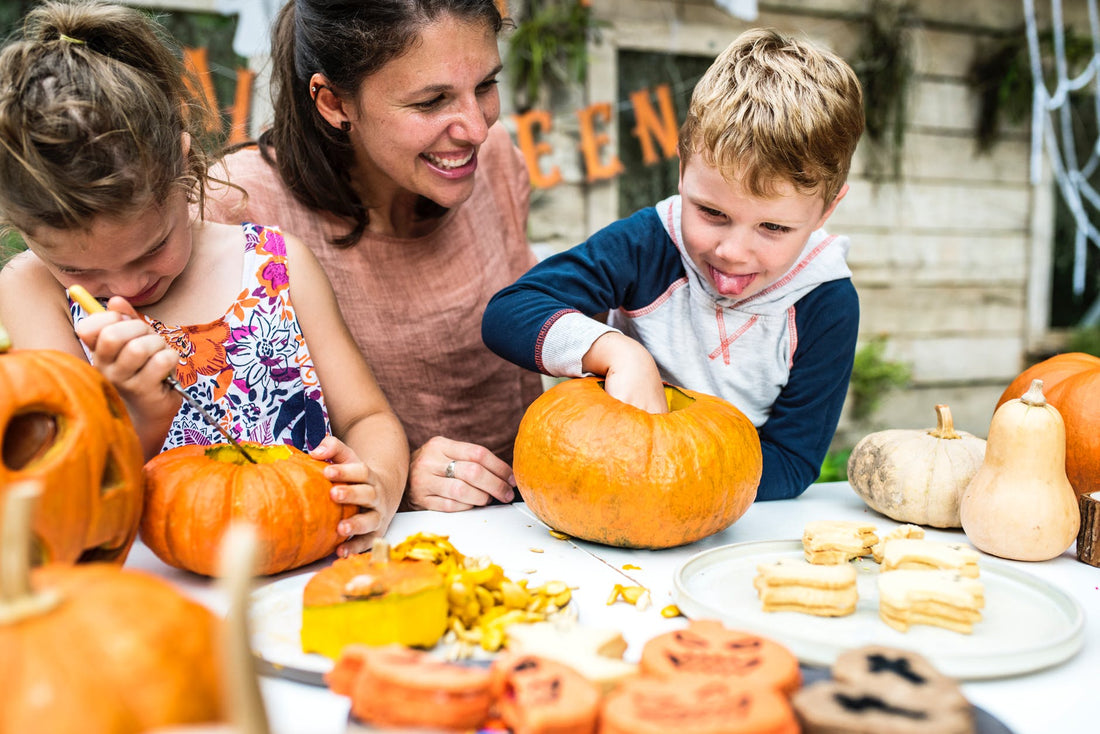 Fall Season Activities for the Family
Leaves are changing, days are getting shorter and in most places, the weather is getting a little crisper. Those long summer days and warm nights will truly be missed, but we have a brand new, exciting season full of holidays coming!
Labor Day has passed and that means it's time to get ready for the best season of the year. Even though hitting the beach or pool may no longer be an option for most of us, there are still plenty of ways to play, explore and have fun together as a family. Or just to keep the kids occupied so you can relax cause, you know.
We've put together a list to ensure you and your family have the best Fall season EVER!
Check out your nearest Pumpkin Patch
The fall season is also pumpkin season! Almost every coffee shop, restaurant, and grocery store start selling pumpkin food, pumpkin drinks, pumpkin products - pretty much everything will now come in pumpkin. And no matter your location, I can guarantee there is a pumpkin patch nearby. Even though you can literally find whole pumpkins all over town, there is nothing like going to a pumpkin patch and picking one straight from the source.
But it's not just all about pumpkins! Your local pumpkin patch will likely have many other fun (and free) activities to offer, including hayrides, corn maze, and mini petting zoos. Sometimes, there are even pumpkin carving classes so the kids can create their own jack-o-lanterns with their new prized pumpkin. Just make sure you take the seeds home so you can roast them later. Yummy.
Go camping
The best part about Fall? The summer bugs are gone. Well kinda. There are definitely fewer mosquitos and more fireflies! No need to worry about being eaten alive by as many pesky bugs during your fall camp out.  And you also don't have to worry about the family sweating all night in a tent or not wanting to step out of the shade into the miserable heat!
The cool Fall breeze brings the perfect atmosphere for fun camping-related activities such as hiking, biking, rock climbing, fishing, and my personal favorite - building a bonfire. It a great way to bond with your family and snuggle up for some smores and storytelling. Early to mid-fall is one of the prettiest times of the year, as the trees still have most of their leaves which are turning into vibrant golden yellows, oranges, and reds with the coming cold. Just try to stay unplugged and keep the kids away from the iPhones and tablets - you're there to enjoy nature at its best!
Plant a Fall Garden
Fall is the perfect planting season for yummy vegetables! Not will this teach your kids how to grow their own food, but it will make them far more likely to eat it as well. Get those little green thumbs in the dirt and plant some leafy veggies. Kale, beets, lettuce, broccoli, cabbage, carrots and peas are all cold season friendly. If you want to add some colorful fall flowers into the mix, try planting a few annuals like marigolds, snapdragons, chrysanthemums, and pansies. They will brighten up your garden and keep pests away too.
Even if you live in an apartment, you can plant all of these in pots or fabric containers. Teach your kids the names of each plant and encourage them to maintain and water them throughout the season. Once the seeds start to grow, it will be a very rewarding experience for them.
Get crafty inside your home
If going into the outdoors gets boring, bring the Fall fun inside and get crafty with the kiddies.  Even though it is great to enjoy outside, Fall is also a great excuse to stay indoors with the family when it gets a little too chilly.
Because of all the colors, Fall season makes the best crafting with kids. Make some seasonal decorations such as a leaf banner or collage. Mother Nature has created plenty of art supplies for you, just run outside a grab a few colorful leaves for your next project. Rocks and fallen (not plucked) bird feathers are can also be turned into beautiful art pieces. Your kids can make picture frames or other keepsakes for themselves, or give as gifts to friends and family.
Share your favorite Fall activities with us on Instagram @ReznosVitamins
Save this article for later by pinning the image below: