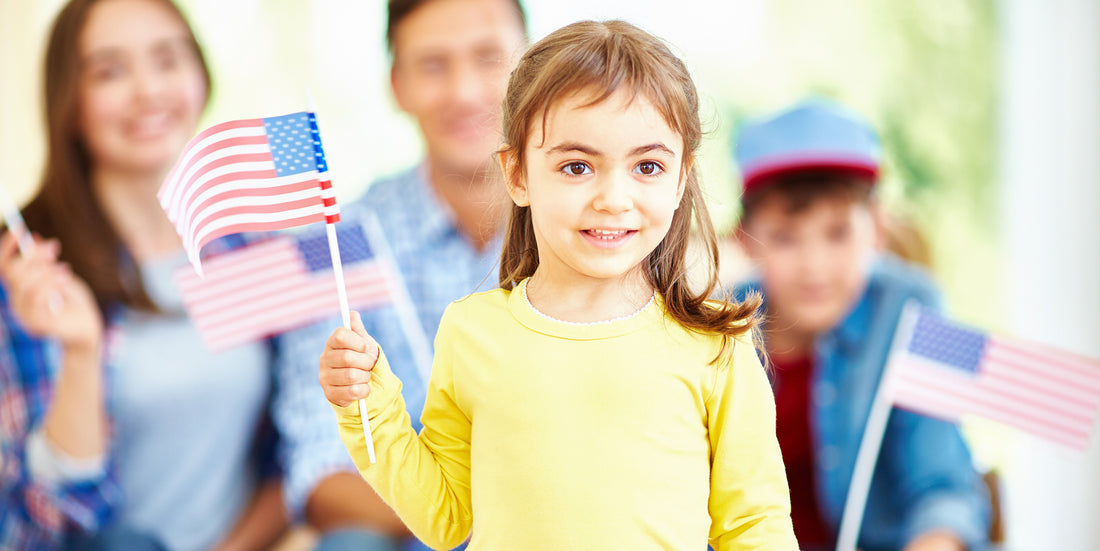 Family-Friendly Memorial Day Activities
Get ready to embark on a memorable Memorial Day adventure with the kiddos! As the long weekend approaches, it's time to put on our patriotic spirit and discover a treasure trove of engaging activities that'll bring a deeper appreciation for the holiday. 
Whether you're planning a backyard bash, heading to a local event, or awakening your kiddo's crafting creativity, we've got a lineup of fun-filled ideas. So, let's wave those flags high, fire up the grill, and dive into an unforgettable Memorial Day experience!

Patriotic Crafting
A fun way to kickstart the Memorial Day weekend is with homemade patriotic crafts. You can teach your little ones about the day's significance while engaging their creative brain power. These crafts also make great decorations for your Memorial Day barbeque!
Here are a few easy ideas to get started:
Patriotic Pinwheel
This simple craft is made with just a handful of supplies. And the best part. . . you may already have them at home! 
With a patriotic-themed template, drinking straw, glue, brad, scissors, and your kiddo's creativity, you have all the tools to create your own Patriotic Pinwheel. 
Handprint Flags
Since paint and carpet don't mix, this activity is peeeerrrrrfect for a sunny weekend (because who wants to scrub paint off the floor???) Simply paint your kiddos hands in the colors of the American Flag and press onto paper, a white T-shirt, or a canvas. 
Not only do these Handprint Flags make cute decor for Memorial Day (and the 4th of July!), but they're a reminder of your child's little handprints as they grow big and strong. 
Popsicle Stick American Flags
What can't we do with popsicle sticks! These versatile wonder sticks are the base of your Popsicle Stick American Flags – an easy craft for kiddos of all ages. It's also a great activity to teach our little ones about the meaning of the colors, stripes, and stars of the American Flag. 
Need a refresher?? No worries, we did too!
Red = Valor
White = Purity
Blue = Justice
Stripes = Original 13 Colonies
Stars = 50 States

Memorial Day Parade
A classic Memorial Day activity is to attend a local parade. Plus, it's fun for the whole family – mom, dad, older kiddos, and grandparents, so bring 'em all!
Here are a few tips to make your Memorial Day Parade an enjoyable experience for everyone: 
Make it fun: Dress your kids up in red, white, and blue, wave small flags, and see who can cheer the loudest.

Practice

summer safety

: think sunscreen, small fans, tents, bug repellant, etc. 

Bring lots of water!

Pack

grab-n-go summer snacks

to avoid a grumpy tummy
Heading out to your local Memorial Day Parade is a fantastic way to honor the heroes while enjoying a festive atmosphere.

Backyard Picnic
Backyard or park, picnic or barbeque – you decide. But a delicious meal shared outdoors with the ones you love is a memorable way to honor our fallen heroes. 
If you're going the picnic route, pack a basket filled with sandwiches, fruits, and snacks. You'll also want to stay hydrated with water or Patriotic Punch as the sun reaches scorching temperatures in the afternoon. 
Rather plan a full-blown barbeque? And one where your picky eaters will actually eat the food? Then these Kid-Friendly Memorial Day recipes are the perfect menu – complete with snacks, kid-friendly entrees, and delicious dessert!
Don't forget to bring outdoor games like frisbee, soccer, or a cornhole to keep the kiddos entertained. 

Campfire Stories
End the day with a cozy campfire and storytelling session. Share stories about veterans, their bravery, and the values they fought to protect. Roast marshmallows, make s'mores, and create lasting memories around the crackling fire.
And finally, finish the night with a fun (but safe!) fireworks show. You can head to a local fireworks display, or have your own at home with sparklers, confetti poppers, and glow sticks. These are a safe option for kids that light up the night with bursts of color! 
We hope you enjoy the Memorial Day holiday with your family! Let us know how you're celebrating by tagging us on Instagram @RenzosVitamins.