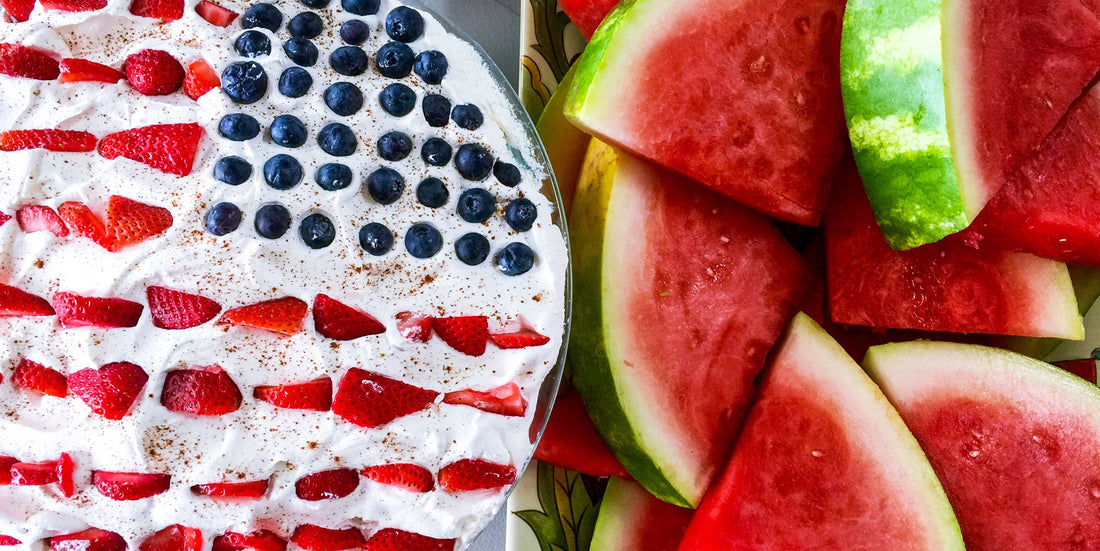 11 Kid-Friendly Memorial Day Recipes
Sharing a meal does more than fill our tummies. . . It fills our heart. 
Just ask any mom who experiences that blissful moment of family gathered at the dinner table. Or, as author, C. S. Lewis, wrote:


"The sun looks down on nothing half so good as a household laughing together over a meal."
This Memorial Day, whether you're hosting a full-blown cookout or a small family dinner, let's remember our fallen service members by laughing, loving, and sharing a meal in their honor.
Here are 11 Memorial Day recipes that are so good even your kiddos will enjoy!
Blueberry Yogurt Pops
There are many reasons Blueberry Yogurt Pops are a winner this Memorial Day. They're easy, made with 2 ingredients, and fun to eat. And making eating fun is one way to get more nutrients into a picky eater's diet. 
The blue color also makes these yogurt pops a festive addition to any patriotic party!
Red, White, and Blue Fruit Cups
Speaking of patriotism, Red, White & Blue Fruit Cups fit perfectly in any Memorial Day cookout. Swap out the sugar for monk fruit and they fit into a healthy diet too!
Slow Cooker Beef Nachos
Whether you're looking for an appetizer, side dish, or main course, Slow Cooker Beef Nachos are the way to go. Loaded with beans, beef, cheese, and all your favorite toppings means your guests won't go home hungry. 
Corn on the Cob Pops
Corn on the Cob is a Memorial Day classic. But Corn on the Cob Pops takes it to another level! These corn-cobs-on-a-stick make eating fun and easy. And if you have little ones, try Corn Wheels.  
Macaroni Salad
"Macaroni anything" is sure to get any kid's attention. So, this Memorial day, swap the popular Potato Salad for a kid-friendly Macaroni salad and see those little eyes light up!
Sweet Glazed Grilled Chicken
Chicken is a very special food. It's lucky enough to get an invite to a picky eater's table while also being enjoyed by adults. That means this Memorial Day, chicken is your go-to main entree. And with Sweet Glazed Grilled Chicken on the menu, your guests, the little ones and the big ones, will lick their fingers with joy!
Kid's Burgers
Now if you're still craving that classic cookout burger, here's a cute spin your kiddo will love! These Kid-Friendly Burgers use veggies to dress up a plain burger for a fun, healthy twist. 
Frozen Fireworks
Bring out the fireworks – without the fire! These Frozen Fireworks are a perfect dessert to enjoy this Memorial Day. Make them ahead of time and pop 'em in the freezer until it's time for dessert. 
Patriotic Berry Trifle
This Patriotic Berry Trifle is sure to catch everyone's eye. Filled to the top with angel food cake, berries, and cream cheese means music to your taste buds. And for a shortcut, use store-bought angel food cake to whip this recipe up in no time. 
Strawberry Shortcake
We're in the peak of strawberry season here in the states. So, whether you pick them yourself or scoop up a bag from the grocery store, this Strawberry Shortcake made with fresh strawberries will add a burst of sweetness to your Memorial Day plans. Swap the sugar for monk fruit (1:1 ratio) for a healthier spin on this classic. 
Vanilla Ice Cream with Honey
What's cake without ice cream? This Vanilla Ice Cream will go great alongside Strawberry Shortcake. It's sweetened with honey so every scoop has that natural sweetness. And whipping up a batch at home means you know exactly what's in the recipe – no sneaky ingredients here!
Enjoy your Memorial Day Weekend
There are many
ways to honor our fallen service members
. So, whether you're hosting a cookout, attending a parade, or simply sharing a meal with friends and family, we hope you enjoy your Memorial Day Weekend. Let us know what recipes you loved by tagging us on Instagram
@RenzosVitamins