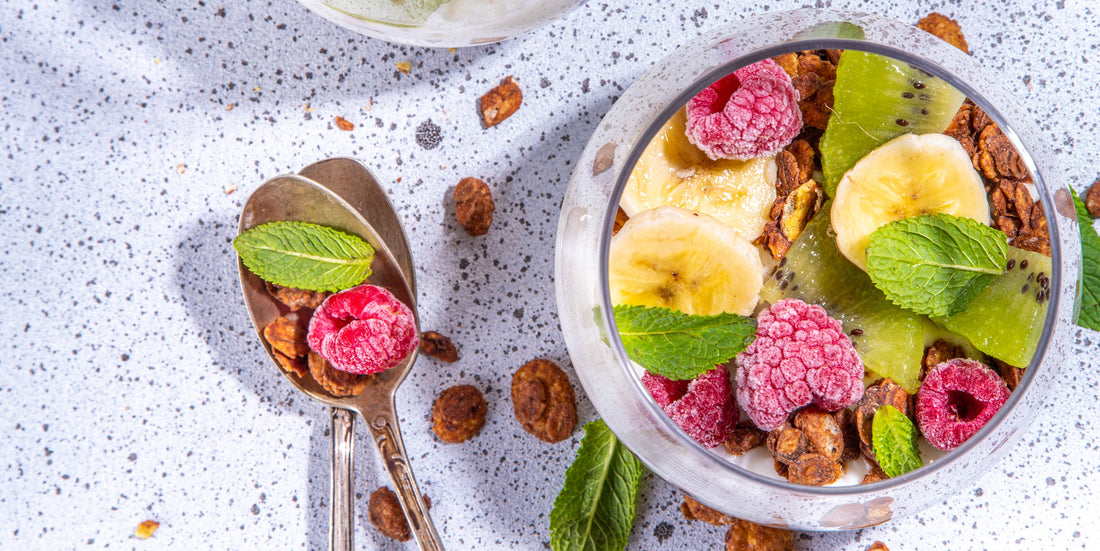 10 Healthy Grab-n-Go Summer Snacks
The silliest joke of all time is the one played on parents. 
With every passing day (or every minute for some of us), our energy levels are zapped away – lost in the black hole of exhaustion.
But. . . and here's the funny part. . .
The kiddos we bring into this magical little world come to us with an insurmountable, unforgiving, NEVER-ENDING supply of energy– right as ours is depleted!
Oh universe, how we love your sense of humor. 
But this summer, we're making it super easy on parents. With our list of Healthy Grab-n-Go Summer Snacks, we're helping parents everywhere conserve their energy – even if it's just a sliver (hey, every little bit counts!)
Plus, with snacks this healthy and yummy, you'll earn your Super Parent Badge in no time.
Crunchy & Nutritious
Veggies and hummus cups are an easy and nutritious treat. Carrots, celery, or snap peas are packed with healthy vitamins for kids such as Vitamin A, C, K, Calcium, Iron, Vitamin B6, and Folate. They're also loaded with antioxidants like Beta-carotene and give tummies the fiber it needs for healthy digestion. 
But if your kiddo absolutely won't eat veggies, try fruit! Apple slices, dates, and cucumber are a few favorites. 
Critter Celebration
Ants on a Log are a fun, healthy snack. Celery, peanut butter, and raisins always get to play, but feel free to mix it up. Swap in almond butter for a healthy boost. You can also try avocado or yogurt.
For log ideas, we're thinking bananas, carrots, or toast. And the ants that get to enjoy this celebration can be played by berries, mango, granola, and grapes. 
You can make these ahead of time to save time and energy. And letting your kiddos help will make them more likely to eat their yummy creations. 
Sweet & Simple
For a super easy snack when you're outta time and energy, whole fruit takes the win. Plus, many fruits are in season during the summer – meaning they're more nutritious and flavorful. A few summer fruits are:
Berries

Cherries

Watermelon

Cantaloupe

Honeydew Melon

Peaches

Plums

Apricots

Grapes
You can slice 'em up and separate into baggies for the ultimate grab-n-go snack.
No-Time Momma
If slicing, dicing, and peeling fruit is a no-go, then we got one even better: No-sugar-added pouches. The convenience makes them perfect for road trips, vacations, and family outings.
Just make sure to read the nutrition label carefully. Pouches are an easy way to disguise added sugar, GMO's, and other questionable ingredients.  
Overnight Oats
If you've never had Overnight Oats, you'll want to make extra. They're so delicious, everyone is going to want some – uh-huh, even your picky eater! Plus, they're super easy to make (no cooking involved). 
We like to use mason jars, but you can use any container on hand. Along with milk and oats, a few ingredient ideas are:
Yogurt

Chia Seeds

Cacao Nibs

Granola 

Mangos

Bananas

Peaches

Strawberries

Dragon fruit
DIY Lunchable
Skip the sugar-packed lunchable and make your own! Whole grain crackers, hummus, cheese or no-sugar jam are perfect. Just make sure to read your cracker's nutrition label carefully; we don't' want any unhealthy junk. Or, you can make your own crackers at home. 
No-Bake for the Win
No-Bake Energy Balls are great for the whole family. Feel free to use: 
Dates

Chia seeds

Oats

Nut butter.
You can also add low-sugar chocolate chips, coconut flakes, and cacao powder for great variety. 
Fresh & Flavorful
A Tomato and Avocado Sandwich is the perfect summer treat. It's fresh, flavorful, and loaded with nutrients! Mash avocados with a little salt, add a splash of lemon, slice up some tomatoes, and pile high on top of fresh bread.
Breakfast-on-the-Go
Egg muffins are the perfect savory breakfast-on-the-go. Just whip up eggs with zucchini, broccoli or other veggie; add salt and pepper; separate into a muffin pan; and toss 'em in the oven. You can save these for a few days and have a hearty snack for days to come.
The Perfect Kid's Vitamin 
Albeit not a snack, the perfect kid's vitamin goes great with any of these. And that's because our kiddos have an ever-changing appetite. A kid's vitamin will help ensure your little one is getting the nutrients they need – even when they're not eating as well as we'd hope. 
Renzos' Picky Eater Multi is that vitamin. It's loved by picky eaters and puts mom and dad at ease knowing they're filling in nutrition gaps. This multivitamin for kids has 18 hand-picked vitamins to cover the whole wellness of your child. 
And the Cherry Cherry Mo' Cherry flavor is loved by kiddos – even picky eaters. But, if your little one doesn't love it, we'll refund you your money, no questions asked :)
From all of us on the Renzo's Team, we hope you have a faaaaaaaaaantastic summer!