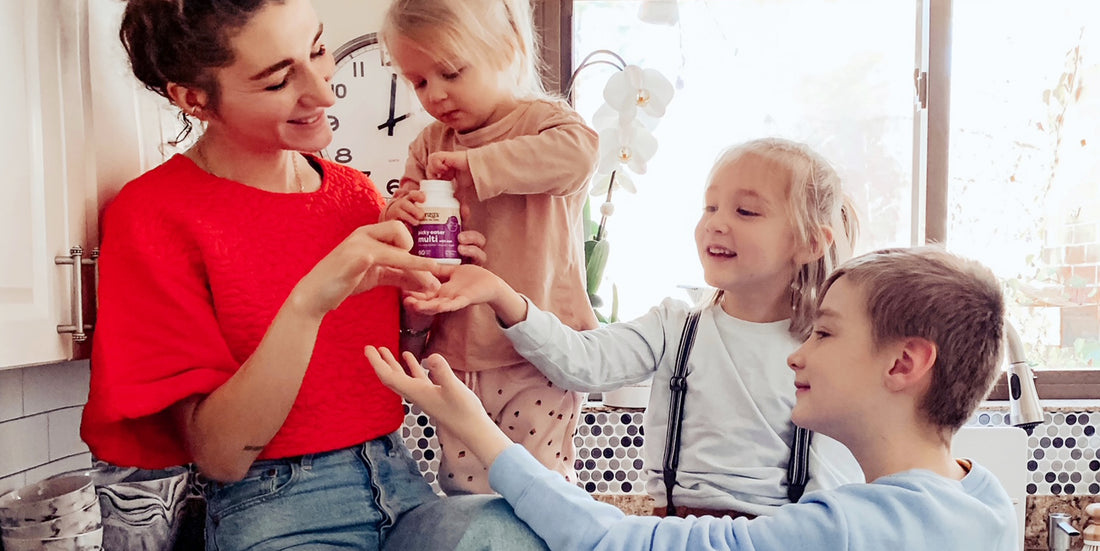 The Renzo's Difference: 5 Reasons why parents choose our vitamins.
Have you ever negotiated with your kiddo for "one more bite?"
Disguised vitamins as "candy?" Or bribed with ice cream for a nibble of broccoli?
Yes?! Whew – okay, we're not the only ones. Because, at least at our dinner table, this mealtime battle is a long-held toddler tradition. 
And, as if engaging in a power struggle with a 4-year-old doesn't seem silly enough, it's not even the worst part. 
No, no, no – the worst part is that it's a battle we often lose. 
So, to all the moms who've ever. . .
. . . scraped those untouched peas into the trash. . .
. . . begged and bribed for just one bite. . .
. . . or swore "no dessert!" only to serve it later anyway. . .
We have the BEST news to share since chocolate chip cookie dough ice cream. 
There is a solution to those mealtime battles, to the frustration of untouched dinner, and to, honestly, the plain ol' exhaustion of it all. 
The solution is ⇒ a tasty but healthy vitamin for kids.
Now, we know what you're thinking: 
"My kid will never take vitamins."
Or, "kid's vitamins are loaded with junk."
We get it. Finding the perfect vitamin – a vitamin that's both nutritious and delicious – can feel like a mythical quest.
But yes, this is real. 
This "Unicorn of Vitamins," the gold at the end of the rainbow, the solution to our mealtime battles is. . . drumroll. . . a Renzo's Vitamin!
But Renzo's isn't just a good vitamin. . . 
It's the PERFECT vitamin because it's loved by picky eaters and approved by parents!
Parents everywhere are calling truce at the dinner table and feeling good about their kiddo's nutrition. And here's why:
Packed with 3x more Nutrition & High-Quality Ingredients
When it comes to quality, Renzo's gets a gold star! Only the best ingredients pass the Renzo's test. Our founder is even on a first-name basis with the people we source our ingredients from. 
And because we only accept A-Honor-Roll ingredients, you won't have to worry about things like: 
Upset tummies caused by cheap forms of iron

Wasted money due to low absorption

Questionable ingredients (we hand-select only the best)
But that's not all. 
Renzo's is packed with 3x more nutrition! Just one of the Picky Eater Multi tabs is equivalent to 3 or more gummies . . . and then some.
Yummy Taste
You know when you grocery shop in a "healthy mood" and buy that bunch of celery once again. Then, after 2 weeks, find the sad, wilty veggie at the bottom of your crisper. . . 
Well, the thought was there, but the celery isn't doing us any good unless we eat it, right?
It's the same for our kid's vitamins. They do no good when they sit in our kitchen cabinet untouched.
That's why we went above and beyond to double and triple check that our vitamins were tasty enough for the pickiest of eaters. We wanted them to taste so good that kids would actually like – no, LOVE them!
And we did that with a little superfood called Monk Fruit. 
Monk Fruit is an all-natural, calorie-free sweetener. It's been used in Traditional Chinese Medicine for everything from relieving sore throats to upset tummies.
But the best thing about monk fruit is that it's about 200x sweeter than sugar (so you don't need much) and has no carbs, calories, or weird aftertaste – your kiddos won't even notice it!
If you can believe it, your kiddo may love their Melty Tabs so much that they'll REMIND you when it's vitamin time. 
"My daughter loves taking these! She reminds me every morning! I'm really happy with this multivitamin."
– EMILY S.
Easy to Take
This is where Renzo's REALLY shines! It's probably what we love most because your life is about to get INCREDIBLY easier. And, let's be real, any small win is a huge victory for a busy mom.
Okay, this is it. 
Renzo's Vitamins aren't liquid, they're not chewables, and especially NOT gummies (eww!).
No, Renzo's are. . . MELTY!
Yep, no water necessary – your kiddo puts it on their tongue and the special Melty Tab disappears! Leaving behind a taste that'll light their eyes up. 
But, this fancy, melty technology does more than make a busy mom's life easier. 
Because the Melty Tab dissolves on your tongue instead of your belly, the nutrients are more readily available. 
Which really means:
↑ Absorption rate = ↑ chance our bodies will soak up all the vitamin goodness. 
Free of Junk
As a mom, it may feel like we're in this healthy battle alone. Everything from our kid's favorite juice to cereal and even that "healthy" yogurt is filled with sugar and junk. 
But we want to tell you something. . . 
You're not in this alone. 
Believe us, we're just as shocked as you are when we look at those nutrition labels. Dextrose? Maltodextrin? Hydrogenated oil? No thanks!
That's why our Renzo's Melty Tabs have none of those yucky ingredients. We're talkin':
⇒ No GMOs
⇒ No Sugar
⇒ No Artificial Colors
⇒ No Artificial Flavors
⇒ No Gluten
Basically, Renzo's are wholesome vitamins without the sugar and junk :)
Peace of Mind
As a mom, you have enough to worry about. What's in your kid's vitamin shouldn't be one of them. If there's one thing we hear over and over again (besides, "oh my gosh, my picky eater loves 'em!"), it's the peace of mind that comes from knowing we're filling in those nutrition gaps – with a tasty but healthy kid's vitamin. 
[My daughter] seems to be a pretty good eater, but sometimes she's picky or refuses to eat the healthy options. Knowing she's getting a solid group of vitamins despite her diet gives me peace of mind. We love Renzo's!"
– MANDY S.
Our kiddo's diet varies from day to day. But with Renzo's, you'll know you're getting all the nutrient goodness! 
Check out Renzo's Vitamins and see why it's called – The Unicorn of Vitamins. 
How to Get Started
For an easy way to get started, we recommend our children's multivitamin: Picky Eater Multi.  It's packed with18 essential vitamins and minerals to cover the whole wellness of your child. 
However, if your kiddo is iron deficient, a little boost may be just what the doctor ordered! Our  iron supplement for kids, Renzo's Iron Strong, is made with a special form of iron that's gentle on tummies. 
For immune support, we bundled up the immunity superstars in the Immunity Builder Bundle. Complete with: 
Renzo's Picky Eater Multi

: to fill in nutrition gaps, perfect for those super picky days

Invincible Vitamin C: Combined with the antioxidant power of Zinc and Elderberry

Dynamite D3: the sunshine vitamin that defends against germy invaders