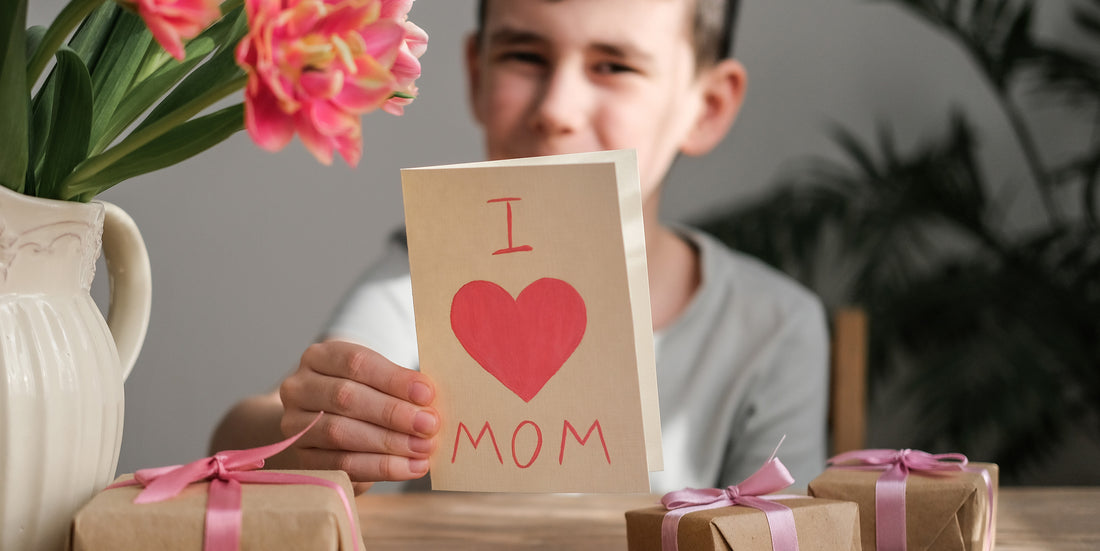 DIY Mother's Day Gifts All Moms Love
It's almost time to celebrate Mother's Day! And what better way than with a homemade gift hand-crafted by our little ones. Perfect for moms, grandmas, and all amazing mothers in our life, these thoughtful gifts are as cute as they are memorable. 
Let's dive into these homemade gift ideas for mom!

Lavender Bath Bombs
Lavender is always a mom favorite. Its calming scent is the perfect way to unwind after a long day. (That is, until little fingers find their way under the bathroom door!)
These Lavender Bath bombs are simple to make and require just a handful of supplies: 
1 cup baking soda

1/2 cup citric acid

1/2 cup Epsom salt

1/2 cup cornstarch

2 1/2 Tbsp coconut oil melted

3/4 Tbsp water

2 Tbsp lavender buds (

optional

)

10 drops lavender essential oil

8 drops purple liquid coloring

(optional)
2-inch bath bomb mold

2 mixing bowls
To make your bath bombs, have your kiddo mix the dry ingredients in one bowl and wet ingredients in the other. 
Next combine both the wet and dry ingredients very slowly (we're talking turtle speed!). Using your hands, form balls with the mixture and press into your molds. If you have lavender buds, then here's where you'd add them for a beautiful lavender topping. 
Let your bath bombs set overnight to ensure they're completely dry, and voila – the perfect homemade Lavender Bath Bomb for mom.  

Handprint Coasters
This one's for the coffee-loving moms! A DIY Handprint Coaster for your morning brew does more than protect the table, it's a thoughtful memory of your little one's tiny hands. 
And because you get to choose the colors, they'll go with any decor. 
First gather your supplies: 
4 white tiles

4 acrylic paint colors

Paint brush

Vinyl Bumpers

Clear protective glaze
Here's where the fun gets started! (side note: you may want to head outdoors for this step. Extra Vitamin D and less mess to worry about is always a good idea!) 
Paint your kiddo's hands with acrylic paint and press into the tile. If you've ever done this with a toddler, then you know that it'll take a couple of tries. But no worries – you can wipe the tile and start over as many times as you need. 
Next, let your paint dry and seal with a protective glaze. Add vinyl bumpers to the bottom to keep your coaster from sliding or scratching the table. 
And that's it – enjoy your morning coffee mom 'cause you deserve it!

Teacup Cards
While some of us are coffee fanatics, other moms are all about the par-tea! And these Egg Carton Teacup Cards are an adorable gift for tea-loving moms. It's also a great way to upcycle old egg cartons and share a little love for Mother Nature. 
To make these Teacup Cards, first gather your supplies: 
Blank cards

Colored paper

1 cardboard egg carton

1 pipe cleaner

Your favorite tea bags 

Glue

Paint, stickers, markers, etc
Start by cutting your egg carton into individual "cups." Let your kiddo color, paint, or draw on their "tea cup" while you trim your pipe cleaner for the handle. 
Glue the colored paper (this adds a pop of color), your tea cup, and pipe cleaner onto your blank card. 
Pop in your favorite tea bag for a tea-rrific homemade mother's day card. 

DIY Mother's Day Soap
For the mom who enjoys her spa treatment, this DIY Mother's Day Soap is the perfect gift. It uses essential oils so you know it smells amazing. And you can experiment with different colors to find the one that's right for mom. 
Supplies: 
12 oz clear glycerin soap base

Measuring cup 

Spoon

Essential oils

Food coloring

Silicone mold

Cookie cutters

Letter stamps (

optional

)
Soap making sounds harder than it is, but it's really simple! 
Start by melting your glycerin soap base in the microwave (about 30 - 60 seconds). Next, mix in essential oils and a tiny drop of food coloring before pouring into your mold. 
You'll want to let it cool for about 15 mins before removing your soap from the mold. 
And finally, we get to the fun part! Using cookie cutters, letter stamps, and anything else that inspires creativity, let your little ones cut out and decorate their own homemade soap for mom. 
Happy Mother's Day!
We wish you a happy and memorable Mother's Day from Team Renzo's. Let us know which homemade creation was your favorite by tagging us on IG @RenzosVitamin.