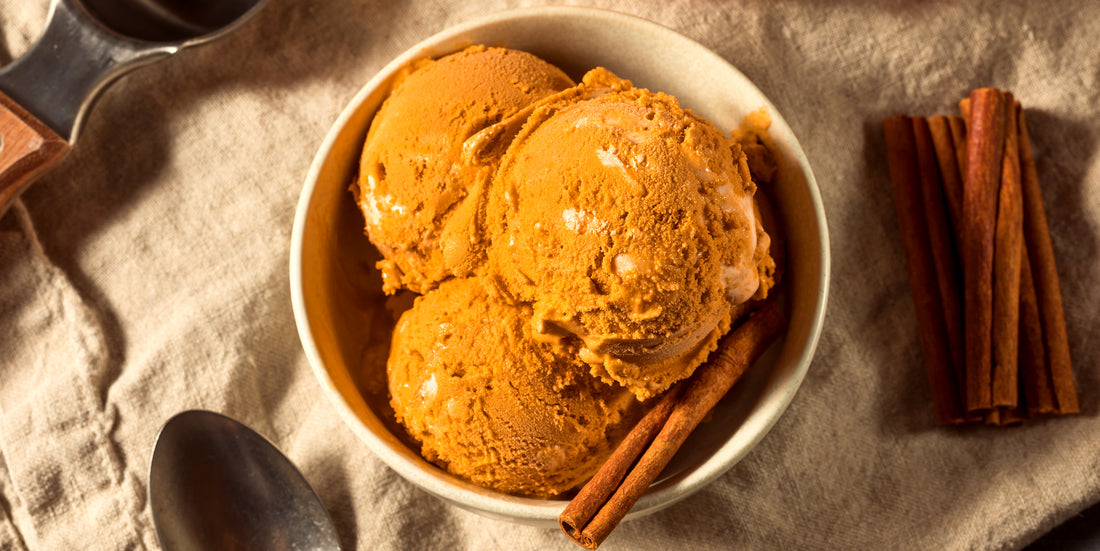 9 Easy & Delicious Fall-Inspired Recipes
Did you know that "smell" is the strongest sense tied to memory? (The smell of bacon alone brings back memories of Saturday mornings as kids!)
And if there's one thing all parents love doing with their kiddos, it's making memories. 
So to make this a memorable Fall, we're sharing 9 recipes that'll have your kiddos running into the kitchen. . . and creating those sweet memories they'll cherish for life.
Pumpkin Banana Muffins
We can't talk autumn recipes without fall's favorite fruit – pumpkin! (yes, it's a fruit, we looked it up). But pumpkins do more than make a great Jack-O-Lantern. They're packed with vitamins to strengthen your kiddo's immune system like:
Vitamin C

Vitamin E

Iron

Folate

Beta-Carotene
These Pumpkin Banana Muffins are gluten-free and with a simple swap for monk fruit, they're lighter on the sugar too!
Cinnamon Apple Chips
A kid's favorite, apples are on the list of fall fruits to boost immunity. They're rich in fiber and packed with bioflavonoids and antioxidants (2 good guys that help our immune system). 
These Homemade Cinnamon Apple Chips are free of gluten and dairy. With just a few simple ingredients, you can whip these up for a healthy fall snack. 
Caramel Apple Cider
What's fall without a warm mug of Apple Cider?! Serve this Caramel Apple Cider recipe on a cool night around a crackling fire, and the sweet, crisp taste and seasonal spices will stay in your family's memory long after the season. 
When looking for the right apple juice for your kiddo's cider, go for an organic, no-sugar added juice. This will keep the added sugar down. Plus, the "caramel" in this recipe is made from dates rather than table sugar – now that's a win-win!
Caramelized Butternut Squash
Speaking of caramel, this Caramelized Butternut Squash is an easy way to introduce your kiddo to squash. The natural sugars from the squash cook down to reveal a gorgeous, nutty, and sweet brown color. Toss with a little butter and cinnamon and voila, you have a delicious fall veggie your kiddos will actually enjoy!
Sweet Potato Casserole
Another orange favorite, sweet potatoes pack tons of flavor, vitamins, and antioxidants – specifically, Vitamin A, Vitamin C, Vitamin B6, Potassium, Fiber, and Beta-Carotene. This Sweet Potato Casserole is yummy, easy to make, and topped with nutritious pecans. Who knows, it could even win a spot on your family's Thanksgiving menu (that's if it hasn't already!) 
Swedish Meatballs
What kiddo doesn't love a good meatball?! Now before you answer, "uh, mine!," you gotta try these Swedish Meatballs. Smothered in a delicious creamy gravy sauce and seasoned with nutmeg and allspice, your family might just "fall" in love.
Plus, this recipe is simple enough for an easy weeknight dinner! ;)
Roasted Chicken with Cabbage 
Ah, the forgotten fall crop – cabbage. Albeit, not a popular veggie, this nutrient powerhouse is loaded with immune-boosting vitamins and minerals like Vitamin C and K. Cooked along with this delicious Skillet Roasted Chicken, the cabbage will absorb all those yummy juices making it a fall favorite your family will enjoy.
Pumpkin Pie (N)Ice Cream
Summer may be over, but that doesn't mean we can't have ice cream. This Pumpkin Pie Nice Cream recipe combines everything we love about summer and fall. Made with dates and frozen bananas, this recipe is dairy-free and contains only natural sweeteners. You can eat it immediately as a milk shake (hold the milk!) or freeze for a few hours for a delicious scoop of nice cream dessert. 
Pumpkin Pancakes
For the grand finale, we're ending this list of Kid-Friendly Fall Recipes with a memory your kiddos will recall for seasons to come – Saturday morning Fluffy Pumpkin Pancakes (bacon optional). These buttermilk pancakes combine pumpkin, vanilla, nutmeg, cinnamon, and ginger for a cozy breakfast that'll warm you right up on those crisp mornings. 
Happy Cooking!
Let us know which recipes were your favorite! Tag us
@RenzosVitamins
or comment below.