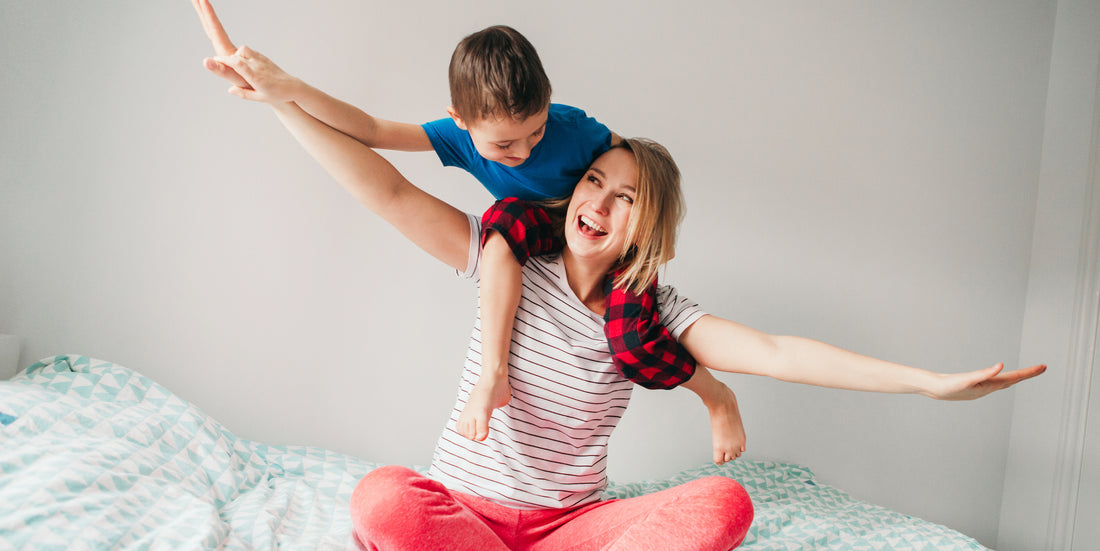 6 Thoughtful Ways to Celebrate Mother's Day
If there's one thing we know for sure, it's this:
That special mom in your life is, hands down, the most amazing mom in the whole, wide world!
And for this special mama, a gift card simply won't do. To show how much we appreciate her, we're celebrating in the most thoughtful way possible. A way that will mean sooooooo much to her! Here are 6 thoughtful ways to celebrate Mother's Day. 
Create a Family Photo Book
This is the PERFECT gift for that mom who has a million pics of her precious kiddos on her phone. . . aka, all moms. We say we'll print the photos out one day. That we NEED those pics because one day we'll create a photo album.
But here's the truth.
We don't have the time. And that's where you come in! 
For an amazing, thoughtful Mother's Day gift, create a family photo book. Mixbook is a photo book service that's highly rated for quality, customizability, and ease. You can help her treasure these memories and free up storage on her phone at the same time.
But if you want to go the extra thoughtful mile, you can create your own at home. For a seamless, professional look, purchase an album and arrange your photos chronologically. Or, you can work your creative muscle and cut, paste, and create a collage of all your favorite memories.
Bake her a Cake
As moms, we usually handle all the details during any holiday. That includes the cake; whether we bake it ourselves, or order it and pick it up. But for this special holiday, show her you care by baking her a cake! Make her favorite flavor with the most delicious icing. It's a small gesture that speaks volumes. 
Don't know how to bake? No worries. You cooouuuuuld order a cake, but homemade is always best! So, here's what you do. 
Baking is fun, especially when you get to lick the spoon. That means, chances are, someone you know enjoys baking. And would love to make you a special Mother's Day cake. Purchase the ingredients and arrange a time to pick it up! Yummy, thoughtful, and homemade – a recipe for a perfect mother's day gift. 
Get her Car Washed
This one may sound silly, or not "special" enough, but hear us out. This is the perfect gift for the mom with toddlers. Her vehicle is the home to many lost french fries, cheerios, and melted chocolate. Getting her car spick and span is something she'll truly appreciate.
Want to make it extra special? Get her car organized with this list of must-haves:
Backseat organizer filled with diapers, wipes, and a change of clothes, 

Mini trash can; a small cereal container with a liner will work.

First Aid Kit with band-aids, neosporin, children's ibuprofen, and a thermometer

Extra blankets for the winter

Summer safety kit

with sunscreen and bug spray

Cell phone holder

Protective coverings, kick mats, and silicone baking cups for cup holders

(these work wonders!)
Treat her to Spa Day
With balancing family, work, and the never-ending chore list, a little pampering and relaxation is exactly what she needs. A Spa Day is a perfect gift because she'll absolutely love it but won't do it herself.
To make it extra thoughtful, have a Spa Day Gift Basket waiting for her when she gets home. You can include:
Bath bombs

Candles

Lotion

Wine

Bath pillow

Essential oils

Soaps

Hand scrubs

Loofah
Take a Class Together
And no, we don't mean algebra. Explore new hobbies together with a beginner class in:
Pottery

Flower arranging

Sewing

Cooking

Art

Spin

Wine Tasting

Cross-Stitching
The time spent together is what makes it thoughtful, but discovering a new hobby makes it the gift that keeps on giving.
Mother's Day Letter
Sometimes, it's not about a gift at all. Not about special celebrations or activities. All that really matters is how much we love them. So, whether it's your mom, your spouse, or another amazing mother in your life, a heartfelt letter is the thing she wants most. 
We wish you a very Happy Mother's Day!