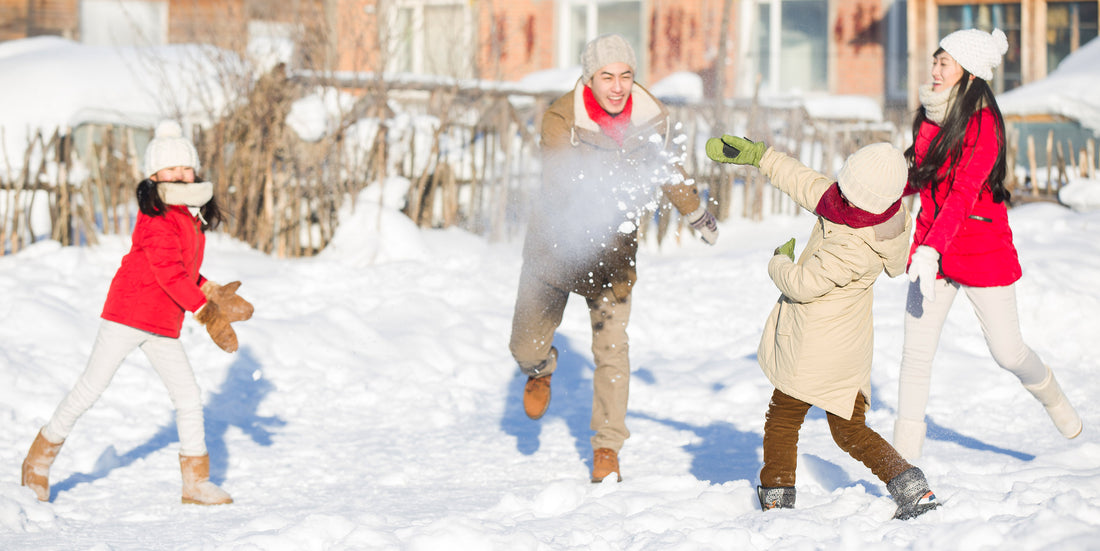 5 Outdoor Winter Activities Your Kids Will Love
Winter is a magical time for kiddos! But when it's too cold to play outside, it can be hard to keep them entertained. And all that cooped up energy can make parents go bananas! That's why we're embracing the cold with fun activities that'll make your kids fall in love with winter.
From building a snowman to going on a winter hike, you'll love creating beautiful memories that'll make your kiddos' hearts warm and faces light up with excitement! So grab your warm jackets, hats, and gloves and let's head outside for some winter fun. 
Build a Snowman
One fun winter activity that kids love is building a snowman. Not only is it a great way to keep kids active in the winter, but it allows them to use their imagination and creativity. Gather some sticks, buttons, a carrot, and a scarf to decorate your snowman and let their imagination run wild. Make it a fun family activity by working together to build the best snowman on the block! 
Got neighbors with kids? Let them join in on the fun! Have a contest with other families in your neighborhood to see who can build the most creative snowman. This is a great way to build teamwork and good sportsmanship with friendly competition.
Hike through a Winter Wonderland
Imagine going on an adventure through a winter wonderland surrounded by fluffy snowflakes and glittering icicles. That's what kids see when they go on a winter hike! It's a fun way to explore nature and exercise while having a blast with the family. Plus, you can catch some fresh air and Vitamin D during these dark, winter days. 
Wanna make it more exciting? Turn it into a scavenger hunt where kids can spot different types of trees, animal tracks, and natural decorations like icicles or frozen ponds. Bring along a pair of binoculars to help your kiddos spot those birds that are specific to winter. And don't forget to dress warm, and bring some hot cocoa or snacks to enjoy after the hike. 
Have a Friendly Snowball Fight
Another fun winter activity for kids is a snowball fight! There's nothing like the thrill of running in the snow and pelting your friends and family with fluffy snowballs. You can split up into teams and have a friendly competition. 
But if you'd rather avoid the possibility of getting hurt, especially for little ones, you could have a snowball shooting contest. Just set up some targets and practice throwing and aiming. Either choice is a great way to get kids outside to enjoy the winter season.
And don't forget waterproof mittens! All that snow is fun when it's soft and fluffy, but not so much when it's melted and soaking little hands and fingers. 
Go Ice Skating Indoors
Live down south where it doesn't snow? No Problem! Take your kiddos to an indoor ice skating rink for winter fun without the blistering cold. Many indoor ice skating rinks offer public skating sessions where kids and families can learn to skate, get some exercise, and work on balance and coordination. 
Just remember that it'll still be chilly so bundle up! Plus, those extra layers can help cushion our falls. 
Enjoy a Winter Picnic

A winter picnic with kiddos can be a blast! Bundle up in warm layers and bring cozy blankets to snuggle on. Sip on steaming hot cocoa or yummy apple cider, and munch on delicious winter snacks jam packed with immune-boosting vitamins. 
Add a touch of festivity by letting the kids deck out the picnic area with fun decorations – think  twinkling lights or a mini Christmas tree (your kiddos will not care that Christmas has passed!) Make it extra fun with outdoor games like frisbee or football to play in the snow, or pack a sled for some wintery fun. The key to a successful winter picnic with kids is to be prepared, have a blast, and make lots of playful memories together!
We hope you take advantage of the magical winter season. And let us know what fun outdoor activities you're enjoying this season by tagging us on Instagram @RenzosVitamins.