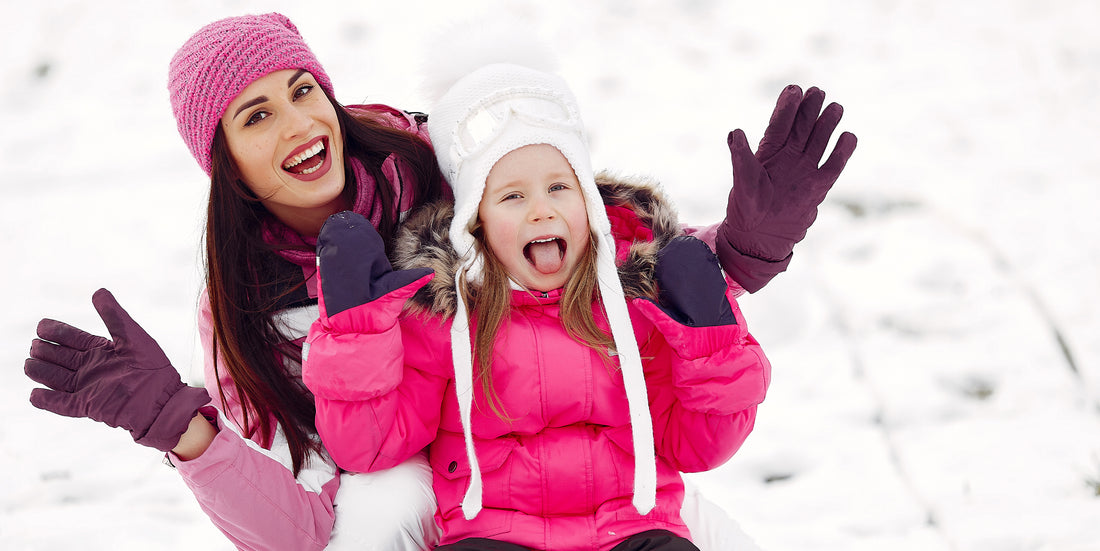 8 easy ways to keep kids active this winter
When the days get short and the weather gets bleak, catching sun rays and exercising don't quite make the list. 
In fact, any exercise, whether indoors or out, quickly gets booted. And believe us, we don't blame ya! Sipping on a hot chocolate while under the warm covers sounds more like our cuppa tea. 
But the truth is: consistent exercise is a good indicator of health — for us and our little ones. So we say, let's put down the hot chocolate and get moving!
1.Create a "Let's Get Moving" Jar
A moving jar is a great way to add a splash of excitement! Brainstorm fun activities to keep your kiddos active in the winter and write them on slips of paper. Then toss your ideas into your kiddo's very own "Let's Get Moving" jar (bonus points if it's decorated!). And anytime the family is up for a little physical activity, have your kiddos pick an idea out of the jar!
2. Get the kiddo's input
Kids are more enthusiastic about an idea if they're a part of the process. So explain to your little ones about how important physical activity is, then let them brainstorm ideas on how to stay active. This will get them more involved and excited about their health!
3. Schedule it in
It's recommended that children and adolescents get 60 minutes of activity at least three times per day. Now that can seem a lot, especially in the winter. But scheduling in time for activity is a great way to ensure we don't forget. Don't worry about scheduling it all at once either. It's okay to break it up! 10 minutes here and 20 minutes there can be a lot more manageable.
4.Create an Indoor Movement Space
Along with scheduling in time, creating a dedicated space for activity is another great way to stay active in the winter. A few ways to make the space more inviting for our kiddos to engage include:
Hopscotch pattern with tape

Indoor basketball hoop (if it's safe)

Hula hoops

Tumbling mat
5.Register for an indoor sport or activity
Sports and activities are a fun way to stay active. However, most families tend to participate only in the warmer months. But the fun doesn't have to stop in the winter! Check out local programs to see if they offer indoor sports, dance, classes, or other activities to stay active and have fun. 
6.Limit screen time
With more indoor time comes more screen time. Not just for the little ones but for the whole family. And we may not even notice! So placing limits on our screen time can help us keep track of how long we engage with electronics. 
7.Lead by example
Our kiddos are always watching (but you already knew that!). So getting the whole family involved is a great way to lead by example. Plus, it helps us stay active during the coming winter months too!
8. Play outside
There's no better substitute than good ol' outdoor play! Vitamin D levels can also decrease in the winter due to lack of outdoors time. So on sunny days, bundle up, and let the kiddos soak in the rays. And to ensure you're getting those melty rays of sunshine, pick up Renzo's Dynamite D3. It's the easy, no-brainer way to keep those Vitamin D levels up!
Okay, time to get moving! Tag us on Instagram @RenzosVitamins to show us how your little ones are staying active this winter.