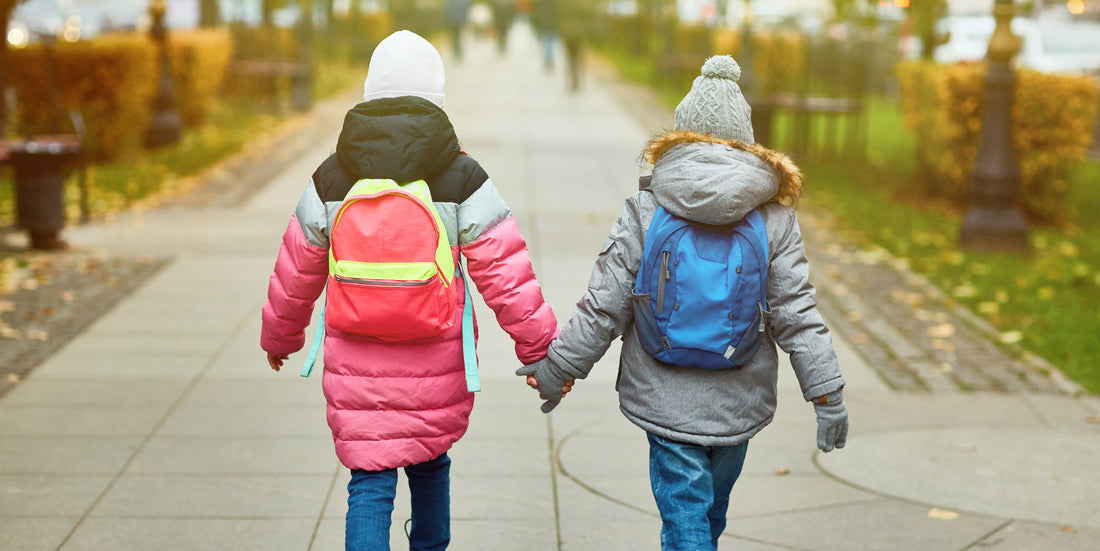 5 Easy Winter Snacks for Kids
With the new semester in full swing, we've put together a handy dandy list of school snacks to toss into your kiddo's lunch box.
And seeing that winter is Covid and Flu's favorite season, these snacks are jam-packed with an immunity boost for extrrrraaaaaa protection. Plus, a little Vitamin B6 to fuel your kiddo's super-smart brains!
Greek Yogurt Parfait
Yogurt is a perfect winter snack for kids. It's yummy (so no mealtime battles here) and usually fortified with Vitamin D — an easy way to keep those levels high this winter!
For a healthy boost, toss in berries, nuts, seeds, or sugar-free nut butter (such as almond butter). 
The added berries, nuts, and seeds give plenty of antioxidants and Vitamin B6 — the vitamin shown to help our kiddos focus! And if your little one won't eat nuts or seeds, you can always use nut butter instead, or grind the nuts and seeds in a food processor. 
Banana Dog Bites
There are sooooooo many reasons you'll love these. For starters, Banana Dog Bites are super yummy, easy to make, and fun to say. But more importantly, they're chock full of vitamins!
Bananas alone give us over 30% of our Daily Value of Vitamin B6. And the almond butter packs that extra nutritious kick. But if your kiddos won't eat sugar-free almond butter, try adding a touch of honey. This way you control the sweetness!
Turkey Cheese Roll-Ups
Turkey Cheese Roll-Ups are a great go-to when you're running out of ideas. The added carrots in this recipe give this snack an antioxidant and Vitamin C boost. And turkey is a great source of Vitamin B6. 

If you're feeling a little adventurous, try swapping out the turkey for salmon. Packing 150% of your Daily Value of Vitamin D, just a little salmon goes a long way. Salmon is also high in Vitamin B6, Omega-3, and Iron. The cream cheese in this recipe offsets the strong flavor of the salmon and helps introduce your little one to a new, super healthy food. 
Tuna Melt Triangles
Kid-Friendly Tuna Melts are another school snack that pack a Vitamin D punch. Although not as high as salmon, tuna is still a great source of Vitamin D with 34% of our Daily Value. 
And for a superfood kick, try adding a little sauteed kale. Now we know that might sound crazy, after all, most Picky Eaters won't have it. But hear us out. 
Kale is loaded with nutrients, including Vitamin B6! And sauteed with a little salt removes that strong, bitter taste. Give it a try and let us know!
Sweet Potato Bites
Cut a few sweet potatoes into small squares, toss 'em in the oven, and you have Sweet Potato Bites! Sweet potatoes are a Vitamin B6 powerhouse and their orange color means they're rich in antioxidants — perfect for fighting off those free radicals! Plus, they're Picky Eater friendly:)
The Healthy Boost You've Waited For
If you're looking to give your kiddo a healthy boost — in immunity, brain power, or just to fill in those nutrition gaps — check out the Picky Eater-approved, Renzo's Vitamins. Loaded with nutrition and free from junk, our Melty Tabs give kids the guilt-free, healthy boost you've been waiting for.