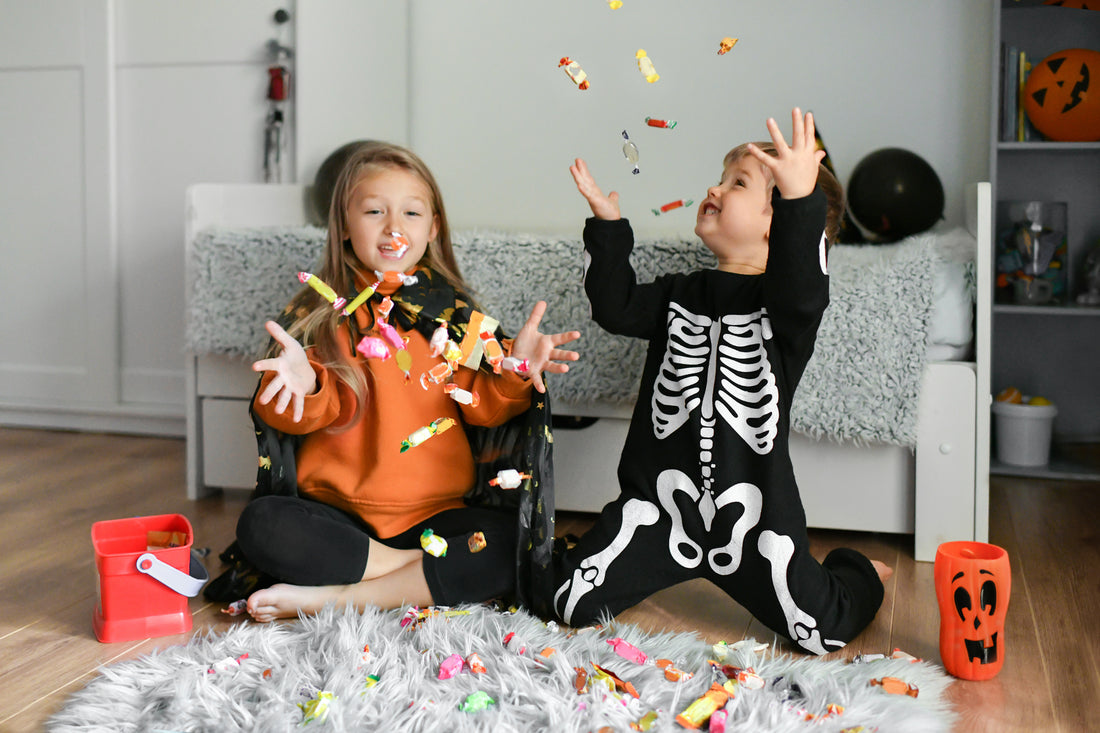 5 Healthy Halloween Treats for Kids
It's the spookiest time of the year, but ghosts and goblins aren't the only things giving us a scare. Kid's Halloween sugar consumption tops scary numbers at 3 cups on this spooky night alone – that's 16 times the daily recommended amount! 
So to keep sugar and our kid's dental health in check, we're venturing out of Hansel & Gretel's candy house into a world of healthy Halloween treats for kids!
Clementine Pumpkins
Rather than sugary Pumpkin Krispie Treats, opt for a healthier version with Clementine Pumpkins. These kid-friendly fruits are loaded with antioxidants and Vitamin C making this treat not only healthy and festive, but an immune-boosting superstar. 
To create Clementine Pumpkins, simply peel your fruit, insert a small piece of celery, cucumber, or pretzel as the stem, and voila, you have a Clementine Pumpkin that's naturally sweet and delicious. Store your Clementine Pumpkins on an easy-to-reach shelf in the fridge for easy access when our kid's sweet tooth calls. 
Monster Apple Bites
Apples will forever hold a place at the kid-friendly table. Dressed up in creamy peanut butter and almond slices, Monster Apple Bites are a festive treat that offers protein, fiber, and Vitamin C. 
To create this kid-friendly treat, slice apples into wedges and remove the core. Spread creamy peanut or almond butter on one side of each apple wedge. Beware of hidden sugar lurking in your kiddo's peanut butter such as molasses, and instead opt for sugar-free. Next, add sliced almonds for your "monster's teeth," stack 2 wedges to create a mouth, and top with googly eyes made of peanut butter and raisins. 
Ghostly Bananas
With their natural sweet creaminess, bananas are the perfect healthy treat. They're high in fiber, potassium, and Vitamin B6 – a magical vitamin for brain health. Once dipped in yogurt, these Ghostly Bananas complete their final reappearing act of added protein and probiotics!
Start by slicing bananas in half and inserting a popsicle stick. Next, dip in Greek yogurt, but be careful. . . we're entering the danger zone. Kids yogurt is a popular sugar pit containing up to 10g of added sugar! Instead, buy sugar-free and add a touch of honey or monk fruit at home. 
After dipping your bananas in yogurt, freeze for 2 hours. Finally, let your kiddo add "eyes" with raisins or chocolate chips to finish off their ghostly boo-nana. 
Green Monster Smoothie
Smoothies are great ways to give picky eaters the nutrients they need without the fussiness. Don't think your little one will eat spinach? Blend it in a Blueberry Smoothie! 
Strawberries not their thing? Toss a few berries in a Banana Split Smoothie. 
That's why this Green Monster Smoothie is the perfect blend of health and Halloween (not to mention, it uses minimal dishes for easy cleanup!) Blend 2 cups chopped kale, 1 ripe banana, 1 tsp flax seed, 1/2 cup unsweetened almond milk, and 1 tsp maple syrup for a delicious monster smoothie packed with vitamins and minerals. 
Witches' Broomsticks
Our list of healthy halloween treats for kids wouldn't be complete without a bundle of Witches' Broomsticks. Made with just 2 ingredients, cheese and pretzel sticks, this festive snack is an easy way to keep sugar in check. Plus, the cheese gives our kiddos a snack size boost of calcium and protein. 
Before assembling your broomsticks, double check your pretzel's ingredients. You want a short ingredient list for the healthiest option. Now it's time to assemble your broomsticks! Start by cutting your cheese sticks in half horizontally. Then, make vertical cuts stopping ¾ of the way for broomstick bristles. Finally, slide your cheese stick onto a short pretzel stick to complete this festive treat. 
Have a Healthy Halloween!
Halloween doesn't have to end in cavities. Instead, keep the spooky spirit alive with sweet Clementine Pumpkins, scary Monster Apple Bites, Ghostly Boo-nanas, Green Monster Smoothies, and a bundle of Witches' Broomsticks. These festive alternatives to traditional candy are the healthy halloween treat your kiddo will love! 
Got more ideas? Let us know by tagging us on Instagram @RenzosVitamins.