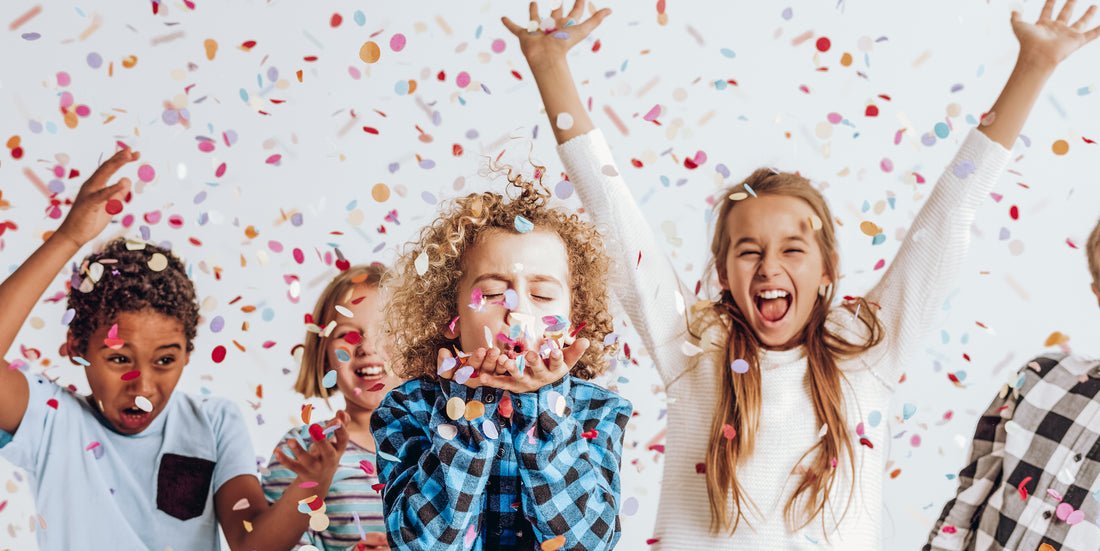 10 Fun Ways to Ring in the New Year with Kids
Happy New Year Picky Parents! And, whew, what a year it was. From Gamestop wreaking havoc on Wall Street to Gen Z starting a generational "sidepart" war against millennials #sidepartforlife, it's been a crazy year.
But through the ups and downs, and the 87 COVID variants (and counting!), it's time to wrap up 2021 and ring in the new year!
So, here's 10 Ways to Celebrate New Year's with the kiddos. Let the countdown begin!
Countdown Bags
Staying up 'til midnight is hard! Keep the momentum up with Countdown Bags. Because as we know, there's nothing that excites little ones like opening presents. But don't worry, this isn't Christmas all over again! Fill about 6 bags with goodies such as:
Treats

Printable Activities

Noisemakers & Crafts

Puzzles

Disposable Camera
You know, things that are fun! And let your kiddos open one each hour until the New Year rings in.
Countdown Clock 
A Countdown Clock is a cute craft you can make with your littles to help answer the oh-so-neverending question: "How much longer?" And if your kiddos are still learning how to tell time, this craft can help!
With just a handful of supplies and a headful of imagination, your New Year's countdown will overflow with creativity.
DIY Confetti Poppers 
Creating your own Confetti Poppers is a fun way to let your kiddos join in on the celebration. A few toilet paper rolls, balloons, and markers is all you need. It's easy and will keep the kids occupied while you prepare your New Year festivities.
Year-in-Review Slideshow 
New Years is more than just a celebration of the new year. It's also a time to reflect on the year past. And a Year-In-Review Slideshow is a memorable way to think back on all your family moments of 2021. You have all those pics on your phone already. Might as well show them off!
If you have some spare time on your hands, consider a Year-In-Review Scavenger Hunt. Print the photos and hide them around your home. You can decorate envelopes for your photos and send the kids on the hunt! After they've found 'em all, whip up some hot chocolate and sit down to open up your family's Moments of 2021:)
Play New Year's Bingo
Bingo is a great go-to when you need a fun activity. This New Year Bingo Printable goes perfect with your NYE party, fireworks, and a night of celebration!
Make New Year's Resolutions
New Year's Resolutions aren't just for adults! Keeping rooms tidy, taking a yummy vitamin, or eating fruits & veggies are great resolution ideas for school-aged children.
Create a Family Bucket List
Planning fun trips and activities will get the whole family excited for 2022! It's also a great way to start thinking about planning time off and budgeting in order to make your 2022 Bucket List a reality.
Make a Balloon Drop
Yelling "Happy New Year" with balloons and confetti falling will feel like you're in Time Square! Create your own with clear trash bags, balloons, and confetti. Or, you can find them at your local party store or Amazon. 
Toast with a "Mocktail"
What's New Year's Eve without the "clink!" Create an alcohol-free mocktail from apple juice, grape juice, or even milk to let kids join in on the celebration. And toasting with a New Year's Resolution Party Craft can help kids celebrate their 2022 resolutions and keep them longer!
Pop Fireworks
Because some things never get old:) If you live in an area where fireworks are prohibited, create Firework Confetti Balloons. There's no risk of fire or burns and your little ones will shriek with excitement when the confetti flutters out!
We hope you and your family have a Happy New Year. Here's to a 2022 filled with health and happiness!