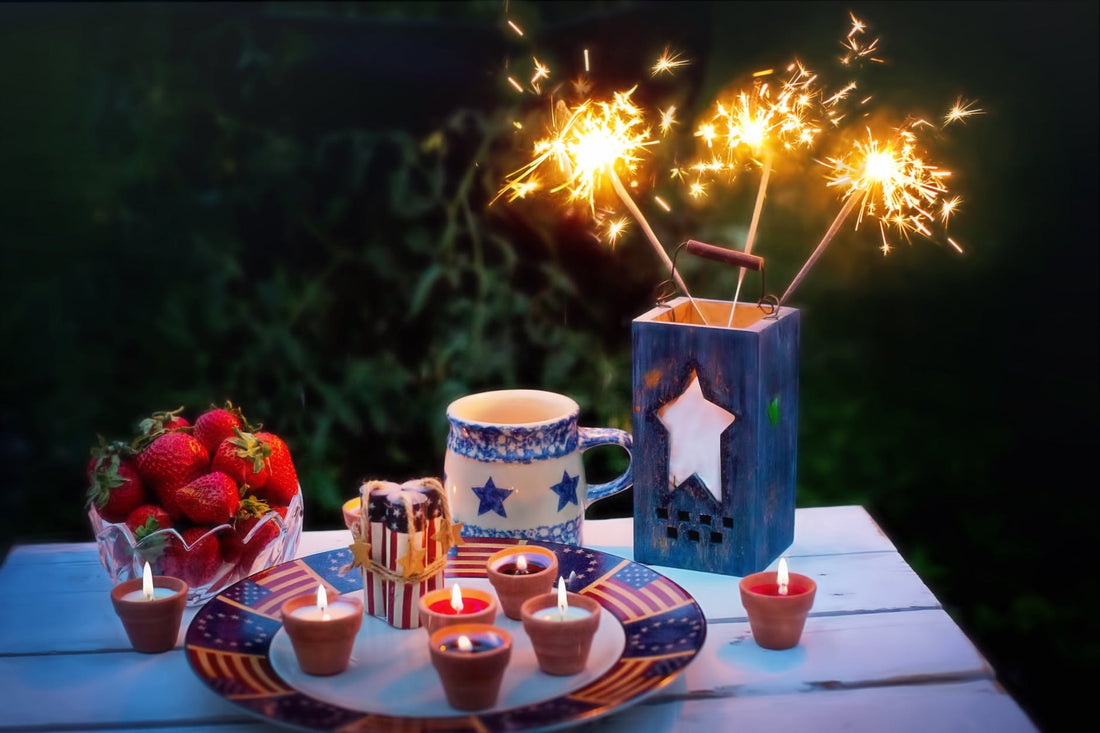 Four 4th of July Activities For Kids
Fourth of July is a wonderful time to celebrate family, community and the things that make our country special! It is also a great time to get creative with the kiddos. As parents, we're always on the hunt to find activities for kids that are both fun and educational. Fourth of July is more than big fireworks and barbecues - it is also a time to appreciate our independence and the great things our country has to offer!
So let's celebrate this Fourth of July with a little creativity and family fun! Here are four activities you can do with your kids:
1) Make Edible 4th of July Treats
There no holiday fun without food, so why not get patriotic with it and make a few Fourth of July themed treats? There are tons of great patriotic snacks out there that both kids and adults will love. You can make edible American flags, Rice Krispie treats, yogurt bites and even ice cream sandwiches with the American red, white and blue colors. Snacks can range from sweet to savory and make a great addition to any Fourth of July party!
2) Create Firework Confetti Balloons
Fireworks are fun, but if you have younger kids they might not be the safest choice! And some of us may live in an area where fireworks are prohibited. Instead, you can help them to create their own firework confetti balloons - no risk of burns or fires included. Your kids will love to watch the balloons pop and see confetti flutter everywhere in the night sky. Now, this DIY can get a bit messy, but what's Fourth of July without a little chaos?
You can learn how to make Firework Confetti Balloons over at the Moore Minutes mommy blog.
3) Build a 4th of July Party Wand
In general, the Fourth of July is a lot of fun for kids and adults. But there are some parts of the celebration that can be overwhelming - especially for younger kids. While your older children can enjoy things like sparklers and fireworks, they can be dangerous and scary for small children. This is where Fourth of July crafts come in handy! If you have babies or toddlers, a great Fourth of July craft that is simple to make and still give them that holiday feel is a Fourth of July party wand! This non-intimidating project is colorful and totally safe for kids of all ages.
4) Patriotic Scavenger Hunt
No matter the holiday, a scavenger hunt is always a great game to play with kids of all ages. There are many varieties of this game, but for the Fourth of July, you can keep it patriotic by using printouts of the American flag of other 4th of July related images. To keep the activity engaging, write an action item on the back of the images for them to complete. For example, you can write "do ten jumping jacks" or "do five pushups" on the other side of the image. This adds a little more fun to this traditional party game and will keep them active! Bonus - once they are done they will probably be pretty tired and give you a much needed holiday break. :-)
No matter what activity you choose, just remember to think outside of the box when you celebrate America's independence this year!
What are you planning for the kids this fourth of July? Share with us on our Instagram @RenzosVitamins #RenzosKids
Save this article for later by pinning the image below: