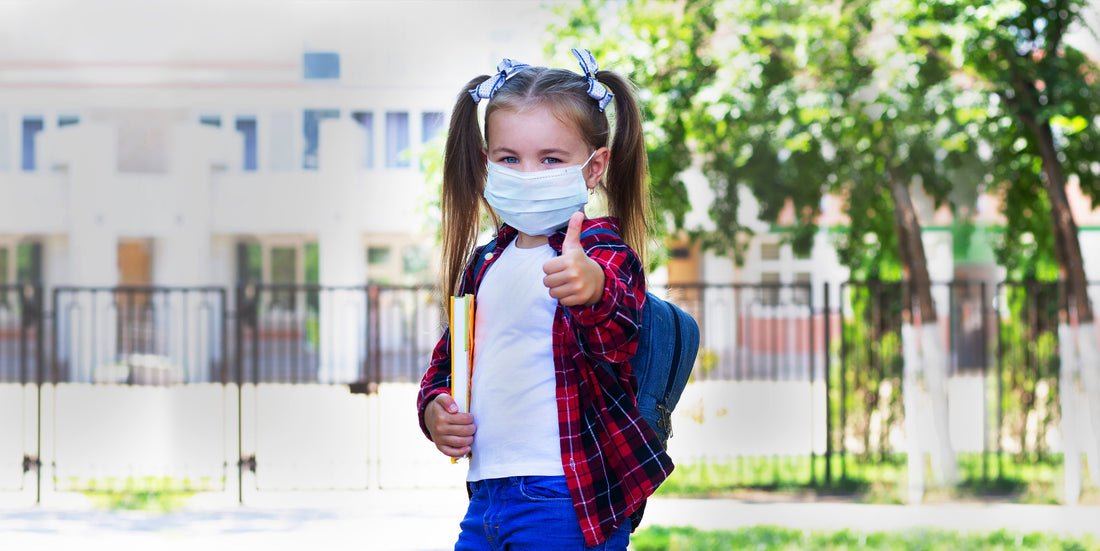 6 lessons COVID taught us about Immunity
Ring! Ring! Ring! School is in session. And teaching today's topic is Mr. COVID 19 himself. Because even the biggest bullies can teach us something new like:
Sticks and stones can break my bones but words will never hurt me. 
So today, we'll learn what Mr. COVID 19 taught us about immunity – and just in time for back to school!
Lesson 1: Prevention is Key
Here's the thing about viruses like COVID 19…they don't go away so easily! No, these guys stick around like uninvited guests that won't leave. 
That's why when it comes to COVID 19, or any other virus, prevention is key. And since COVID spreads when we're in close contact with people (when we're in each other's personal space bubble) prevention becomes super important in times like: 
Back to School

Play Dates

Birthday Parties

Family Gatherings

Holidays
Lesson 2: A Strong Immune System is Your Best Friend 
Speaking of prevention, a strong immune system is step #1 in preventing COVID 19. And that's because our immune system's main job is to fight off harmful substances and germs that enter the body. 
Now that's a BIG job for a little person! So giving our kiddo's immune system a few helpers isn't such a bad idea. Here are a few ways you can give kiddos an immunity boost before going back to school:
Eat plenty of fruits and veggies

Stay active

Load up on Vitamin D

Get lots of Zzzzz's 

Supplement with a

sugar-free

kid's vitamin
Lesson 3: Always Wash Your Hands 
Along with close contact, we also learned how fast COVID 19 can spread when we touch our eyes, nose, and mouth with unwashed hands. But this lesson isn't only for COVID – we can avoid all sorts of germs by washing up as often as we can!
So before getting back on the bus, review with your kiddo the right way to wash their hands. 
Step 1: Get hands wet and soapy. 
Step 2: Rub, rub, rub while singing the Happy Birthday song twice. And don't forget to scrub between fingers and wrists. 
Step 3: Rinse hands under clean running water
Step 4: Shake and dry with a hand towel or under a hand dryer. 
And bring along personal hand sanitizer when hand washing isn't an option. 
Lesson 4: Sharing Isn't Always Caring
We want our kiddos to be nice to others. But sharing during COVID was a big no-no. And that's because our kiddos were doing more than sharing toys and books – they were sharing germs! 
So during COVID, we learned to share our love for others through other ways such as:
Sharing compliments

Sharing jokes

Sharing smiles
Lesson 5: Symptoms Can Go Unnoticed
We've been taught that when we're sick, we should stay home to avoid infecting others – right? But how do you do that when you don't have symptoms??? This was the case for many of us. We had COVID and didn't even know it!
This meant taking extra precautions, even if we felt A-OK, was super duper important. So even if we don't feel sick, we should still:
Wash our hands often

Avoid sharing food and drinks

Cough into our elbows

Sanitize our hands and workspaces
Lesson 6: A Hug Goes a Long Way
You know what they say, "you don't know what you have 'til it's gone." And boy was that true during COVID! Not being able to hug our friends and family showed us how much we took this little act for granted. And while it may not seem like an immunity lesson, research shows that giving and receiving hugs can strengthen the immune system.
So before sending your kiddo off to school every morning, wrap them in the biggest bear hug! It's good for the heart and their health:)
Pass the Immunity Test with Flying Colors
As we gear up for back-to-school, an immune system boost can help keep our little ones happy and healthy. Check out Renzo's Vitamins Back-to-School Bundle for parent-approved, healthy vitamins for kids. Complete with 3 immunity superstars, this bundle passes the immunity test with flying colors. 
Each bundle includes: 
Picky Eater Multi

: 18 essential vitamins and minerals – perfect for picky eaters

Invincible Vitamin C

: made with Elderberry and Zinc for extra antioxidant power

Bright & Brainy B6

: for laser-sharp focus inside the classroom.
So grab your
Back-to-School Bundle Bundle
just in time for the first day of school.