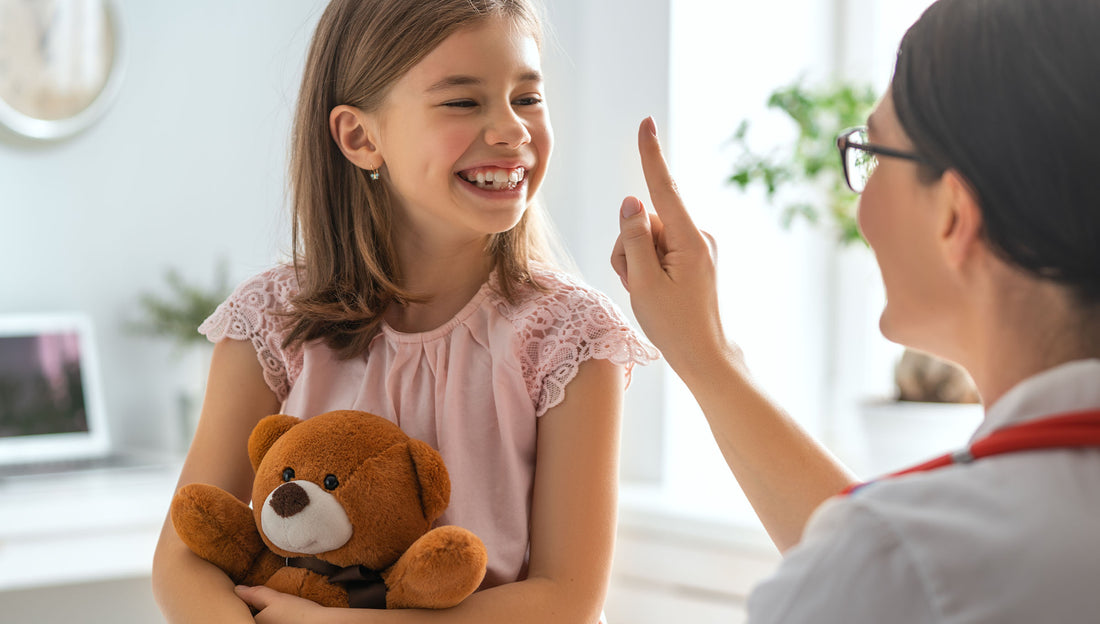 3 Scenarios in Which I Recommend Calcium
Article By: Dr. Evangelynn Honegger
Dr. Evangelynn Honegger is the Lead Clinic Physician at TRUEcare Integrative Medicine, an integrative naturopathic family medicine, acupuncture, and functional nutrition practice in Kirkland, WA.
Calcium is critical for growing kids! As children develop, they need several vital nutrients, and calcium is a star mineral when it comes to building healthy bones and bodies. We only get one chance to build strong bones, and that opportunity peaks during childhood into adolescence. During this time, children and adolescents absorb calcium more effectively than at any other point in their lives. For this reason, kids need more calcium to support their growing and changing bodies.
Here are examples of times when I recommend calcium in my practice:
Scenario #1: Healing injuries
One of my daring 5-year-olds graced the office sporting a sunshine yellow cast after taking a high tumble on the playground. X-rays showed she had fractures in her wrist and forearm. Sound all too familiar? While we focus on symptom management and empowering parents and kiddos with all tools for healing, at the top of the care plan was adequate healing with super nutrients for bone healing, muscles, and nerves too. We focused on food as medicine, but let's be honest - this 5-year-old's palate would change on the daily. Cue extra bone health and mineralizing supportive supplements like calcium and its helpers vitamin D3 and K2!
Scenario #2: Supporting athletes & IBD
A 13-year-old who lives for sports and his love for high performance soccer was diagnosed with Crohn's. Due his chronic history of gut pain and high-performance needs in sports, we kept a close eye on optimizing his nutritional needs for growth, sports recovery, repair, injury prevention, and food as fuel. I see a lot of gut health related issues from toddlers to teens. In particular, inflammatory bowel conditions which can lead to poor nutrient absorption and intake if not addressed early on. For any of my patients with inflammatory bowel disease, I focus on adequate calcium and mineral intake for healthy bone mineral density which can be diminished by steroid use, high flare up incidence and inflammation, and/or decreased physical activity due to pain in IBD.
Scenario #3: Optimizing nutrition
In a family-style back to back well child visit, I asked mom about her 4-year-old and 12-year-old's nutrient intake, family staples in their day to day, how they nourish their bodies, the snacks they grab out of the pantry on the go, etc. Often you get a snapshot into areas that may need extra support. Working with families with diverse nutritional needs and cultures, it is important to assess optimal nutrients for growth and development. While there is an abundance of calcium in many whole foods and fortified foods, taking calcium through early developmental years is vital for the skeletal systems of every little one and can help make it easier for kids to meet their calcium needs for their growing and rapidly changing bodies.
Renzo's Hercules Calcium with D3 and K2 packs a nutrient punch with all the right ingredients. Taste buds align with the subtle and safe grape flavor without artificial flavorings, dyes, or colors. Optimal calcium with cofactors like vitamin D3 and K2 to help absorption. Check and check.
Renzo's always prioritizes their formulations to champion dental health for kids (no gummies, no sticky residue left on teeth, no yucky sugars), in other words, free from additives, fillers, and junk... Ready to help your littles stay mighty! Calcium is simply a nutrient that kiddos cannot afford to skip, and Renzo's Hercules Calcium is ready to be a mainstay in your kitchen pantry to help them thrive!
Renzo's Vitamins provides general recommendations, not to be construed as medical advice.