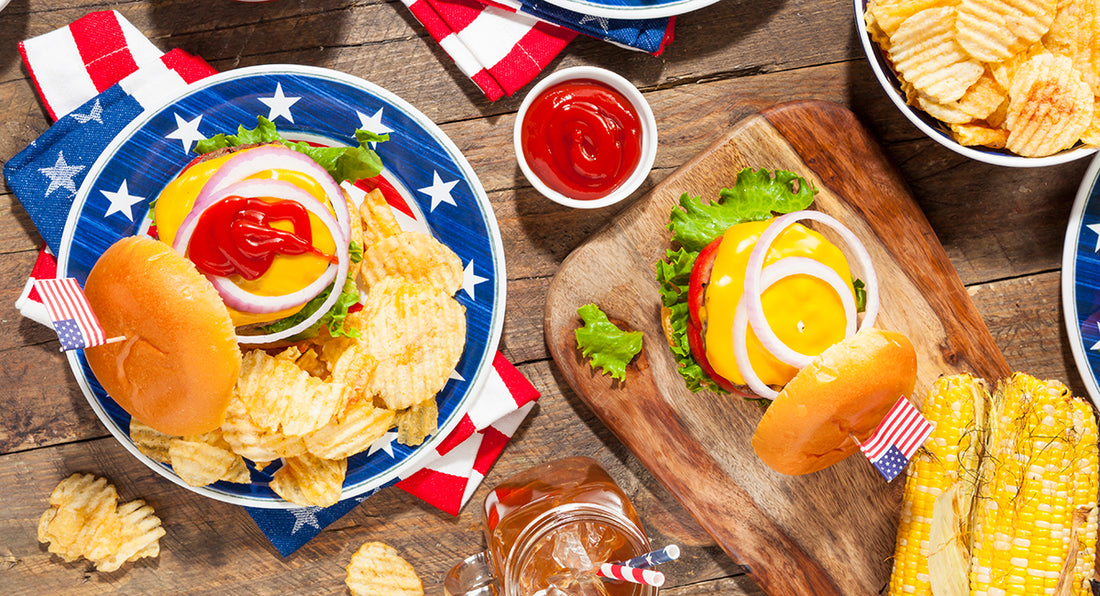 9 Recipes your kiddos will love this Memorial Day
Memorial Day is a day we honor the brave men and women who lost their lives serving our country. And there are many meaningful ways to celebrate Memorial Day with our kiddos — like attending a Memorial Day Parade or making patriotic crafts with the little ones. You could even create a care package for a deployed soldier!
But for many families, a common tradition is sporting our best red, white & blue, inviting the neighbors, and heating up the grill for an All-American cookout. 
And since we're serving a stricter food critic than Anton Ego (Ratatouille anyone??) — aka our picky eatin' munchkins, we'll need to bring our A-game!
Okay Parents, let's cook!
1. Baby Burgers
You really can't have a cookout without this American classic — the good ol' cheeseburger. But let's be honest, our kids mostly eat the bread. 
Not a ton of nutrition there!
So let's turn up the healthy while keeping it kid-friendly with these 3 easy steps.
Step 1: Use mini buns and smaller patties to make baby burgers that are tiny enough to fit in little hands. 
Step 2: Make your own patties and use a couple food tricks to sneak in veggies your kiddo won't notice. 
Step 3: Top it off with a cute American Flag toothpick — just remember to take it for the little ones.
And for a last health tip, Natalie from the Super Healthy Kids blog served these burgers with sliced pears instead of fries. 
2. Patriotic Snack Tray
Here's an easy one! And a good snack to keep bellies happy while you're cooking. 
All you need for this Patriotic Snack Tray are: 
Blueberries

Strawberries

Raspberries

Cherries

Yogurt-covered pretzels.
Or, for less sugar, swap the pretzels for diced peeled apples. 
Extra "kid-friendly points" if you can arrange them to look like the American flag!
3. Corn on the Cob
Salt, pepper, and butter is all you need for this Corn on the Cob recipe. 
Although we recommend popping a few corn cobs in the oven rather than tossing them on the grill. We all know how a tad "too toasty" could lead to an "It's burnt" fiasco. #PickYourBattles
4. Chicken & Pineapple Skewers
At first glance, Chicken & Pineapple skewers might sound a little too "adventurous" for our Picky Eaters. But we say, go for it! 
Think about it, pineapples are sweet and juicy — the perfect recipe for a kid-friendly meal. 
5. Panko Chicken Nuggets
Chicken nuggets get a bad rap and for good reason! With a questionable ingredient list who knows what's in those nuggets. 
But this recipe redeems the almighty nugget back to its healthy glory. We give you. . . 
Food Network's recipe for healthy Panko Chicken Nuggets! Sidenote: you can actually read the ingredients in these nuggets.
6. Colorful Spiral Pasta Salad
Yummy: Check!
Healthy: Check!
Fun: Check! 
Colorful Spiral Pasta not only checks the boxes for picky eating, but is super easy to make. It's a good go-to for the kiddos and takes less than 20 minutes to whip up.
7. Patriotic Pops
Who would've thought that popsicles could be healthy! And as yummy as these homemade Patriotic Pops are, we suggest making extra servings for the adults too. 
Ingredients:
Yogurt

Strawberries

Blueberries

and a touch of honey
Talk about healthy and patriotic!
8. Sweet Potato Chocolate Cake
Okay, we admit, this one sounds a little wacky. But this Sweet Potato Chocolate Cake is both vegan and grain-free. Plus, it's sweetened with just dates and a touch of honey. 
We say that deserves at least a try. Who knows, this vegetable and fruit-filled cake might actually become a family favorite. 
So if you're bold and adventurous, let us know how it turns out for ya!
9. Berry Lemonade
And finally, refreshments. This recipe for Berry Lemonade puts a patriotic spin (and a health boost) on the classic Lemonade.
You can also swap out the sugar for the healthier alternative: Monk Fruit sweetener. Chances are, you won't notice the difference. 
That's it for our 11 Kid-Friendly Memorial Day recipes. We hope you enjoy this Memorial Day with your family. Let us know what recipe you're trying out by tagging us @RenzosVitamins on Instagram.
Happy Memorial Day!