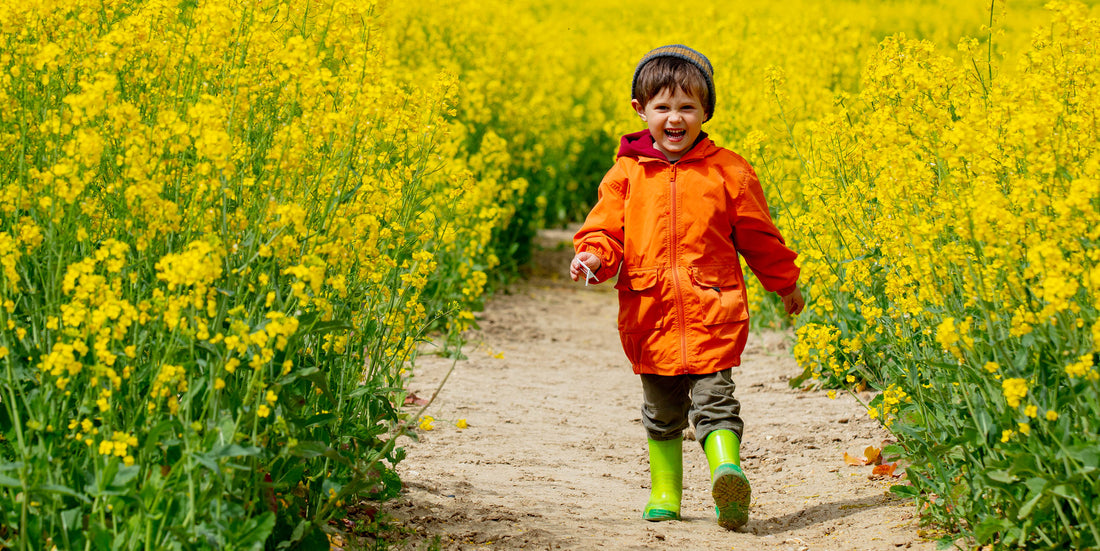 5 Outdoor Activities to Enjoy Spring
Spring is here and it's calling our name! After a season of hibernating in cozy homes, we're eager to enjoy the weather with these 5 fun spring activities. 
Make Your Own Bubbles
Whoever discovered the enchanting effect of soapy bubbles was a genius! Give a kid a jar of bubbles and they're entertained for hours (super helpful when you need to get stuff done around the house).
And with warm weather and sunny days upon us, making your own bubbles is the perfect spring activity. We believe the easiest homemade bubble recipe is one that uses ingredients you already have on hand – like this one!
Ingredients:
4c warm water

1/2c sugar

1/2c dish soap
Steps: 
Mix the sugar with warm water until it dissolves. 

Add the dish soap and stir until combined.

Let it sit for a few hours or even overnight. (

optional

)
Now we know kids aren't known for their patience. Their pickiness, oh yea! But patience. . . not so much. However, the longer the solution sits, the bigger and better the bubbles. 
Spring Scavenger Hunt
A spring scavenger hunt is a fun way to learn about the changing seasons. As winter goes into hibernation and spring comes out to play, we can find wildlife, flowers, plants, and insects that pop up this time of the year. 
Here's a list of spring treasures you can discover on your scavenger hunt: 
Flower bud

Animal track

Bird's nest

Snail

Ladybug

Pinecone

Butterfly

Twig

Bee

Ant

Earthworm

Caterpillar
You don't have to venture far to find the tell-tale signs of spring. Take the kiddos on an exploration of your own backyard to discover these not-so-hidden treasures!
Fly a Kite
Springtime may be the BEST season to fly a kite. The breezy weather is just what we need to get it sky high – much better than the stagnant summer heat. 
To get started, you'll need to choose your kite. Do you want to buy one? Or build your own? No doubt, ordering one online is easiest. But building your own is a great rainy-day activity. 
For beginners, a delta or diamond-shaped kite is best. They're easy to assemble and get into the air. That means more time having fun and less time fussing over tangled lines. 
Once you have your kite, pack a bag of healthy snacks and water, and head out to a local park or any open field for a fun afternoon of kite flying. 
Have a Spring Picnic
Picnics were made for spring! Beautiful weather and seasonal produce makes it a great time to enjoy the fruits of the season. 
Here's 3 easy and yummy go-to's for a springtime picnic:
Fruit Salad
Fruit Ingredients: 3 kiwis, 2 oranges, 2c strawberries, 2c pineapples
Dressing Ingredients: 2 tbsp honey, 1 tbsp lemon juice
Steps: 
Peel, cut, and quarter fruit and combine in a bowl

Whisk dressing ingredients in a separate bowl

Pour dressing over fruit
Sandwiches on a Stick
This is a fun spin on picnic sandwiches! Grab your kiddo's favorite sandwich ingredients such as cubed ham and turkey, cubed cheese, mini pickle spears, cherry tomatoes, french loaf bread (cubed), and skewers. 
Starting with the bread, skewer the sandwich ingredients and finish with another piece of bread. 
Banana Bread
Bananas are another fruit that's in season this spring, and the perfect ingredient for your spring picnic. Bananas are also packed with Vitamin B6, or as we like to call it, the bright and brainy vitamin. So when life gives you ripe bananas (or rather, when your kids beg for them then don't eat them), make banana bread! 
Make a Wind Chime
Capture the sounds of spring with a homemade wind chime. Have your kids gather objects from around your home such as: 
Tin cans

Beads

Wood chips

Shells
Anything that'll make noise is perfect for your wind chime. 
Steps:
Drill holes in a small terracotta pot – this will be the top of your wind chime. 

If needed, drill holes through your wind chime objects. 

String together your objects through the terracotta pot. 

Let your kiddo decorate their new wind chime with paint or markers.

Hang and enjoy the music of spring.
Enjoy the Springtime!
Let us know how you're celebrating the spring season by tagging us @RenzosVitamins.