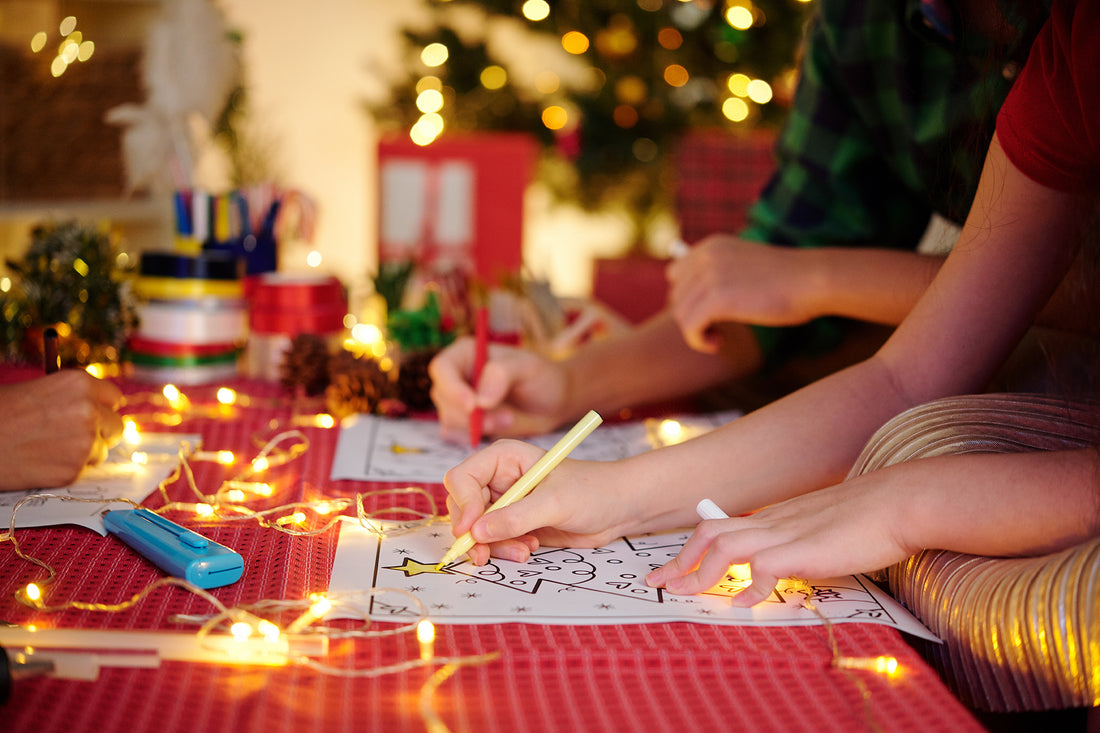 5 Exciting (but Safe) Holiday Winter Activities
Thanksgiving has come and gone, and now comes the exciting part of the year! The time of giving, cookies, lights, and all the Christmas music you can handle.
But our usual holiday parties, parades, or waiting in long lines to take a photo with Santa might not be the safest idea this winter.
So to keep us off of Santa's naughty list (phew), we came up with 5 Winter Activities that are not just fun, but flu season safe!
1. Christmas Light Hunting (from the car!)
Strolling through crowded streets to check out festive Christmas lights could mean bad news during a pandemic. . . But you know what's a better idea? Doing it from the safety of your car! 
Places everywhere are offering drive thru light shows. But if that's not a no-go, it's always fun to cruise around and find the best Christmas lights in your neighborhood. You can steer clear of the COVID and flu bugs, there's no looking for a parking spot, and you stay warm and cozy in the heater.
So, fill the thermoses with hot cocoa, crank up the holiday tunes, and set out in search of the best lights you can find!
2. Decorate Cookies
Baking and decorating cookies is a must during the holidays; how else will Santa get his cookies? But if you want a fun and stress-free (aka busy mom-friendly) option, head to the supermarket and pick up a few cookie kits.
Pre-made kits are a simple but fun way to treat your kiddos to the experience of decorating cookies without the need for any mixing or baking. And an even better bonus? No dishes! We'd say that's definitely worth giving them a try!
3. Have a Zoom Ugly Sweater Contest
You might be sick of Zoom by now and thinking "no way" to another invite. We totally get it! Trying to have a meeting with a toddler crawling on you isn't exactly fun. 
But a Zoom Ugly Sweater Contest? Okay, you gotta admit, you'd get some good laughs! The options for holiday sweaters get better (and uglier!) every year.
So, set a date and send invites to all your friends and family. Once you're all decked out in your silliest sweaters, meet on camera to see who steals the show. 
4. Make A Family Holiday Card
For family and friends you may not visit this year, mailing them a holiday card is a great way to spread cheer.
Now, you could always go with the traditional look, but why not mix it up? A silly and fun holiday card could really brighten up the holidays. Take a funny picture with your family (maybe throw on those ugly sweaters!) and run over to Target or Walmart to print them out. 
The best part is there's no fancy equipment needed! A smartphone and blank Christmas cards will work just fine. To throw in an extra layer of fun, have the kiddos decorate the cards before mailing them out. 
5. Make Your Own Gingerbread Houses
If you're a busy mom, you might be thinking "nuh-uh" to building a gingerbread house. But done-for-you kits may be exactly what you're looking for. These kits make it easy to let your kiddo's creative imagination run free decorating. Just make sure they don't eat all the gumdrops, candy canes, and other treats when you're not looking.
For a healthier alternative, you could try berries and other colorful fruits instead of candy. Your dentist will thank you!
We know the holidays aren't the same this year, but that doesn't mean it can't be fun. Our little ones have active imaginations that bring the holiday spirit wherever they go.  
Comment below to let us know how you and your Picky Eater are having fun and staying safe this holiday season!