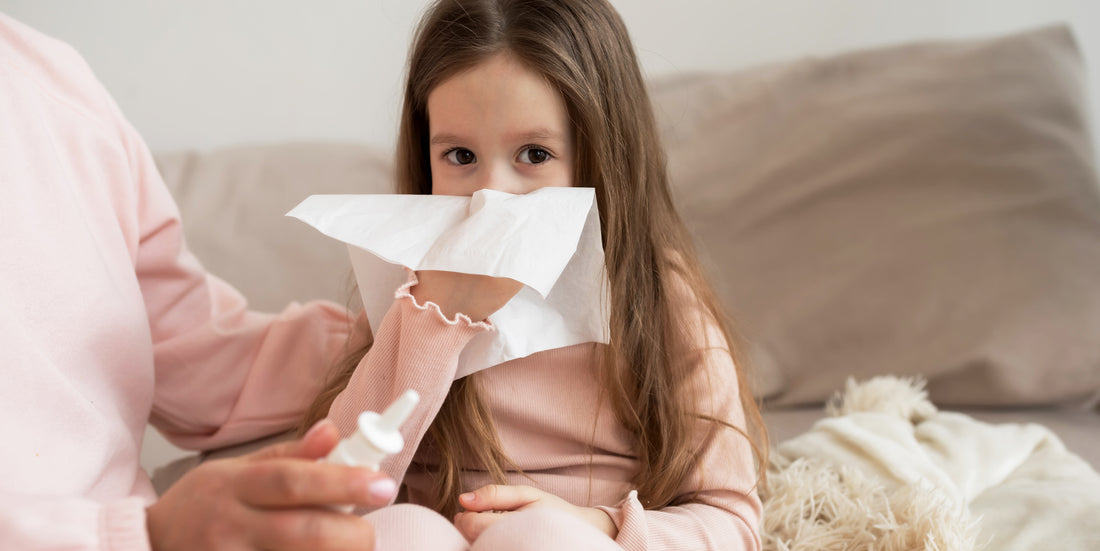 4 Ways to Prepare for Flu Season
There are few things you learn from being a parent:
1) Privacy is a thing of the past
2) Silence is suspicious
3) Kids spread sickness faster than greased lightning
And this Flu Season is no different! While we gear up for Fall with our pumpkin spice lattes and apple cinnamon candles, we can also prep for the oh-so-runny noses common during this season. Let's get to it!
Viruses of the Season
Flu, Cold, and COVID-19 are the troublemakers this season. And unfortunately, they have so many similarities that they're hard to tell apart! But rather than racking our brains trying to tell the difference, we're going to beat this troubling trio all at once. 
Because the thing about Flu, Cold, and COVID-19 is that they spread in similar ways – close contact and contaminated surfaces. Which makes prevention very important! They're also beaten by the same superhero: a strong immune system. 
Ways to Prepare for Flu Season
Flu Season officially starts in October, and COVID and the common cold are already here! That gives us little-to-no-time to prep for these germy invaders.
Stock Up Your Medicine Cabinet
You'll want to stock up on supplies and make sure you've properly disposed expired medications. For your medicine cabinet, make sure you have:
Pain relievers

Decongestant

Fever reducers

Cough syrup
You'll also want to stock up on:
Hand sanitizer

Tissues

Hand soap

Face masks
A thorough cleaning of your dehumidifier and a thermometer battery check are great ideas too!
Review Good Hygiene Practices
We could all use a reminder on how to prevent sickness. Because they're spread through human-to-human contact and contaminated surfaces, there's much we can do to prevent sickness!
Here are a few prevention strategies to review with your kiddos:
How and when to wash our hands

When to use hand sanitizer

Why we don't share food and drinks

Why we bring our own water bottles instead of drinking from the water fountain

How to cough so we don't get others sick
Eat a Healthy Diet 
Next, you'll want to give your kiddo's immune system the tools it needs to defend itself. And if there's one thing all immune systems love, it's a healthy diet! 
But what is a "healthy diet?" It changes so much it could make our heads spin! Not to mention the sugar trickster hiding in even the "healthiest" food (we're looking at you orange juice!)
But it's really not as hard as it sounds. A healthy diet comes down to eating whole foods and colorful fruits and veggies! 
So one way to boost your kiddo's immunity season is with immune-boosting fall fruits and veggies such as:
Apples

Blackberries

Pumpkin

Sweet Potato
Immune-Boosting Vitamins
And what is it about all those colorful fruits and veggies that makes our immune system strong? Well, it's all those vitamins and antioxidants!
So a big way to prepare for Flu Season is to boost our immunity with vitamins. Here are the vitamin superstars of immunity: 
1) Vitamin C
Well-known for boosting immunity, Vitamin C is a favorite. When paired with their trusty sidekick Zinc, Vitamin C has been shown to promote children's growth and development, support immunity, and combat infections.
It's no wonder Renzo's Vitamins Invincible Vitamin C for kids includes its BFFs – Zinc and Elderberry. 
2) Zinc
Although not as popular, Zinc is a Flu Season must-have. You can increase your kiddo's Zinc levels through Zinc-rich foods such as beef, chicken, and baked beans. And, of course, when taking supplements, remember to pair this guy with Vitamin C for extra support.
3) Vitamin D
There are plenty of ways to get Vitamin D – like through the sun! But with less time outdoors, our kiddo's Vitamin D levels can drop during the winter. That's why getting outside and eating a Vitamin D-rich diet are very important. 
And considering that there's solid evidence that Vitamin D supplements, especially when sun exposure is low, reduces the rate of infection, supplementing with Vitamin D for kids is another way to boost immunity. 
4) Probiotics
Although not technically a vitamin, supplementing with a daily probiotic for kids can lower the effects of cold or influenza. This makes probiotics a fall favorite. 
Happy Fall!
We hope you enjoy the Fall Season! :) For an easy way to prepare for flu season, check out the Immunity Builder Bundle. This trio includes the must-haves to kick those germs to the curb. 
The Immunity Builder Bundle includes: 
Invincible Vitamin C (made with Elderberry and Zinc for extra antioxidant power)

Dynamite D3 (the sunshine vitamin made with D3 for children)

Picky Eater Multi (18 essential vitamins and minerals — perfect for picky eaters!)