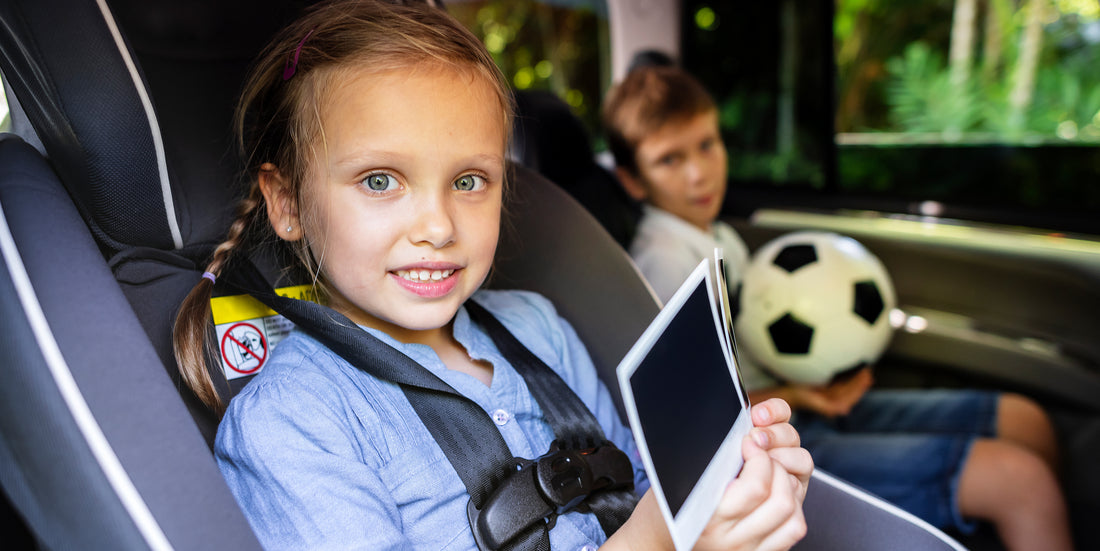 4 Thanksgiving Travel Tips for Kids
Did you know that Thanksgiving is one of the biggest travel days of the year? Oh, the longer lines. Those flight delays. And that traffic! Toss a fussy toddler into the mix and you got a recipe for a trip you'd rather not remember. 
Now, we can't do much about the busy travel season. But we can totally make your trip a teensy bit easier, and (dare we say). . . fun!
Here are 4 Thanksgiving Travel Tips for Kids you don't wanna miss. 
Know When to Travel
Getting stuck in an airport with a toddler, or sitting hours in traffic with little ones can make you question why you ever left the house! So, let's avoid that hectic rush by choosing lighter travel days. Now, historically, Tuesday and Wednesday before Thanksgiving are the busiest times. So, if possible, consider traveling on Monday. Or choose that early morning flight. Yes, that does mean waking up before the crack of dawn. But trust us, it'll be worth it! 
If you're hittin' the road, then keep your GPS on — even if you know the way. You never know when traffic will strike! Google Maps, Apple Maps, and Waze are popular GPS apps for the road. And if you're flying, downloading your airline's app will help you stay on top of flight changes or delays.
Pack Healthy Snacks
Okay, Picky Parent, we have a confession. . . When we travel, whether on the road or by flight, we tend to snack on junk food. Healthy eating just doesn't make the cut when we're stressed about packing a toddler's carry on. But all that sugar and preservatives come back to bite us! We become irritable, sleepy, and even get upset tummies. And it's the same for our kiddos. So, when you're getting ready to hit the road, consider packing the following healthy snacks for kids:
Apple slices with nut butter

Make-Your-Own Trail Mix with nuts, seeds, and dried fruit
And one more thing! The holidays are a great time to spend with family and friends we don't often see. But it also opens us up to unexpected visitors like the cold and flu virus. 
So, while you're packing those healthy snacks for the road, don't forget your child's Multivitamin. You'll wanna keep your kiddo's immune system strong during this time of the year!
Storytime Playlist
We know you have that Disney playlist for jamming out with the kiddos. But longer trips call for longer playlists. So why not create a story playlist! Before you set out, download a few holiday favorite stories such as:
An Old Fashioned Thanksgiving

A Christmas Carol

Magic Treehouse: Thanksgiving on Thursday

How to Catch a Turkey

The Boxcar Children: The Great Turkey Heist 
And for longer trips, have a backup movie playlist with your kiddo's favorites ready to go. 
Holiday Travel Games
Let's just say it — traveling is exhausting! And keeping kiddos entertained is no small feat. But Holiday Travel Games can be a great way to spend time together and even make traveling fun! Holiday Travel Bingo is great for road trips, Brain Quest is teacher-approved, and 'Tis the Season Christmas Trivia challenges how much you know about popular holiday movies such as:
Elf

A Christmas Story

Home Alone

How the Grinch Stole Christmas

Miracle on 34th Street
You'll be surprised with how much fun you'll have on your trip!
That wraps up our list of 4 Thanksgiving Travel Tips for Kids. We wish you safe travels and a Happy Thanksgiving! And if you're looking for an immune-boosting sidekick for your little ones this holiday season, take a peek at Renzo's Vitamins Immunity Builder Bundle. Includes:
Picky Eater Multi with Iron

Dynamite D3

Invincible Vitamin C with Elderberry and Zinc
Pick up the Immunity Builder Bundle and supercharge your little one's immune system this season!