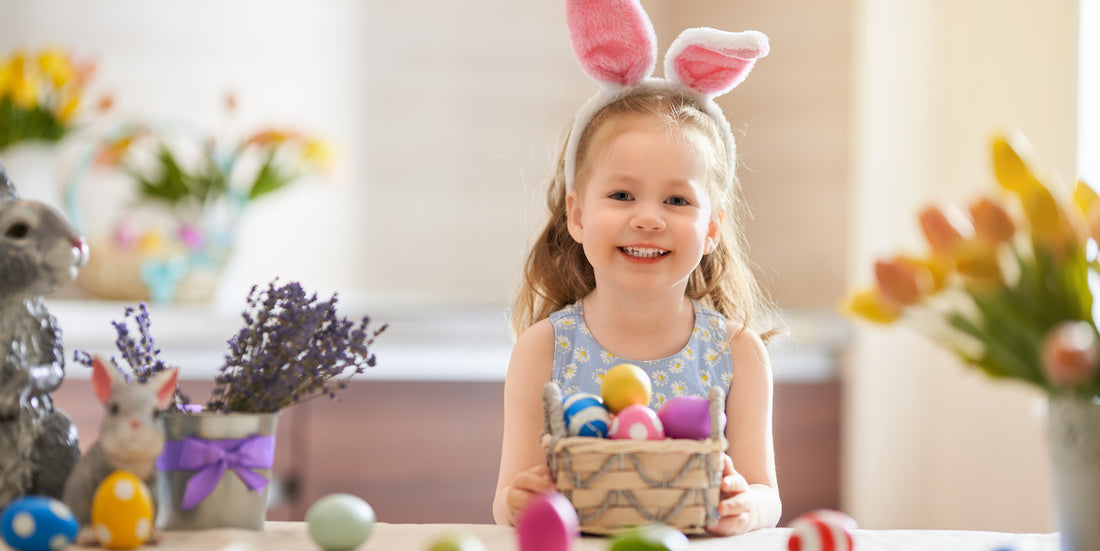 4 Candy-free Easter Basket Ideas
If you have been counting down the days and saying "I carrot wait for Easter!"
We're right with you.
But did you know that Easter is one of the biggest candy selling holidays in the United States?
Actually, there's a debate over who truly holds the title of "Biggest Candy Holiday" – Halloween or Easter.
But if you ask us, they're playing a game we want nothing to do with!
So, rather than stuff our kiddo's Easter baskets with sugar and a toothache, let's see what else the Easter Bunny has hidden in its burrow. 
Healthy Snacks
The easy alternative to sugary candy are healthy snacks! Toss in your kiddo's favorite snack foods such as bananas, oranges, and apples. Or, for an eggs-traordinary surprise, pack small fruit into plastic Easter eggs such as:
Blueberries

Raisins

Grapes
This gives them something to open, which is always fun!
Bunny Trail Mix is another Easter basket favorite - Get this cute recipe here. And for a sweet, healthy treat, try Peanut Butter Stuffed Dates.
Activity-Themed Baskets
If there's something the Easter Bunny loves more than eggs, it's toys! But not just any old toys. The Easter Bunny loves activities that stimulate a growing, healthy brain.
So, this Easter, try a themed basket around your kiddo's favorite activities. Here are a few ideas!
The Little Artist: Bring out your little one's inner-Picasso with an Easter-themed Arts and Crafts basket. Every little artist need the basics:
Markers

Crayons

Watercolors

Easel

Finger Paint

Paint Paper

Construction Paper

Pom-Poms

Pipe Cleaners

Popsicle Sticks

Glue Sticks

Kids Safety Scissors
And for an Easter touch, toss in:
Easter Coloring Pages

Easter-themed Little Artist Smock

DIY Easter Paint Palette using a Recycled 6-Egg Carton
The Imagination Station: You could also use this holiday as a time to encourage your kiddo's creativity with toys that spark imagination. This means toys that do not require batteries or chargers. Here are some thought-starters for your Easter Basket Imagination Station:
Play-Doh

Legos

Magnetic Tiles

Wooden Blocks

Bead & Jewelry Kits

Puppets
The Learning Workshop: Let's put on our thinking caps and make learning fun with an Easter-Themed Learning Basket! Here are some educational basket stuffer ideas:
Puzzles

Books

Notebooks

Science Kits
The Little Chef: And finally,  a basket for the little chef. Getting our kiddos in the kitchen at an early age is a great way to cultivate a love of cooking. It's also one way to encourage a picky eater toddler by increasing exposure to new foods without any pressure. They're having fun and learning a crucial life skill at the same time. Here's a few ideas to add to your Little Chef's Basket:
Easter Cookie Cutters

Whisk

Easter Apron

Cupcake Pan

Measuring Cups
Spring Clothes
We know kids outgrow their clothes super duper fast. And yet, we're still surprised when it happens! So let's knock out two birds with one stone by combining clothes shopping with Easter gifting. 
Bunny PJ's - who said Christmas was the only time we could gift pajamas?? We say, let's start the new trend with an Easter PJ family pic!

Sandals & water shoes

Easter outfits

Bunny socks
Outdoor-Themed Baskets
One of the beauties about Easter is that it falls in the Spring. So, let's take advantage of the Spring weather with plenty of goodies to get the family outside. 
Water-Themed Basket:
Pool Toys

Water Balloons

Water Blasters
And don't forget the sunblock! Even though it's Spring, it's never too early to practice summer safety for kids. 
For the Nature Explorer: Let your kiddo explore the world around them with a Nature Explore basket. A few must-haves for every little explorer include:
Bug catcher

Magnifying glass

Nature kit

Explorer's Notebook

Compass
And don't forget the Easter Scavenger Hunt List with:
Egg shell

Bird Feather

Rabbit Footprints

Wildflower

Twigs for a Bird's Nest
Probably best to add these to your backyard the night before ;)
Spring-Themed: Last but not least, the Spring-Themed Basket. Enjoy the beautiful weather, get some good pics, and make memories with a few of these basket stuffers:
That's it for our non-sugary Easter Basket ideas. We hope you have a very Hoppy Easter!