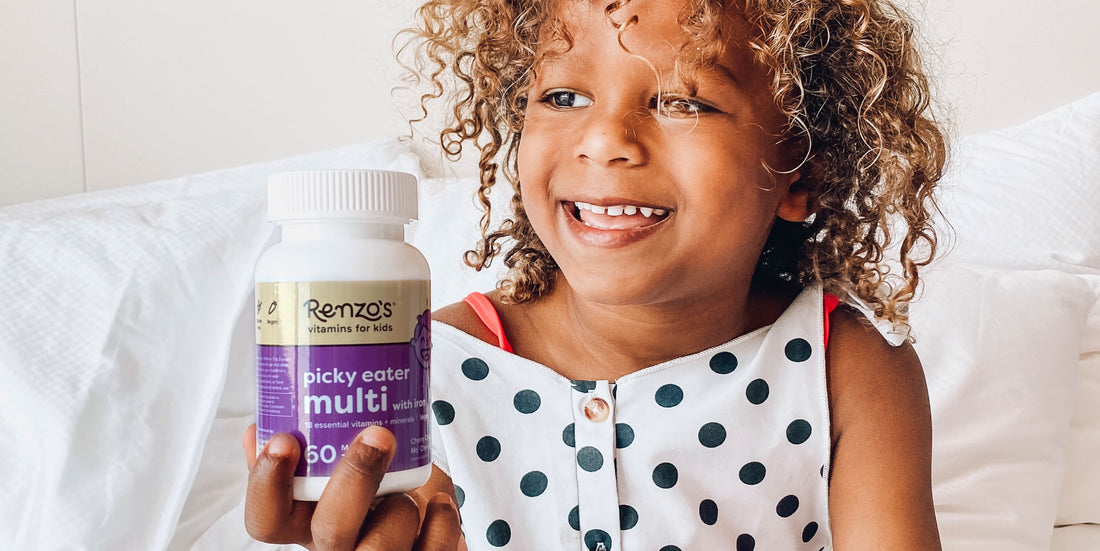 Multivitamin Do's & Don'ts: How to choose the right one
If you've ever wondered whether your little one should take a kid's multivitamin (and why!), then get excited because we're jumping into this topic with you.
We'll go over the do's and don'ts of kid's multivitamins, what to look for in a multivitamin for picky eaters, as well as what your children's vitamin routine should look like. 
Let's dive in!
What's in a
Kid's Multivitamin
Vitamins, multivitamins, kid's vitamins — you may be wondering, "what's the difference?" And that's a great question! 
Multivitamins, also known as multiminerals, are a combination of different vitamins and minerals usually found in food, or other natural sources. They can provide our body with healthy goodness when we aren't getting enough nutrients from our diet. 
You can find multivitamins in different forms: 
Pills

Liquid

Gummies

Chewables

Melty Tabs

(dissolvable vitamins)
For our kiddos, vitamins should be easy to take. Which is why you won't usually find them in pill form. Vitamins for kids are also different in that the doses are changed to match their vitamin needs. 
For example: An adult vitamin could have 18mg of Iron whereas Renzo's Vitamins Picky Eater Multi has only 6.82mg. 
Multivitamins are also a great way to fill in nutrition gaps in a picky eater's diet!
As far as what you'd find in a kid's multivitamin, here's a peek into what a wholesome vitamin would include:
Vitamin A

Vitamin C

Vitamin D3

Vitamin E

Vitamin K

Vitamins B1, B2, B6, and B12

Folate

Iron (in the form of kid-friendly Carbonyl Iron)

Zinc
Multivitamin Do's and Don'ts 
Now let's get into some do's and don'ts. 
#1: DO use vitamins as a supplement and NOT as a replacement. 
As often as we can, we should offer our kiddo's healthy, nutrient dense foods as a way to meet nutrition requirements. And use a vitamin to fill in nutrition gaps. 
#2: DO keep nutrient deficiencies top of mind. 
The 4 main type of nutrient deficiencies in kids are: 
Iron

Vitamin D

Calcium

Zinc
#3: DON'T add the sugar
Unfortunately, sugar is added to many kid's vitamins to make them taste better. But these tiny sugar bombs could do more harm than good! Add the stickiness factor, little teeth, and questionable tooth-brushing skills, and you can see why dentists urge parents to stay away from sugar-filled vitamins such as gummies. 
#4: Check with your pediatrician
You can find out if your little one may need a multivitamin, but it's important to always consult with your pediatrician!
Children's Vitamin
Routine
When it comes to creating a routine for your little one, keep this in mind: 
CONSISTENCY IS KEY.
After all, we don't get strong by working out once a week. So to create a vitamin routine our kiddos can stick to, here are a few tips:
#1: HABIT STACK
Add your vitamin routine to something your little one already does. For example, taking a vitamin with breakfast.
#2: MAKE IT FUN:
Everything is better when we're having fun! You could try a reward system, do a dance, or even get those creative juices flowing by making up a song!
#3: DO IT TOGETHER
As with all good habits, having an accountability partner helps us stay on top of our goals. By taking our vitamins alongside our kids, we can model healthy habits and even ensure we're taking our vitamins too!
What to look for in a
Multivitamin For Picky Eaters
Picky eaters tend to have **refined palates** as we like to say. And those palates aren't usually veggie friendly! 
That's why when we're looking for a vitamin for picky eaters, we need to keep nutrient deficiencies in mind. 
Is your little one Iron deficient? Make sure their multivitamin comes with Iron (preferably in the form of tummy-friendly Carbonyl Iron)

Do they spend lots of time indoors? Check that label to ensure it includes the Sunshine Vitamin — aka, Vitamin D3. 
A picky eater multi should also be yummy, without the added sugar!
At Renzo's Vitamins, we believe in wholesome goodness without the sugar and junk. Our kid's vitamins are approved by Picky Eaters, and loved by Picky Parents — or your money back! Check out our Picky Eater Multi >> Complete with 18 vitamins and minerals to fill in nutrition gaps. 
Looking for a multivitamin to boost immunity? Our Immunity Builder Bundle includes the popular Picky Eater Multi, plus Invincible Vitamin C and Vitamin D3. Get it now and boost that immune system!