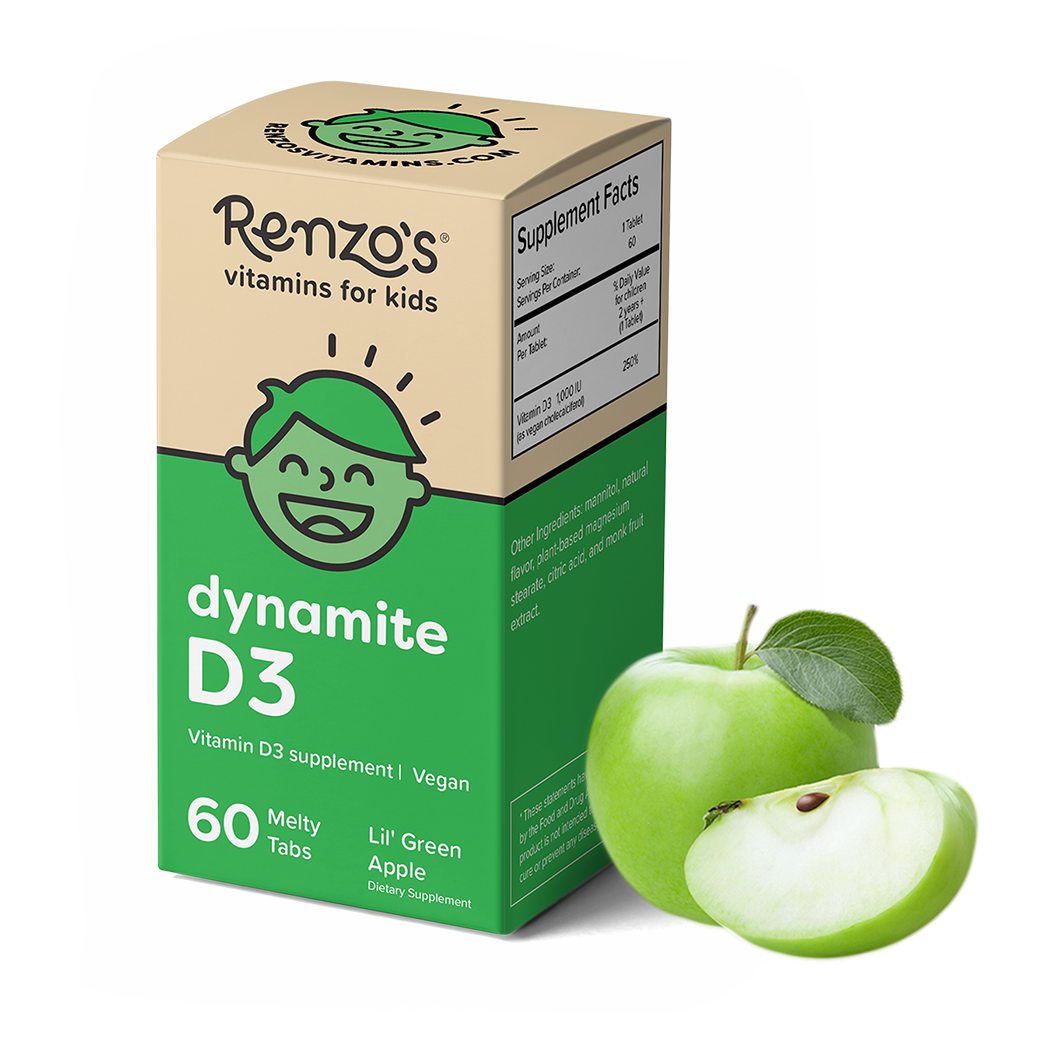 The Vitamin D3 boosts your kiddos need. All in a delicious, pediatrician-approved Melty Tab.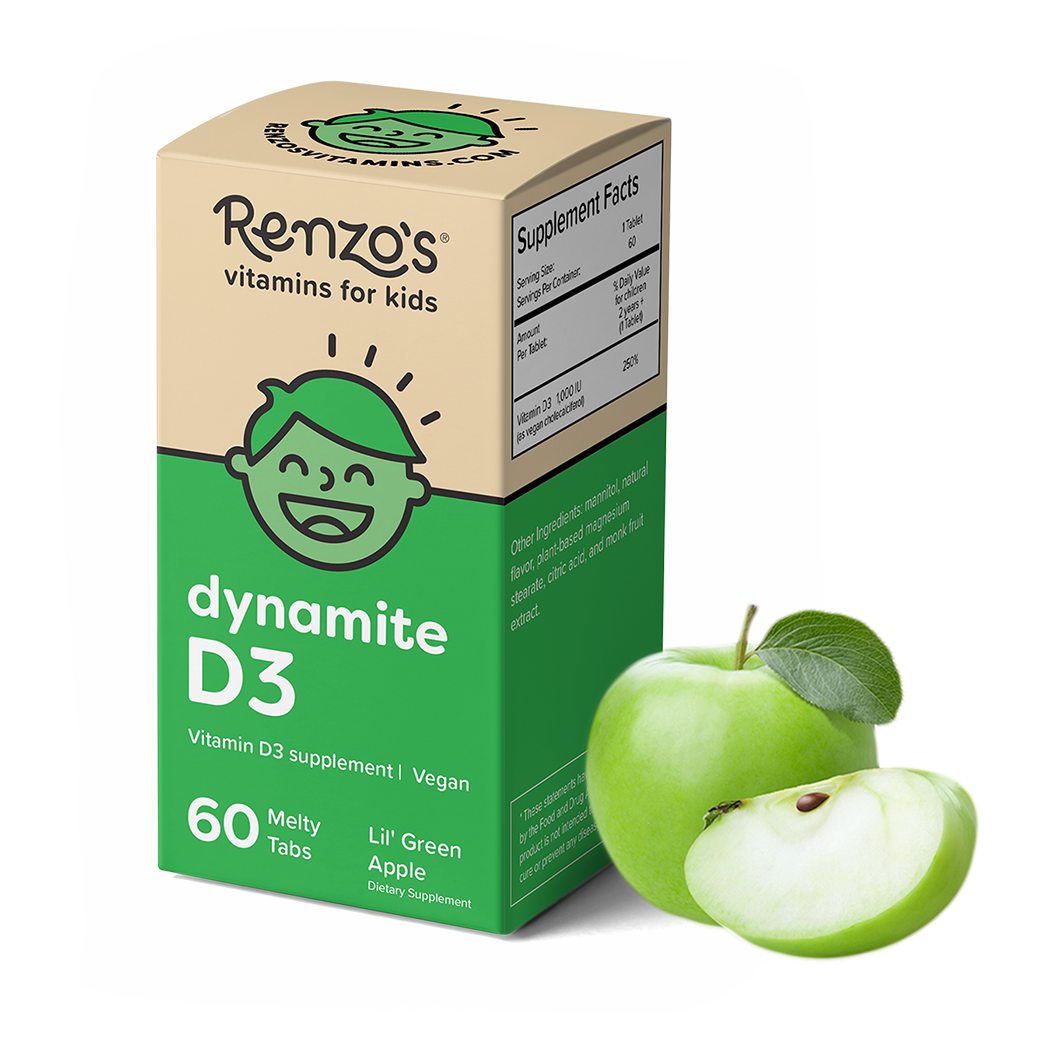 The Sunshine boost your kiddos need.All in a delicious, pediatrician-approved Melty Tab.
One tasty tablet gives your kid 100% daily value of Vitamin D3 for:

Making moms happy when skies are gray

"I live in Alaska and during the winter my little monsters need their vitamin D every day. These taste great, are easy to chew and I feel good about giving them to my kids. My son especially loves that they have a smiling kid on them, he always asks for the "happy kid vitamin"
⭐⭐⭐⭐⭐ - Amandajo
"My son is special needs and had a vitamin D efficiency and these are the BEST! I'm pretty sure they are the only chewable vitamin d tabs out there and they are great! My son doesn't fight me when it's time to take his medicine because Renzo vitamins make life easier!"
⭐⭐⭐⭐⭐ - Kathy K.

"I have tried NUMEROUS vitamins for my picky child and Renzo's is the only one I've found that he loves and will continue taking everyday without giving me grief. The fact that no sugar is added and the Ingredients are whole hearted says a lot about this company as well."
⭐⭐⭐⭐⭐ - Jenny G

"Delicious, affordable and no bad ingredients. A total win. Especially since my kids aren't big milk drinkers."
⭐⭐⭐⭐⭐ - Tracy

Say hello to Vitamin D-elicious

Your kiddos are strong — their bones, teeth, and immune system should be, too.
Just one tasty "Melty Tab" (1,000 IU) will check off all the boxes:
Did we mention one bottle is good for TWO whole months?

With Renzo's you get more. Much more.
Your kiddos are strong.
Their bones, teeth, and immune system should be, too.
Total value: $32.91 yours for just $16.99
Delicious & Nutritious:
3 Recipes the whole family will enjoy

3 downloadable Vitamin D3-Rich Recipes that are so easy to make and so easy to love. Made by moms of Picky Eaters, with love, for you.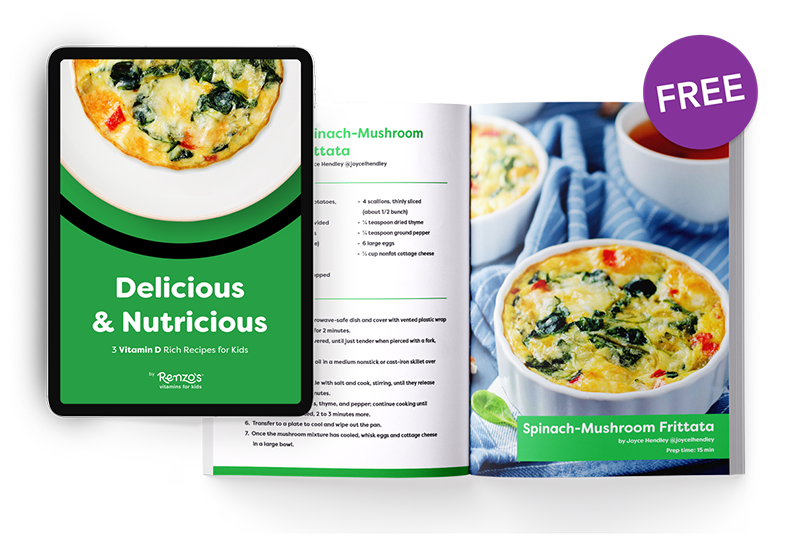 Renzo's Swag:
A Fashionable Drawstring Bag

Even if this year's summer camps are a little different, a cool and kid-friendly backpack will be the key to keep their sunscreen, toys, and goodies in order.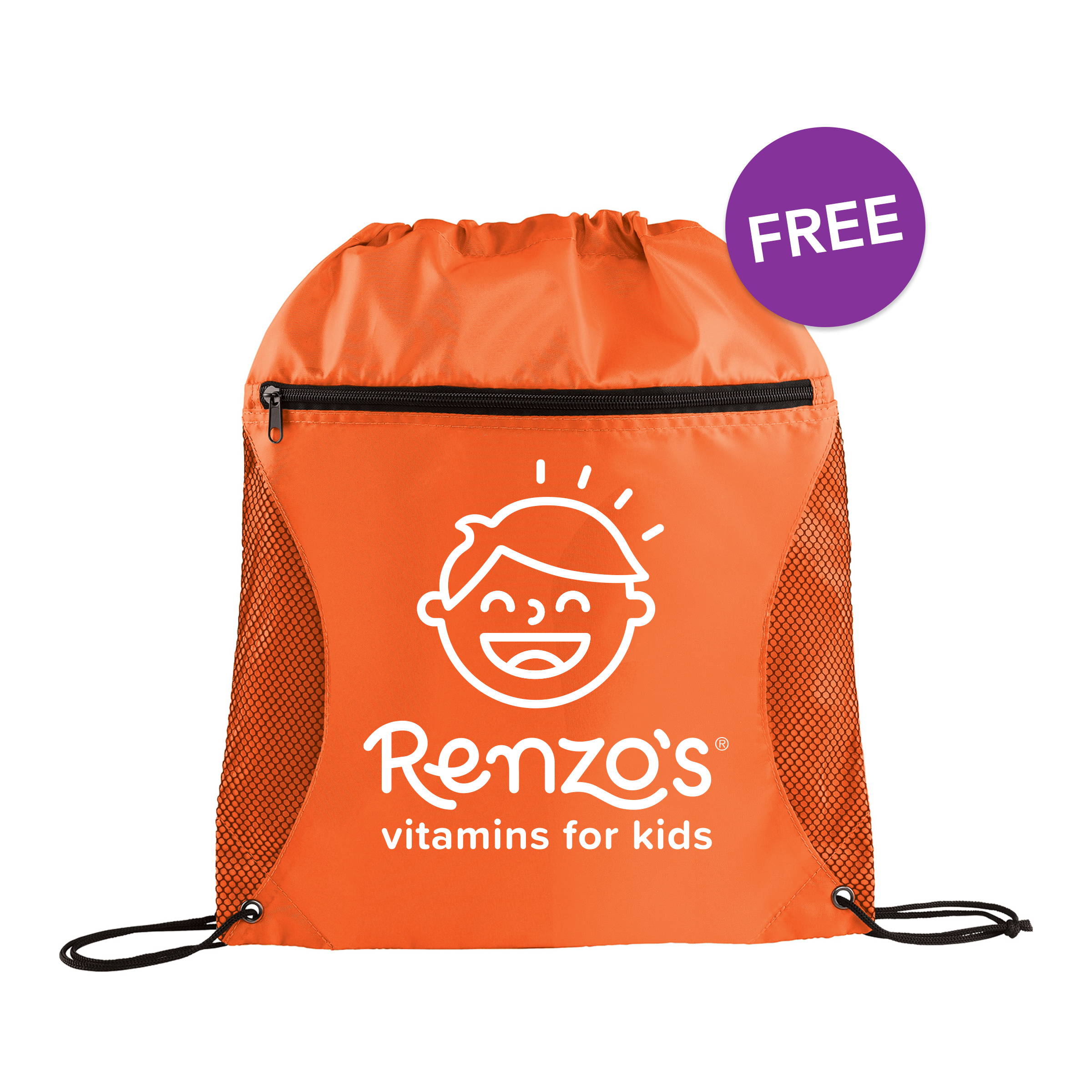 For Your Little Picassos…

A limited edition coloring card you'll want to frame (or at least stick to the fridge for a couple of days)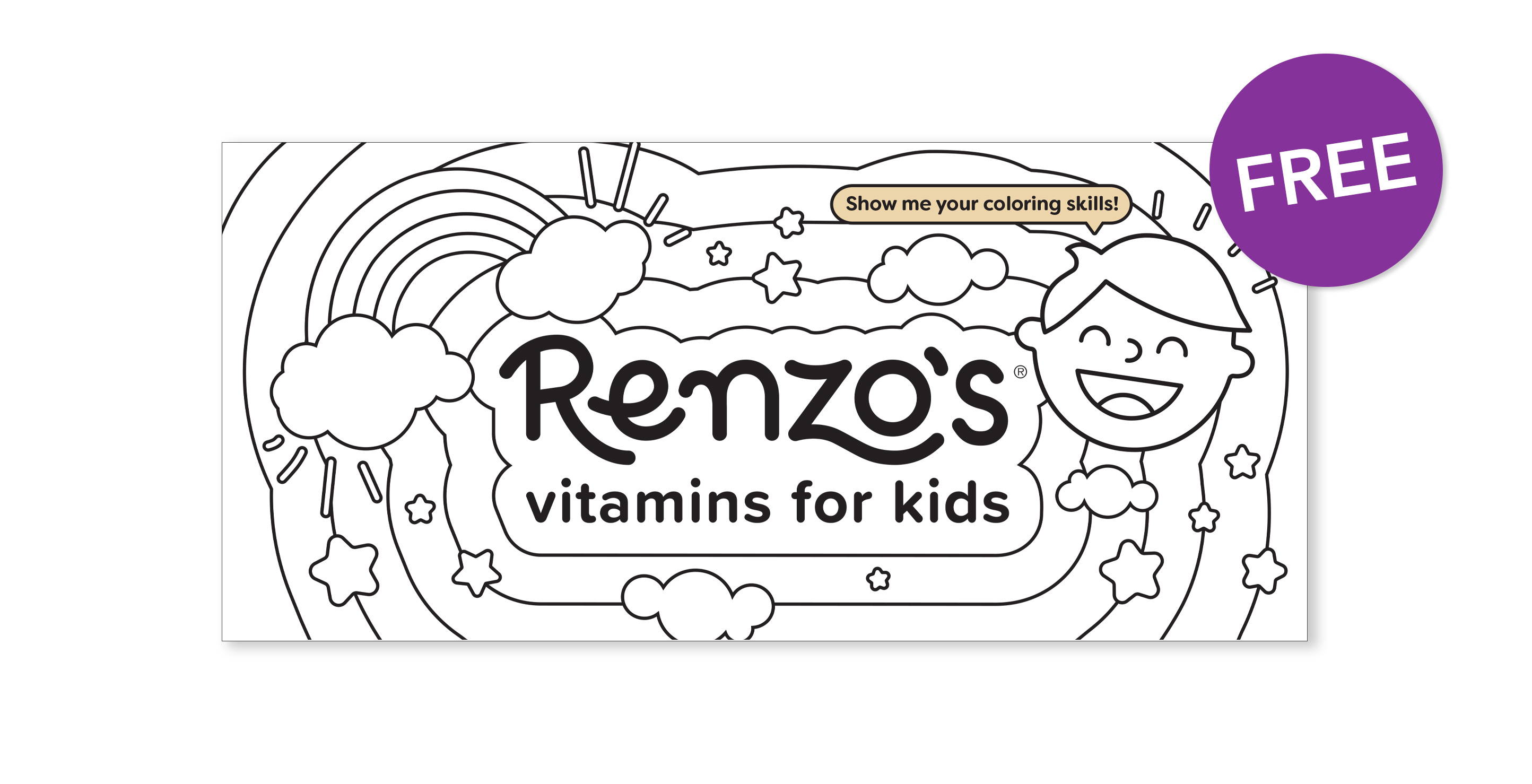 We have so much Melty Tab goodness to offer! Receive a free sample of each of our yummy products:

Picky Eater Multivitamin
Iron Strong
Yummy Tummy Probiotic
Bright & Brainy Vitamin B6

Ditch the worry of a D-eficiency with one D3 Melty Tab a day (is this pun getting old yet?)

Vegan - no sheep harmed here!
Healthy alternative to harmful UV rays
Taste great - lil' green apple flavor
No Gummies = less trips to the dentist!
Made in Sunny Florida

Picky Eater Approved - because the alternative isn't
Created by a PhD dad for his own son
Take them multiple ways - melt 'em or chew 'em
Vegan
no sheep harmed here!
Taste great
lil' green apple flavor
Healthy alternative to harmful UV rays
It really is "sunshine in a bottle"

No Gummies
No cavities. Enough said.


Preferred by Picky Eaters
Not like mushroom and fish
Take them multiple ways
Let them melt in your mouth or chew them



Got Questions?
We've got answers.

Renzo's Dynamite D3 contains 25 mcg (1,000 IU) of Vitamin D3 (as Vegan cholecalciferol) in each tablet.

What are the benefits of taking Vitamin D3?

Vitamin D3 is a necessary vitamin that we usually get from the sun (hence why this page says "sunshine" everywhere!). The benefits of taking Vitamin D include stronger bones and teeth, support towards a healthy immune system, and growth and development.

Oh, you betcha! Most sources are derived from lanolin a.k.a sheep's wool -- but not us! We believe sheep are our friends and so our D3 is plant-based and just as effective.

How do I know if my child needs D3?

It's always best to double-check with your pediatrician! D3 is especially important for kids who aren't regularly exposed to sunlight or live in cold places. These Melty Tabs are many Mom's, Doctors, and kids' go-tos in the winter.
Do these contain any sugar?

No sugar is our motto. Parents ask us, "then how are they still so sweet?". We use a zero-calorie sweetener called Monk Fruit that gives these their delicious taste.
Where are these manufactured?

As Bruce Springsteen would say, [Melty Tabs] frooooom the U.S.A.These are made right here in sunny Florida!
What foods contain Vitamin D3?

100% of D3 usually only found in natural sources like the sun, mushrooms, and different types of fish and vegetables. Of course, these aren't the most "Picky Eater Friendly" foods so this is a delicious, can't-go-wrong option.
With Renzo's you get more. Much more.
Your kiddos are strong.
Their bones, teeth, and immune system should be, too.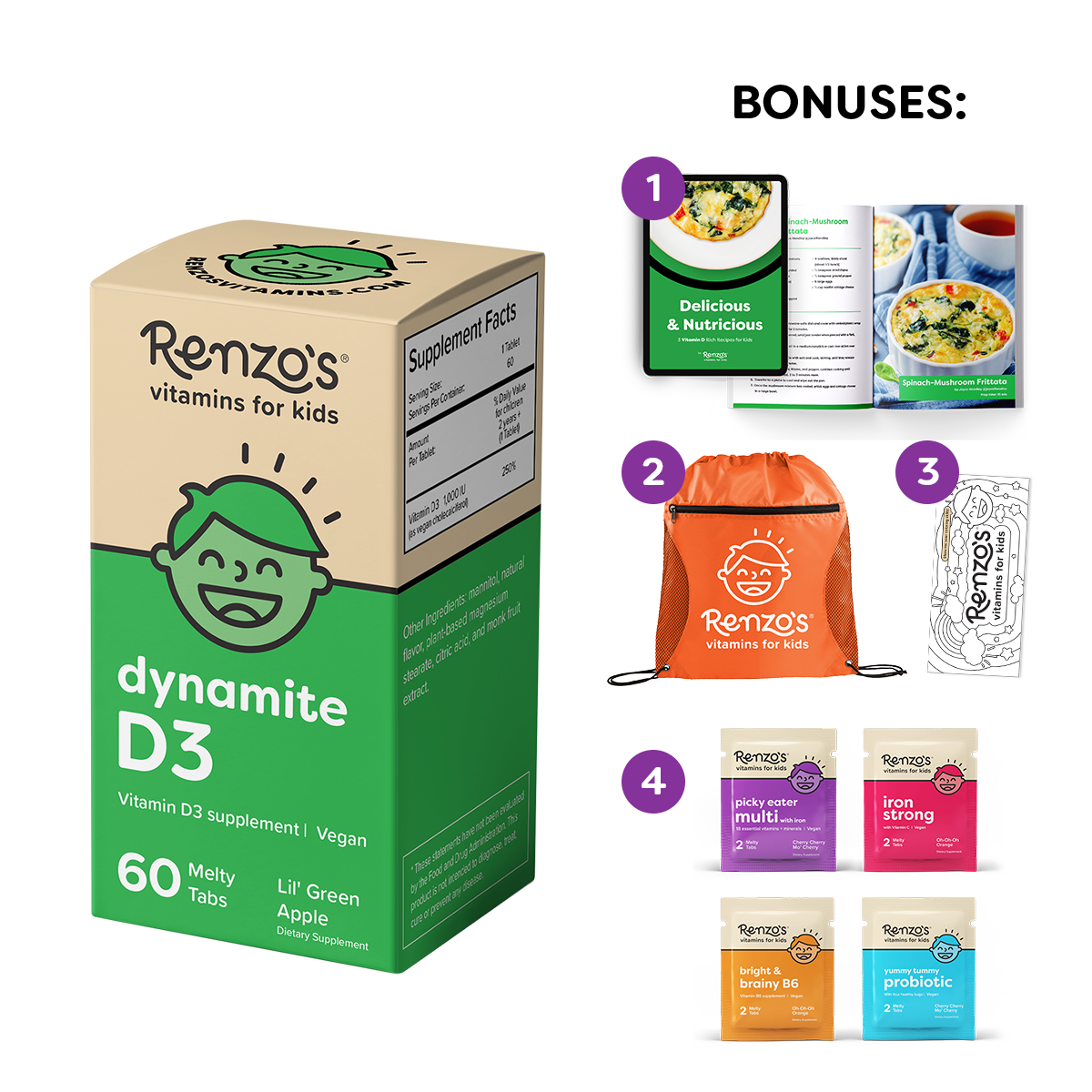 Total value: $32.91 yours for just $16.99
*These statements have not been evaluated by the Food and Drug Administration. This product is not intended to diagnose, treat, cure, or prevent any disease.