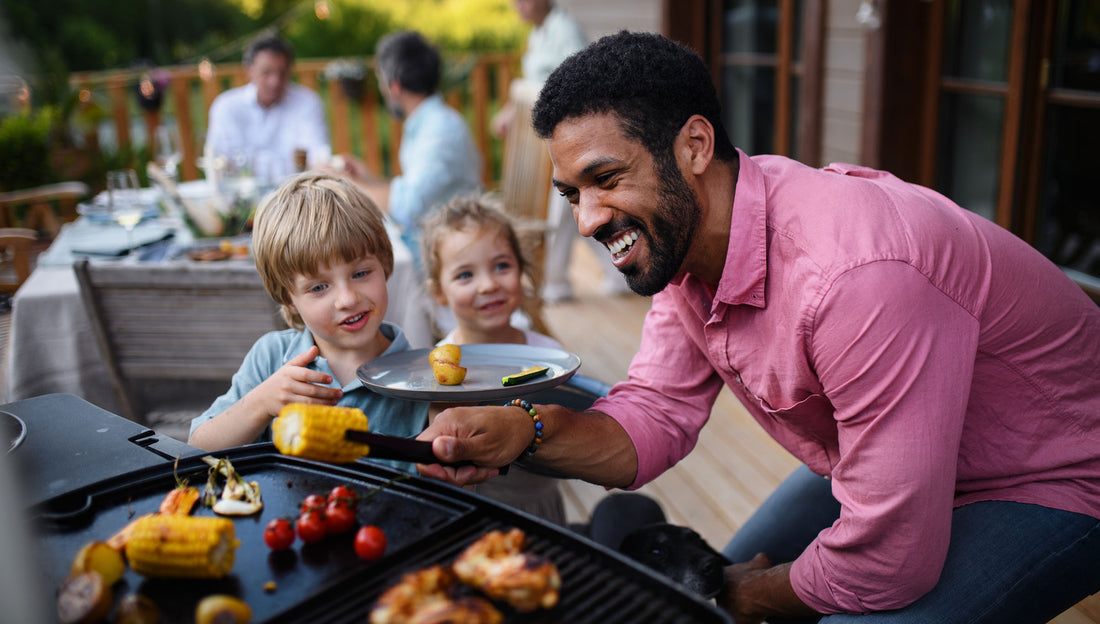 The Ultimate Summer Nutrition Checklist for Kids
Article By: Dominica Dieffenbach, RDN
Dominica is a Registered Dietitian and mom of 2 kiddos currently specializing in the special needs pediatric population. She has over 15 years of experience as an RD, working with a wide variety of patients to provide them with individualized medical nutrition therapy and education.
Eating healthy during the summer months can sometimes be a challenge for families with all the social gatherings, backyard barbecues, vacations, etc. While these activities signal that fun and summer are here, they can also cause parents and kiddos to make less-than-healthy choices when it comes to meals and snacks, especially away from home. However, with kids being out of school and the usual busy schedules often slowing down, this can also be a time for families to connect more, eat together as a family, and even get kids more involved with cooking!
1) Satisfying snacks.
When it comes to a long road trip or flight, traveling with kids will undoubtedly involve snacks (and lots of them)! Sure, the handful of cheesy crackers is a quick fix, but it is definitely not a balanced, nutrient-rich option. When choosing snacks, aim for a combination of complex carbohydrates that contain fiber, plus a protein source. This mixture will help stabilize kids' blood sugars and keep them fuller for longer periods of time, which should hopefully prevent them from asking for snacks every 5 minutes... Not a guarantee though!
A good rule is to always start with a fruit or veggie that travels well (apples or applesauce, orange slices, grapes, carrots, cherry tomatoes, or sliced cucumbers) then combine with a hummus package, natural peanut butter pouch, a kid's RX or Lara bar, packaged crispy garbanzo beans, string cheese, nuts, or a peeled hard-boiled egg. You can also add a small serving of their favorite crunchy snack such as pretzels, air popped popcorn, or whole grain crackers.
If you're having trouble filling nutritional gaps during the summer months, don't forget our Picky Eater Multi is formulated with 18 hand-selected vitamins to support the whole wellness of your child!
2) Barbecue time.
Summer is the perfect time to grill lean meats and in-season fruits and vegetables for a fresh, quick weeknight meal. Kids can get involved with skewering foods onto a kebab or mixing up ingredients for a marinade. For easy weekday meals, grill in larger batches on the weekend, and repurpose the foods for another meal such as grilled chicken and bell pepper quesadillas or patty melt sandwiches using leftover burgers.
If you're heading to someone else's backyard gathering, the food and drink selection might be more indulgent than at your own home... Try to avoid showing up with hungry kiddos who will go straight for the bowl of chips. Bring something healthy you know your kids will reliably eat to help lessen the consumption of too many goodies. Also steer clear of juice boxes and soda which can be substituted with a can of sparkling water.
3) Hydration hacks.
Simply put, water is the best source of hydration for the summer heat. The amount of water a child should drink depends on a variety of factors including age, weight, activity level, and weather. However, a general rule of thumb is to take a child's weight (up to 100 lbs) and divide that number in half to calculate the number of ounces of water they should consume per day. Kids can get dehydrated quickly because they lose more water through the skin when they sweat compared to adults.
Signs of dehydration include dry lips, a sticky mouth, sleepiness, or a headache. Some kids dislike the taste of plain water, and it can be extra challenging to keep them hydrated. Try freezing citrus slices, strawberries, or pineapple chunks to give water a hint of flavor (and try to avoid juice, which may curb their desire for water later). Kids can get additional fluids from eating watermelon, cantaloupe, berries, cucumbers, or homemade popsicles made from blended fruit.
4) Homemade popsicle recipe.
Blend together no-sugar-added coconut water with your family's favorite fruits including strawberries, mangos, or watermelon, and freeze into popsicle molds for a cool summer treat that will secretly hydrate them!
Renzo's Vitamins provides general recommendations, not to be construed as medical advice.