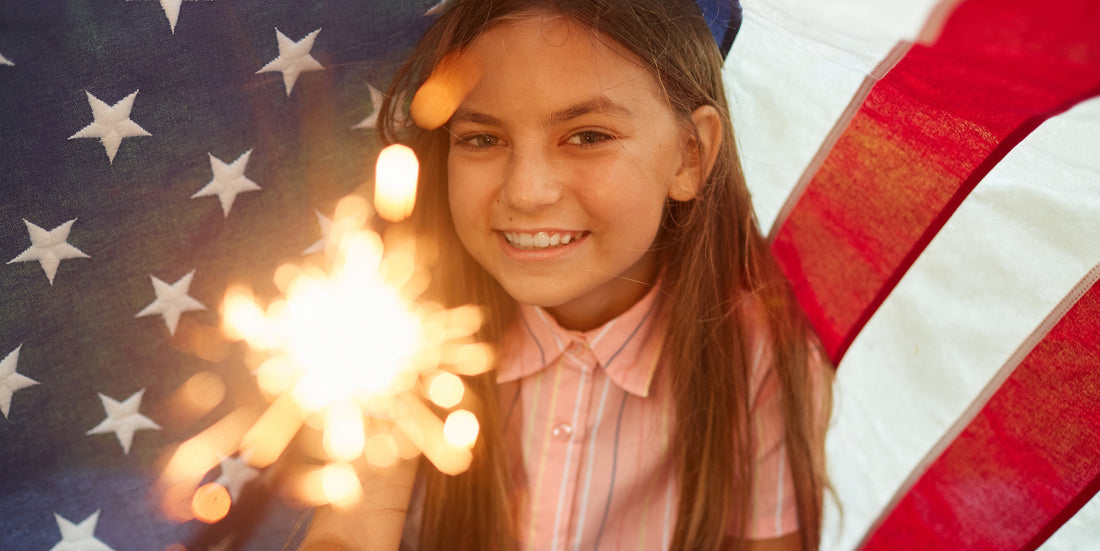 Star-Spangled Snacks for a Festive 4th of July
4th of July weekend is here and we have delicious, kid-friendly recipes for your patriotic picnic. Whether you're planning festivities in your backyard or heading out for a family beach day, these star-spangled snacks will ignite your patriotic spirit and light up your kiddo's taste buds. 
Let's unfurl the red, white, and blue tablecloth, and dive into these patriotic creations!
Fruit Flag Kabobs
Say hello to an explosion of refreshing goodness with Fruit Flag Kabobs. These patriotic snacks tie in the colors of the American flag with juicy watermelon, plump blueberries, and yummy bananas. But not only are they festive and delicious, they're also a healthy choice for your kiddos. 
Watermelon is a delicious way to stay hydrated (crucial during a hot, July day!) Plus, it's high in Vitamin A, Vitamin C, and Lycopene. Blueberries give you all those yummy antioxidants and the added benefits of fiber, manganese, and Vitamins A, C, and K. And as the "it-fruit" of any kiddo's diet, bananas are packed with fiber, potassium, and the bright and brainy vitamin B6.
 Just slice' em, dice 'em, and skewer 'em for an easy snack!
Red, White, and Blue Yogurt Parfait
This delightful treat combines layers of creamy goodness, fruity flavors, and a tasty crunch. To show off the vibrant colors of your Red, White and Blue Yogurt parfait, you'll want to choose a clear cup or glass. Next, alternate layers of greek yogurt, juicy strawberries, and plump blueberries or blackberries. And for the grand finale, add a sprinkle of crunchy granola for the perfect topping!
The yummy taste of this patriotic parfait will make it your kiddo's new favorite. But it's the healthy ingredients that steal the show (and give it an A+ from mom and dad!). Fruit such as strawberries and blueberries are jam-packed with vitamins and antioxidants. And because yogurt is a natural source of probiotics, it's the perfect snack for a happy and balanced tummy. Just make sure you choose a sugar-free option since yogurt is an easy place for added sugar to hide. Instead, drizzle with honey for a natural sweet touch. 
Rocket Veggie Skewers
A nutritious and playful snack your kids will love are Rocket Veggie Skewers! These colorful, crunchy skewers are not only a feast for the eyes but a fantastic way to introduce veggies. 
To create these rocket-shaped skewers, gather vibrant fruits and veggies like red bell peppers, cherry tomatoes, cucumber slices, and cheese cubes. Start by skewering the cherry tomatoes, creating the base of your rocket. Next, alternate cucumber slices and red bell peppers. And for the final step, use a triangle-shaped cheese at the top of the skewer to resemble the rocket's pointy nose. 
Tomatoes and red bell peppers are an excellent source of Vitamin C. And all that lycopene (what gives them their bright red color) adds a boost of antioxidants. Cucumbers are also high in Vitamin K and promote hydration. 
Serve with a side of healthy, homemade ranch or hummus for a flavor combination that'll make eating your veggies an exciting, enjoyable experience.
American Flag Toast
Get ready to salute the most delicious (and patriotic) toast you've ever seen - the American Flag Toast! This flag-tastic masterpiece adds a touch of patriotism and yumminess to your picnic. Start with a canvas of toasty bread, then slather on a layer of cream cheese. This velvety goodness serves as the perfect base for your flag-inspired artwork. It's also a source of protein and Vitamin A. 
Now place the juicy blueberries at the top left corner, creating a cluster of "stars." Next, arrange rows of red berries to mimic the stripes of the flag. And voila! Your kiddo's American Flag Toast is like a culinary work of art that pays homage to the land of the free and home of the brave! 
Happy 4th of July!
We hope your 4th of July is filled with fun, laughter, and delicious star-spangled snacks! Let us know what patriotic snacks you're whipping up by tagging us @RenzosVitamins.