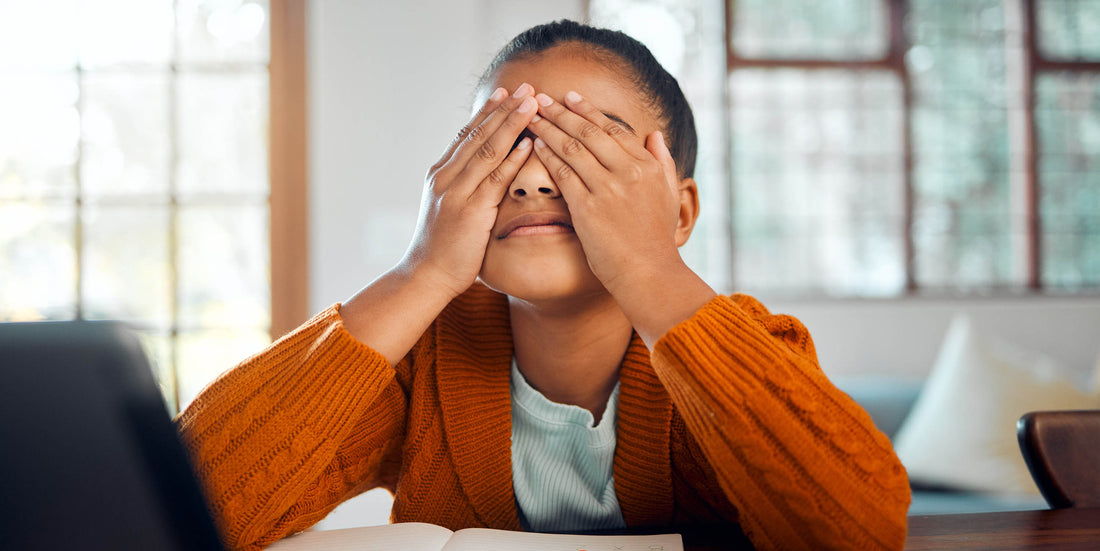 Overcoming Back-to-School Anxiety
Ahh, back to school – that yearly emotional rollercoaster for everyone in the family. For us, it's the stress of back-to-school shopping and squeezing in those new year checkups. But for our little ones, back to school can trigger intense anxiety and nervousness. New grade, new friends, new teacher. . . talk about a recipe for first-day-jitters! 
However, as parents, we have the power to arm our little ones with the confidence and enthusiasm to overcome back-to-school anxiety. Here are 5 ways you can ease your kiddo's worries and ensure a smooth transition. 
Communicate & Conquer
The first step in banishing back-to-school worries is encouraging your child to communicate their concerns. 
What are they most worried about? Are they afraid of new academic challenges? Will they miss mom and dad? Are they uneasy about new classmates? 
As your little one expresses their deepest fears, lend an ear, validate these very real and scary emotions, and answer any questions or concerns. Let them know that it's normal to feel anxious about new experiences – even mom and dad feel the same way!
This is also a great time to practice positivity. Teach your kiddos to focus on the fun, new experiences they'll have this year. Get them excited about new lessons and friendships in order to reframe anxious thoughts into optimistic expectations. 
Meet the Teacher
Your child's new teacher is a crucial partner in their academic success. This makes Meet the Teacher Night a surefire way to start off on the right track. 
Not only will your kiddo meet their new teacher, but they'll have a chance to explore the classroom, find their desk, and even make a new friend. 
Here are a few tips to make Meet the Teacher Night a success:
Introduce yourself

Brainstorm questions in advance

Sign up for communication

Ask about parent involvement

Jot down notes and follow-up questions
Set Up Playdates
Another powerful tool to boost your child's back-to-school confidence are playdates! These pre-school meetups with fellow future classmates hold the key to alleviating anxiety. Rather than facing their first day alone, they'll recognize a friendly face and forget about those first-day jitters. 
Here are a few tips for a successful playdate: 
If you're unsure of how to get in touch with parents for potential playdates, Meet the Teacher Night is a great opportunity. You can also connect with parents through Nextdoor, Facebook groups, and neighborhood events.
Re-introduce the Routine
After a relaxed summer schedule, getting back to a routine can be challenging for both parents and children. However, routines give us stability and predictability to help reduce anxiety and create a sense of security. 
To re-introduce a routine, you'll want to start a few weeks in advance. This gives our kids time to gradually adjust to new schedules. Consider reinstating bedtimes, waking hours, and mealtime schedules. Remember to include nutritious meals to fuel growing bodies and rev up brain power! Star students will also need dedicated study time to review lessons and complete homework. Practicing this steady routine will help minimize anxiety triggered by unpredictable changes. 
A Healthy Head Start
Our kiddo's brains and bodies are experiencing dramatic growth and development. Which means now is a crucial time to ensure they have the necessary nutrients to grow big and strong. Unfortunately, picky eating habits are common in kids and can cause nutrition gaps that lead to deficiencies. 
However, you can fill in those nutrition gaps and boost back-to-school immunity with Renzo's Vitamins. Our kid's vitamins are loved by even the pickiest of eaters! And because they're made with clean, high-quality ingredients and contain no sugar or GMO-junk, they're loved by parents, pediatricians, and dentists too. 
Get started today and save 30% on your first subscription with code: FIRST30 And let's kick off the school year with a happy, healthy start!