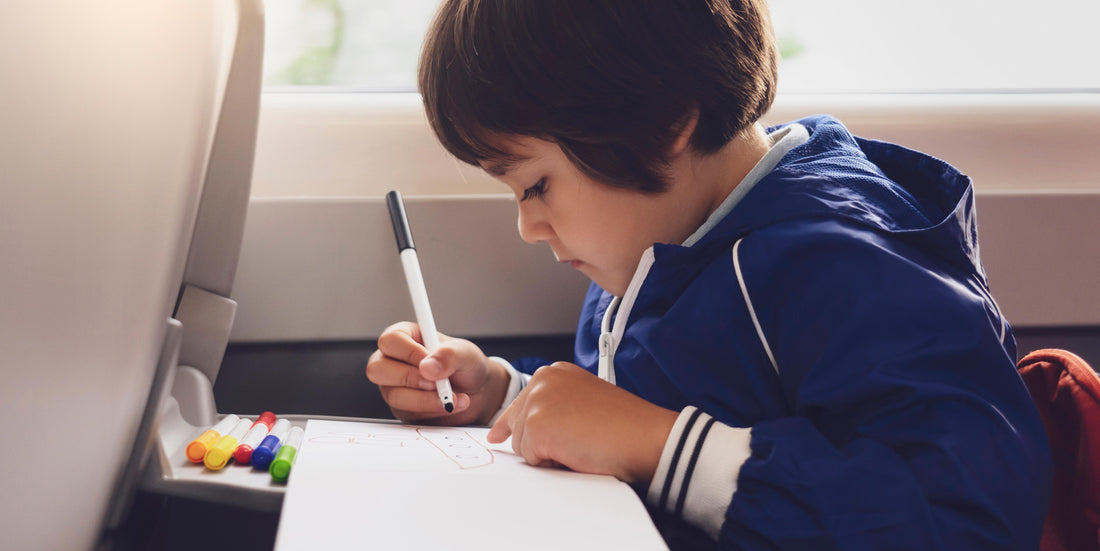 6 Tips For Traveling With Your Kiddos This Summer
If there is one thing we shoulda done more of before having kids, it's taking more vacations. Because we gotta tell ya, traveling with kids is not the same!
Heck, even going to dinner feels like a battle.
But after the past year and COVID restrictions lifting, many of us are itching for that family vacation.
So we've put together a handy dandy list of summer travel tips that'll help ya not only *NOT* hate traveling, but actually enjoy yourself — hah, who woulda thought!
All aboard!!!
1.Plan, plan, and plan some more
Planning an outing with our kiddos is nothing new, although some of us aren't as good as we wish. . . 🙄  #nocomment
But we gotta take those planning skills to a whole other level when it comes to traveling.
Will you be going to the beach? Traveling on an airplane? Taking a road trip? 
Each have unique situations. 

Also, consider the season — it's summertime! Meaning it is hot, hot, HOT! And going on vacation usually means being outdoors and staying busy so make sure your family is well hydrated and practicing summer safety!
While you're planning, keep in mind that you'll want to stick to your kiddo's routines as close as possible. That might sound unrealistic, but routines help kids feel safer and more relaxed — which means avoiding a case of the temper tantrums. 
Remember, kids thrive on routine! So let's try to keep those bedtimes, snack times, and naps the same. 
2. Stay Flexible
Okayy, not really — don't throw it out! But what we mean is stay flexible because things WILL change. 
Flights will delay, your hotel room won't be ready, you might forget something, overschedule activities. . . you get it. 
Keep these in mind during the planning stage, have a Plan B ready, and don't stress if plans change. A little spontaneity is all part of the fun. 
3. Do your research
You'll want to know the rules and expectations — especially post-COVID. 
What regulations does your airport have and are there any differences for kiddos? 
What does boarding look like? 
Will you need a car seat? 
Will you need a mask?
How much time do you have between connections?
And if you've never flown with your kids, check out the best travel tips for flying with kiddos. 
4.Travel light
Traveling light may sound like an oxymoron, but believe us when we say you'll want to bring as little as possible. 
After a long travel day, you'll be exhausted, probably carrying a sleeping kiddo, and lugging around a ton of stuff is the last thing you'll wanna do.
Only pack the absolute essentials and remember, if you need something, buy it at your destination.
5.Arrive early
Gone are the days of being early, or even on time! #momlife But we try *extra* hard to be early while traveling. You never know what will come up and interrupt your plans (yes, it will happen) so give yourself a little wiggle room. 
Check-in online and get to the airport early. This will give you extra time to get through security,  find bathrooms, and buy snacks. 
6.Entertainment
As much as we hate to admit it, we tend to rely on screen time while traveling — movies, iPads, phones. These can definitely be a lifesaver. But traveling is a great time to try new ways of keeping them entertained. 
Fun car games are a classic. Or you can flex those creative muscles and come up with games on your own.
 Put these tips into action. . .
Okay, let's bring it all in. Here's a list of practical summer tips for your family vacation:
Pre-book as much as you can

Avoid switching hotels often

Bring snacks

Travel light

Arrive early

Avoid connecting flights, if possible

Check-in online

Make a checklist

Have entertainment for the kiddos
Let us know where you're headed this summer by tagging us on Instagram @RenzosVitamins