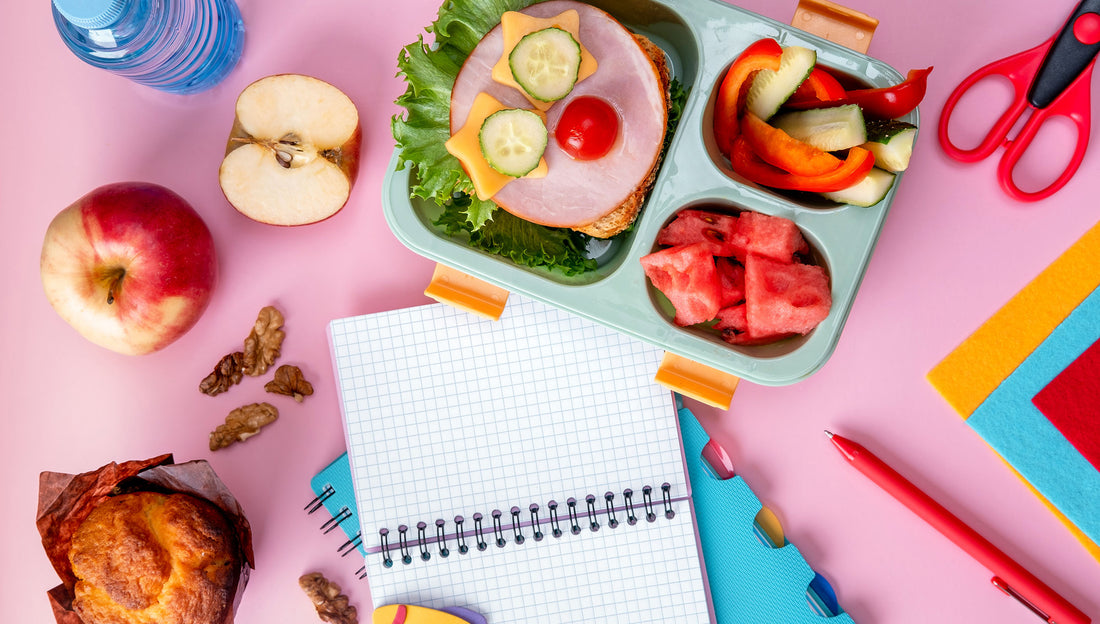 Healthy Lunchbox Hacks to Boost Back-to-School Nutrition
Article By: Dominica Dieffenbach, RDN
Dominica is a Registered Dietitian and mom of 2 kiddos currently specializing in the special needs pediatric population. She has over 15 years of experience as an RD, working with a wide variety of patients to provide them with individualized medical nutrition therapy and education.
Summer is flying by, and many moms (including myself) will soon be trying to figure out what to pack in those brand-new lunchboxes when it's time to send the kids back to school! Kids can be very fickle when it comes to their appetite and food preferences. One day they love something, and the next day they won't touch it. Some kids are fine with having the same lunch day in and day out while others crave more variety — it's hard to keep up sometimes! Adding to the challenge of finding foods your kids will actually eat is trying to make sure they get the nutrients they need from those foods to keep their minds and bodies nourished for a busy day of school.
1) The benefits of Vitamin B6 for hyperactivity, mood, memory, & attention.
There is growing evidence to support the benefits/role of Vitamin B6 in creating the "feel-good" hormones dopamine and serotonin. This in turn, can help to decrease hyperactivity and anxiety and improve mood, memory, and attention in school. It might even help with those back-to-school butterflies in the tummy and summer cobwebs in the brain!
Vitamin B6 is found naturally-occurring in many plant and animal foods such as tuna, salmon, poultry, chickpeas, bananas, cantaloupe, and spinach. For children who eat a varied diet, a B6 deficiency is not common, but kids with ADHD, those who are vegetarians, extremely picky eaters, and/or kids on a limited diet would especially benefit from supplementing with Renzo's Bright & Brainy B6. Even if there is not a deficiency, supplementation can still have positive outcomes.
2) A nutritious lunchbox starts with having the right storage containers.
Starting with having the right food storage containers will help greatly with meal prepping and kids' overall satisfaction — there is nothing worse than a sandwich that has gotten soggy from a juicy strawberry. And since most mornings are crazy, packing lunches the night before or even a day or two ahead of time will have you thanking yourself that you did. Make sure your kitchen is stocked with storage containers in a variety of shapes and sizes — containers with separate compartments (bento box style) are especially helpful. For the winter months or even just to have the option for warm foods, try an insulated thermos container.
3) How to make a personalized lunch grid for kids.
Simple as 1,2,3,4! Providing kids with a well-balanced lunch (or any meal) doesn't need to involve cooking extravagant recipes or countless hours in the kitchen. Let's face it, many of us don't have time for that between work, after school activities, homework, and bedtime routines.
Getting kids involved in creating their own personalized lunch-grid will also teach them how to make healthy meal choices as they get older and take responsibility for what they are eating. Have kids fill in their favorite (parent-approved) items from the categories below to build their lunch choosing 1 item from anywhere in each category... And voila! You also have a grocery list. No judgement if the combinations seem unusual, a peanut butter-cheddar sandwich is very popular!
| | | | |
| --- | --- | --- | --- |
|  Grain/Starch | Protein Source | Fruit | Vegetable |
| Whole grain tortilla | All-natural turkey | Apple slices | Carrots |
| Pita bread | Hard-boiled egg | Blueberries | Cucumber |
| Whole wheat pasta | String cheese | Grapes | Bell peppers |
| Waffle | Tuna salad | Oranges | Cherry tomatoes |
| Bagel | Black beans | Banana | Snap peas |
| Sweet potato | Hummus | Cantaloupe | Jicama |
Renzo's Vitamins provides general recommendations, not to be construed as medical advice.