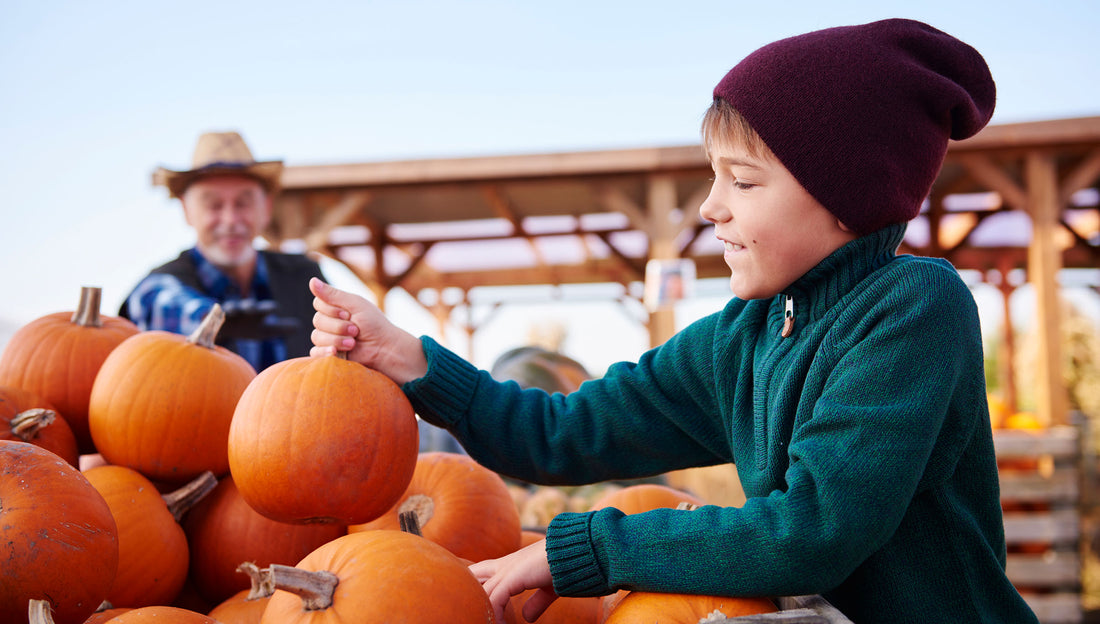 Encouraging Kiddos to Eat Seasonally This Fall
Article By: Dominica Dieffenbach, RDN
Dominica is a Registered Dietitian and mom of 2 kiddos currently specializing in the special needs pediatric population. She has over 15 years of experience as an RD, working with a wide variety of patients to provide them with individualized medical nutrition therapy and education.
The smell of pumpkin spice is in the air, and there's no better way to celebrate fall than with seasonal eating! Eating the fruits and vegetables that are in-season for your geographic area is referred to as "seasonal eating." There are numerous benefits to eating this way including increased flavors and freshness of foods, increased vitamin and mineral profiles, and even lower grocery bills.
1) What's in-season for the fall?
Enjoy fresh apples, broccoli, Brussels sprouts, cabbage, cauliflower, collard greens, eggplant, mushrooms, pears, pumpkin, spinach, kale, and Swiss chard during the autumn season.
When produce travels from far away to stock our local grocery stores, it can lose that freshness and crispness that it would otherwise have if it came from within our own state. This can affect the food's shelf life, vibrancy, texture, and definitely it's taste. Think about how you feel after a long flight or car ride... Not so fresh! So, for those picky eaters, it might be worth trying fruits and veggies when they are in-season and at their peak of flavor.
2) How does seasonal eating save money?
With the overall rising cost of food, another great reason to eat seasonally is that it is cheaper. The cost of produce is often less because there is more of an abundance of that food, and there are not as many travel or storage-related expenses to add to the production costs — and the savings are passed onto the customer! And just like supporting other local businesses, local farms give more back to our local economy. Many larger grocery store chains have a section for locally grown produce. For a fun family adventure, try visiting your local farmers' market. To find your nearest farmers' market visit: https://www.usdalocalfoodportal.com/
3) Why are seasonal foods more nutritionally dense?
Foods that are grown in-season are more nutritionally dense than their out-of-season counterparts and contain higher quantities of vitamins, minerals, and cancer-fighting phytochemicals. When a food is grown at an unnatural time, it's forced into ripening, skips nutrient-building steps, and sometimes can spend up to five days losing nutrients in the commute to the grocery store. In a study evaluating the vitamin C content of broccoli, results showed that broccoli grown during its peak season in the fall had almost double the amount of vitamin C compared to broccoli grown in the spring.
4) Consider Renzo's Vitamins for picky eaters (and for immune-boosting support)!
While cruciferous vegetables such as broccoli, cauliflower, and cabbage do contain immune system boosting vitamin C, these veggies are often rarely consumed by picky kiddos. Other food sources of vitamin C include strawberries, oranges, and cantaloupe, however, these are not in-season during the autumn months. Consider supplementing with Renzo's Invincible Vitamin C to boost immunity, especially when more germs are lingering as we head into cold and flu season.
5) Enjoy this grilled cheese and pear sandwich recipe.
Here's a seasonal twist on kid's favorite classic...
Ingredients:
1 ripe pear cored and sliced
2 oz cheese of your choice thinly sliced or shredded (cheddar and brie taste great)
1 tbsp butter, softened
4 slices whole wheat bread
Instructions:
Heat a skillet on medium-high heat. Butter two slices of bread on one side; place buttered side down onto the skillet.
Top bread with pear slices and cheese — put a little cheese on the bread first, then the pears, then the remaining cheese. Butter remaining bread slices and place them on top of the sandwiches, butter side up.
Cook until bottom of sandwich is browned, 3-5 minutes. Flip over and cook 3-5 minutes more.
Renzo's Vitamins provides general recommendations, not to be construed as medical advice.