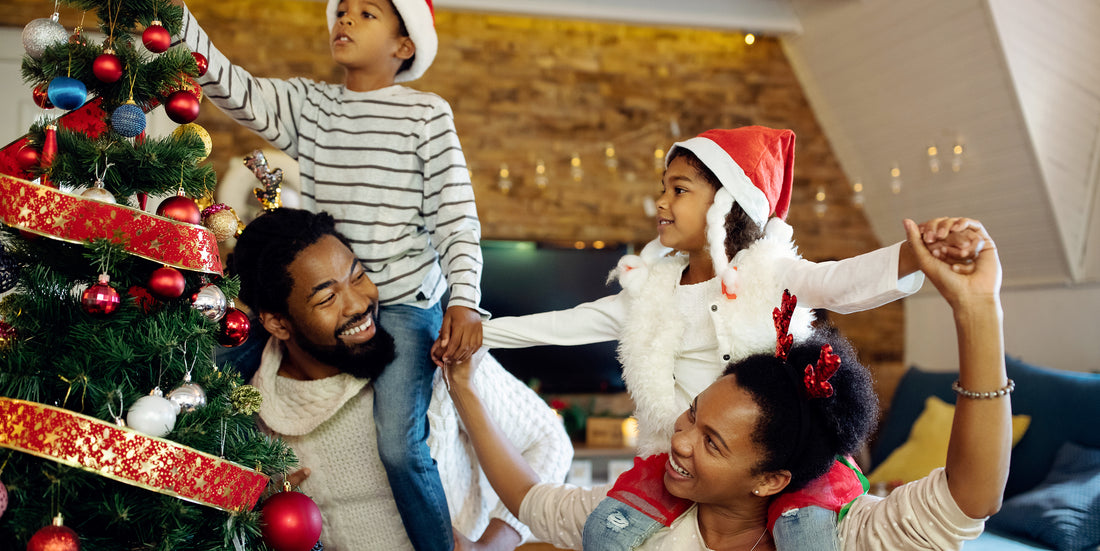 9 Magical Holiday Activities for Kids
There's nothing like being a kid at Christmas! The twinkling lights, decorating the Christmas tree, sipping on hot cocoa, and of course, eyeing those gifts under the tree. 
And yet, with all its whimsical magic, there just might be something better. . .
Being a parent at Christmas. 
It's true that some of our greatest childhood memories revolve around the holidays. But it's nothing compared to watching our babies experience the magic. The magic that we as parents get to create.
So with a wave of our wand, here's a Holiday Bucket List for a magical season!
Write a Letter to Santa
Believing in Santa Claus is all part of the magic. And writing letters to Santa makes it more exciting! Have them create their own cards with colored paper, crayons, and if you're brave, glitter. 
And don't forget to address it to:
123 Elf Road, North Pole, 88888
Build a Gingerbread House
Whether you buy a kit from the store or make it at home, building a gingerbread house with your kiddos is the icing on the ginger cake this holiday season! 
Christmas Movie Marathon
Watching classic Christmas movies is a fun way to get into the spirit. Here are a few kid favorites: 
Dr. Seuss's How the Grinch Stole Christmas

Klaus

Elf

Home Alone (yes, all 3!)

A Charlie Brown Christmas

The Polar Express

Frozen

Frosty the Snowman

The Christmas Carol
For an extra dose of holiday spirit, cozy up with a piping cup of hot cocoa. Just keep an eye out for sugar in those ready-to-drink packages! Instead, you can make your own with just a few ingredients: 
Warm Milk

Unsweetened Cocoa Powder

Sugar-Free

Monk Fruit

Vanilla Extract

And maybe a few marshmallows :) 
Christmas Decorating Dance Party
Make it a Christmas to remember by jamming out to holiday tunes while decorating with the kiddos. Get your little helpers to hang ornaments, make popcorn-on-a-string, and spray snow. 
And remember, it doesn't have to be Pinterest-perfect. It just needs to be fun!
Bake Holiday Treats for Neighbors
Get your kiddos excited for the giving part of Christmas by baking holiday treats for others. They can bake their favorite recipes for family, friends, and neighbors – with a little help from mom and dad of course. 
For an extra dose of Vitamin D to beat those winter sniffles, consider taking a family walk in the sunshine to deliver them by hand. 
Look at Christmas Lights
Take your little ones on a stroll through a beautiful Christmas Light display. Your local area may have professional displays you can walk or drive through. But if not, hop in the car for a ride through "the North Pole" – otherwise known as your local neighborhood. 
Sing Christmas Carols
Caroling isn't just for the movies! Practice singing your kid's favorite songs and put on a family play. Or better yet, invite your neighbors to sing along while strolling through the neighborhood. Here are a few tips to keep in mind for a fun evening: 
Choose songs everyone knows and print lyrics just in case

Play songs over a speaker

Bring props! Santa hats, jingle bells, and other musical instruments 
Host a Holiday Party
Get your holiday cheer on with a seasonal festivity! A holiday party for friends, family, and of course, all the kiddos, is a great way to get in the spirit and create those lasting memories. Have your kiddos help you choose a theme such as: 
Winter Wonderland: Enchant your guests with glittery snowflakes, whimsical icicles, and a delightful hot cocoa bar. 

A Storybook Christmas: Everyone loves a storybook ending. So this year, invite your guests to bring their favorite story books and donate them to a local library, school, or charity. 

Pajama Party: Bring out the matching jammies for Insta-worthy pics. 

A Gingerbread House Party: Spend the night building gingerbread houses and snacking on the delicious, yummy treats.

A Gatsby Christmas: Host a Christmas Ball with the glitz and glamour of the 1920's.
Donate Toys
Depending on your kiddo's age, it may be time to talk about donating. With all the gifts they'll likely receive, letting go of those they've outgrown or no longer play with is a great start. It'll make room for new gifts while giving old toys a new home. 
Bring them into the conversation and allow them to choose what they'd like to donate. This will likely bring them on board and get them excited to spread holiday cheer to other children.  
Ready, Set, Celebrate!
With the holidays around the corner, we know you're excited to check off your Holiday Bucket List. Let us know which are your favorites by tagging us @RenzosVitamins.