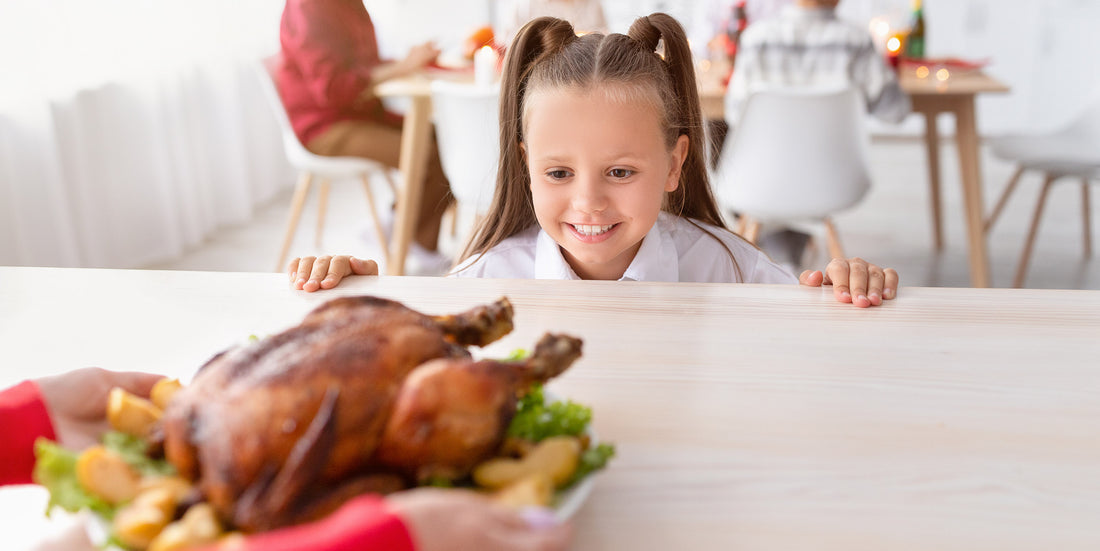 5 Thanksgiving Hacks for Picky Eaters
No other celebration centers around food quite like Thanksgiving. With the heavenly aromas of glazed ham, roast turkey, and a fresh baked pumpkin pie floating in the air, how could anyone not love thanksgiving!
At least, that's what we thought. Because for the incredibly refined palates of our picky eaters, Thanksgiving is just another day to push back the dinner plate. But rather than turn our day of thanks into another mealtime battle, we have 5 hacks to ensure that even the pickiest of eaters enjoys the holiday!
Invite Old Favorites
An interesting note about our Thanksgiving dinner pals is, well, we only invite them once a year. But considering that picky eaters need high exposure to new foods, it shouldn't come as a surprise that our Famous Sweet Potato Casserole goes untouched. 
So this year, include some of your kiddo's favorites on the Thanksgiving menu. And if possible, spruce 'em up for a seasonal touch. Here are a few ideas:
Turkey Nuggets: Swap the ever popular chicken nugget for turkey and your kiddos won't notice the difference. 

Mac -n- Cheese:  A favorite loved by kids and adults alike!

Crescent Roll Cornucopia: Wrap a puff pastry around cornucopia-shaped aluminum for a flaky, festive treat. Once it's cooled, fill it with your kiddos favorites such as fruit, cheese, and ham. 
Thanksgiving Trial Run
Get your little ones ready for the feast with a Thanksgiving Trial Run. Serve Thanksgiving staples for Friday night's dinner or Tuesday's lunch. Not only are you boosting your kiddo's exposure to new foods, but you're getting a much-needed refresher on recipes you may only make once a year. 
And, who knows, with familiar foods on the dinner table, your kiddo may take a few bites of your Sweet Potato Casserole after all.
Bring on Little Helpers
Get your kiddos in the kitchen to help prepare Thanksgiving Feast! If they're involved in the preparation, they're more likely to eat dinner themselves. For younger kids, you can start with easy tasks such as:
Mixing batter

Adding cheese

Carrying potatoes from the pantry to the counter

Rinsing fruits and veggies
For older kiddos, supervise them with tasks such as:
Turning on the stove

Kneading dough

Adding ingredients to a pan
But don't stop there! Let your kiddos help you prepare the menu, shop for ingredients, and set the table. The more excited they are about Thanksgiving Dinner, the more likely they'll actually eat it. 
Mix and Mash
When you're cooking for a crowd, it's hard to satisfy everyone's palate. So rather than cooking a separate menu for the kiddos, call on those popular mom hacks for help. Mix, mash, dice, and slice ingredients they may not be a fan of. (shhhh, it can be our little secret!)
For example, pureé mushrooms for your turkey gravy, slice up onions for your casserole, and blend those cranberries for a delicious, sweet syrup. This way, no flavor is left behind! 
Say Yes to Snacking
Ideally, we'd love our kiddos to gather around the dinner table and gobble up every last morsel. But, if taking holiday card photos taught us anything, it's that managing expectations is the key to happiness. And the same goes for Thanksgiving dinner. 
With a large gathering of family and friends, our kiddos are teeming with excitement! Playing with cousins, snuggling with grandpa, and showing off those new roller-blading skills. So yea, attempting to get them seated for a meal may be a stretch. 
Instead, here are a few Thanksgiving snack ideas to make this day fun, easy, and stress-free.
Sausage Wrapped Crescent Rolls
It's not picture-perfect, but gratitude for the time spent with family and friends is what this holiday is all about!
Happy Thanksgiving
Whether your little one nibbles on a turkey leg for the first time or plays it safe with mac-n-cheese, we hope you have a Happy Thanksgiving!