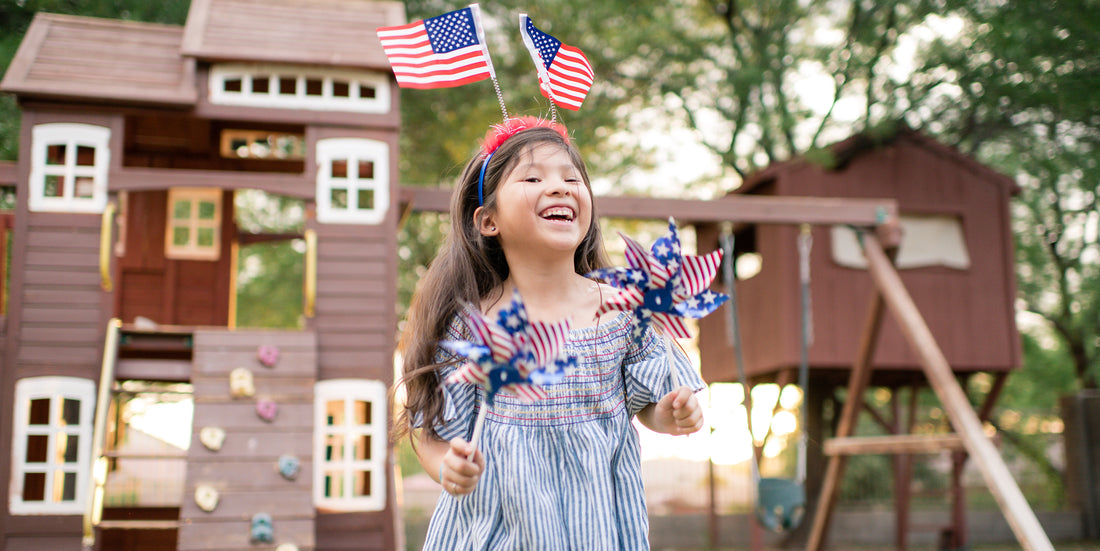 6 ways to safely celebrate Fourth of July
You're invited to our birthday party — America's birthday that is! And let's just say we have too many memories of roman candles "misbehaving."
That's why this July 4th, we're swapping our fireworks for a little less fire and a ton more fun.
Check out these 7 fun and safe alternatives to celebrate the holiday without firecrackers.
1.Glow Sticks
July 4th celebrations usually start during the day but last well into the night. So when the sun goes down, break out the glow sticks! 
But don't feel limited to only wearing them. There are plenty of ways your kiddos can play with glow sticks such as:
Ring toss

Glow stick balloons

Glow stick Jars

Glow in the dark bowling (water bottles & a ball!)

Glow in the dark easter egg hunt
2. Silly String
String in a can — sounds a bit silly don't ya think. . . (haha get it!) But seriously, whoever invented silly string must've made a killing! Because this stuff is fun no matter how old you are. 
Well, except for the person who has to clean it up. . . Sorry moms!
Anyway, a few cans of silly string and you got yourself a party.
3. Party Poppers
Now these are perfect if you really need those fireworks! You get the loud popping sound and the excited shrieks of laughter without being a human-sparkler-lighter.
Safe. . . easy. . . fun.
Yup, we're sold!
4. Glow in the Dark Bubbles
Can you really go wrong with bubbles? We're starting to think they're every kiddo's best friend.
But GLOW IN THE DARK BUBBLES???
Oh yea, that's a home run!
5. Piñatas
This is a party, right? And what's a party without a piñata! 
Now we've never actually had a piñata for July 4th. But now we're thinking — why the heck not?!
Pick up a piñata, hang streamers, and decorate with Firework Confetti Balloons to celebrate this July 4th.
6. Water Balloons
Water balloons? You mean, tiny splashes of refreshing happiness — at least that's what it's like for the little ones!
So this July 4th we said yes to water balloons. (although they get our vote any day of the summer!)
Now remember, we're staying safe this July 4th. But once we've checked off the toddler summer safety list, the water balloons come out.
You can go with a classic water balloon fight, or try these guys out:
Water balloon hot potato

Back-to-back challenge

Relay race
Let us know how you celebrated America's 246th birthday by tagging us @renzosvitamins on Instagram. 
We wish you a Happy (& safe!) July 4th :)